The Next Generation Is Following Unique Paths Into Tech Careers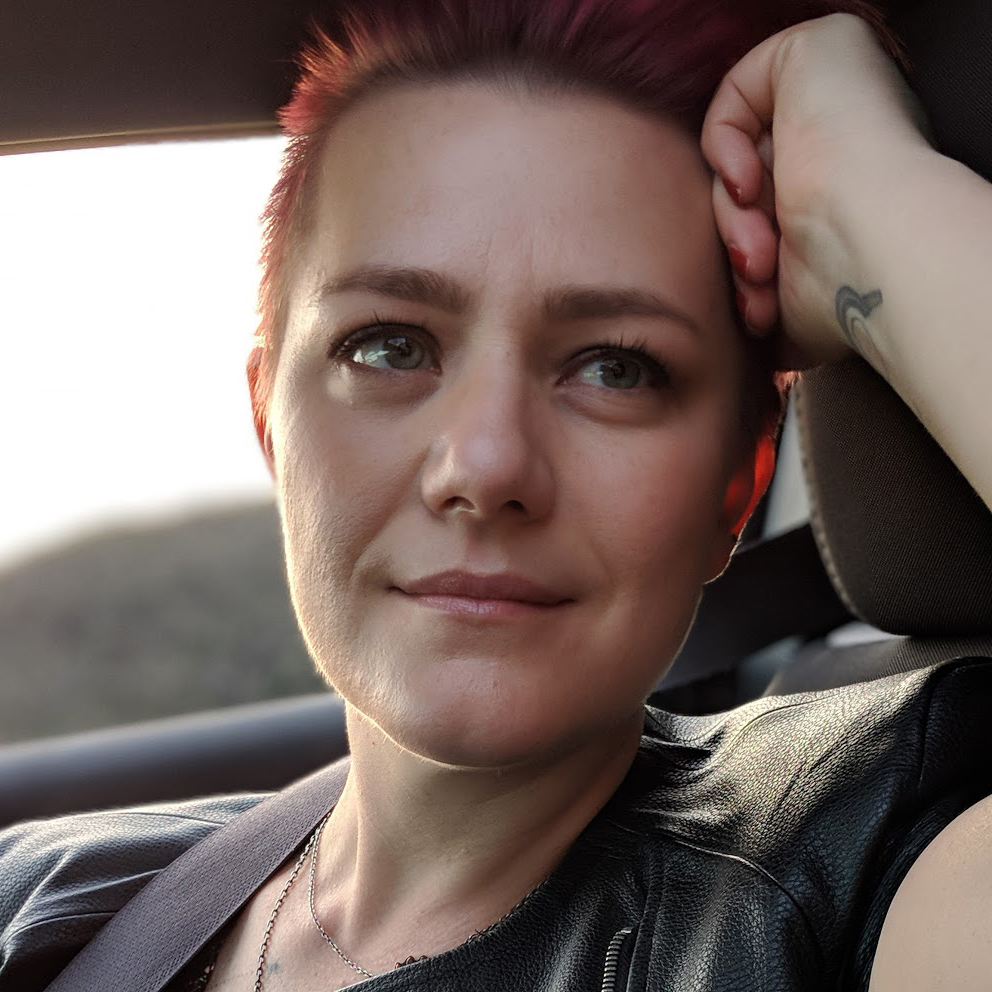 By Candace Morris -
Domain Brown pushes open the heavy double doors to Microsoft's 343 Industries, the home of the Halo universe. It's his first day of work—he's landed an internship with the science fiction media franchise. He's feigning confidence to battle his nerves. He waits to be given his ID badge and takes in the life-size models of Halo characters decorating the entryway. Minutes later, he's walking to his office, passing a huge, dark room that feels like the inside of a computer—blue overhead lights, glass cabinets displaying video-game memorabilia, and even a crashed car mounted on the wall.
Domain has never set foot in a corporate office, and he isn't a computer science major. He earned this competitive internship through Year Up, a yearlong program that pays young adults to learn technological job skills and gain professional work experience.
According to Year Up, millions of young adults are disconnected from various career pathways, and 12 million jobs that require a post-secondary education will go unfilled in the next decade.
Year Up says it exists to bridge an "opportunity divide" by offering young people a one-year vocational training program. Students build professional skills in IT computer networking, business applications, and quality assurance for the first half of their year, and then they spend the remaining part of the year interning at a Fortune 500 company. There, they learn technical and professional skills, including desktop support, help desk tasks, and testing in areas such as mobile, software, and games.
Year Up's founder, Gerald Chertavian, volunteered with Big Brothers and Big Sisters in 1987. His "little brother," David Heredia, a 10-year-old boy who lived in the housing projects of Manhattan's Lower East Side, was bright, talented, and had dreams of becoming an animation artist. For years, he and Gerald hung out every Saturday. As his little brother grew up, Gerald saw David's potential blossom. Gerald promised David that if he kept his grades up and his life moving forward, Gerald would pay for him to attend college. David succeeded and now owns his own animation studio.
Fifteen years later, Gerald launched Year Up in Boston with 20 young adults. Over the past 18 years, the program has graduated more than 17,500 students, increasing their income from minimum-wage-earning potential to an average of $23 per hour. Ninety percent of the graduates find work or go to college within four months of completing the program.
The organization works closely with companies to expose students to a variety of experiences in the industry. Companies such as Amazon, JP Morgan Chase, Microsoft, and Salesforce can provide a life-changing opportunity for young adults, and Year Up in turn provides those partners with a pipeline of talent previously overlooked by many companies. Together, they try to close the opportunity gap. Microsoft has been hosting Year Up interns since 2015. With its success, the program has helped turn education into jobs quickly.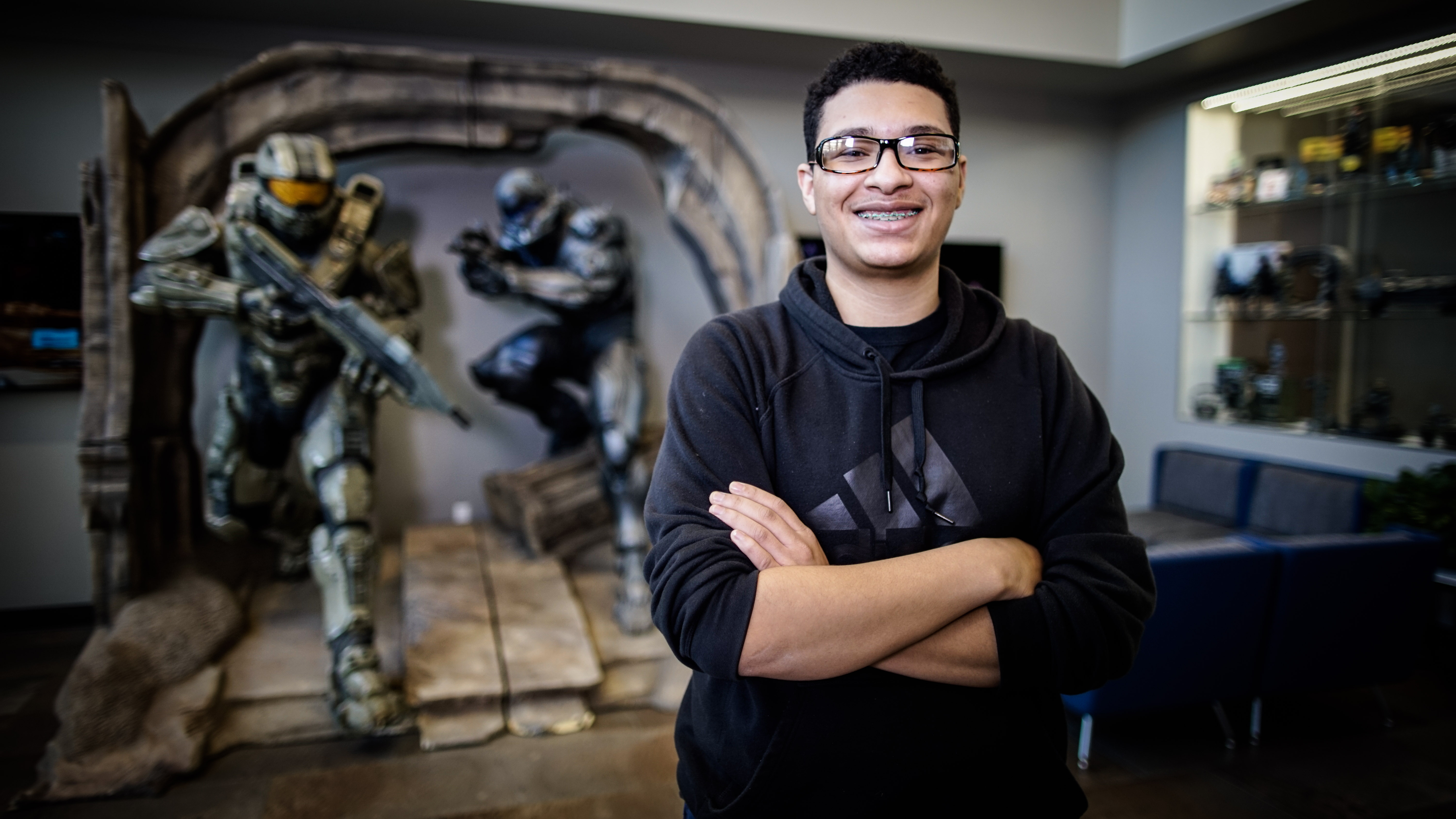 Before becoming a part of the Year Up team, Domain was already enrolled in night classes at his local community college, but he was losing momentum on the slow road from textbook to paycheck. The Year Up program, he thought, was too good to be true.
"You are going to pay me to learn?" he thought.
The qualifications would come, but what Domain had already was curiosity. He'd loved his intro to computer programming class and wanted to learn more. Plus, he knew a career in technology could help him earn a higher wage. He decided to go for it.
When the time came to assign internships, Year Up thought Domain would be a perfect fit for 343 Industries.
Domain was excited but he knew the learning curve at Microsoft might be tough.
Plus, getting to the Microsoft campus in Redmond would add two hours to his commute. To complete the six-month internship necessary to graduate from Year Up and get himself out into the workforce, Domain would have to spend six hours a day commuting. He worried he might not have that kind of endurance.
Then he met the team at 343 Industries and his Microsoft mentor, Mike Staten.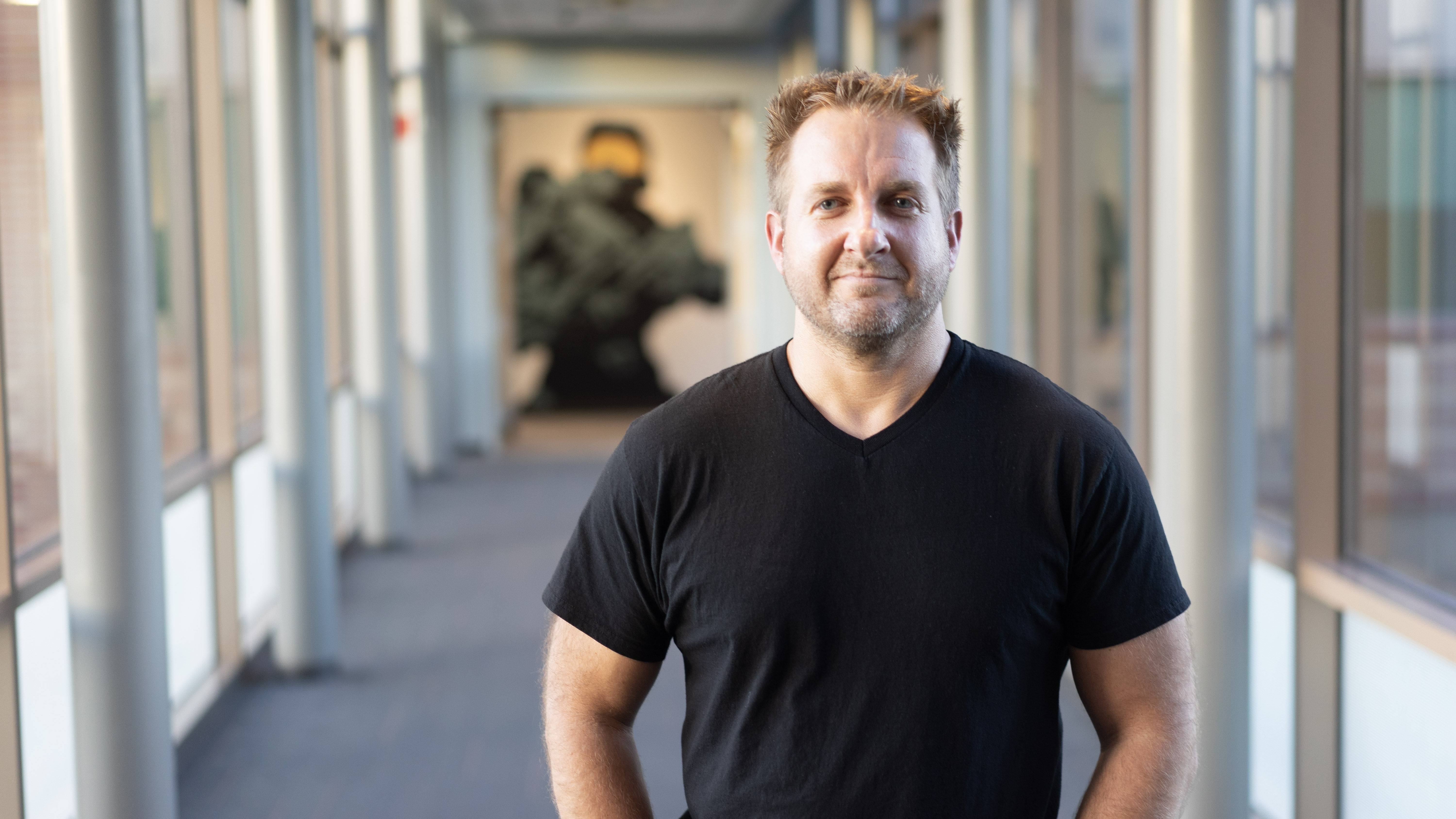 Before the first Year Up interns came to 343 Industries in 2015, Mike Staten had never directed an intern. When his Microsoft lead asked him about hosting Year Up students, he said an enthusiastic yes. He's naturally drawn to teaching others and was looking to add even more personal meaning to his work.
Mike had never directed an intern before, but he'd been coaching some of the junior members on his team for years. That same year, Mike faced a tough time of grief: his parents had passed away within months of each other. As one of the results, and he felt newly ready to add the next level of personal meaning to his work—which he believed would come by helping others. So when his Microsoft manager, Dan Price, asked him if he'd like to be the mentor for the Year Up interns, he was ready.
When Mike met Domain, Mike could tell that Domain was nervous, reticent to jump in and speak up in this environment. And he didn't blame him; the business world can be an intimidating environment at first. But Mike didn't let Domain fade into the background. He encouraged Domain at every turn, repeating his mantra: go out of your way to learn something new.
Domain remembers that he had to fake his confidence for a while. "For sure it was intimidating. I am a young person of color with no corporate experience," he said. "I had to show them that I knew what I was doing."
He struggled at first, especially with his commute. He said there were times he thought about quitting, when his motivation bottomed out.
"I told a coworker friend of mine that I was having doubts," Domain said. "But he kept me going. I've always relied on just myself. I learned from this that I really need people."
He credits Mike's vision of him—not an intern just there to fix stuff—with helping him reach the finish line.
As the months went by, Domain learned to be proactive, offer to help, volunteer answers in meetings, and grab every opportunity to learn. Mike noticed an uptick in Domain's confidence.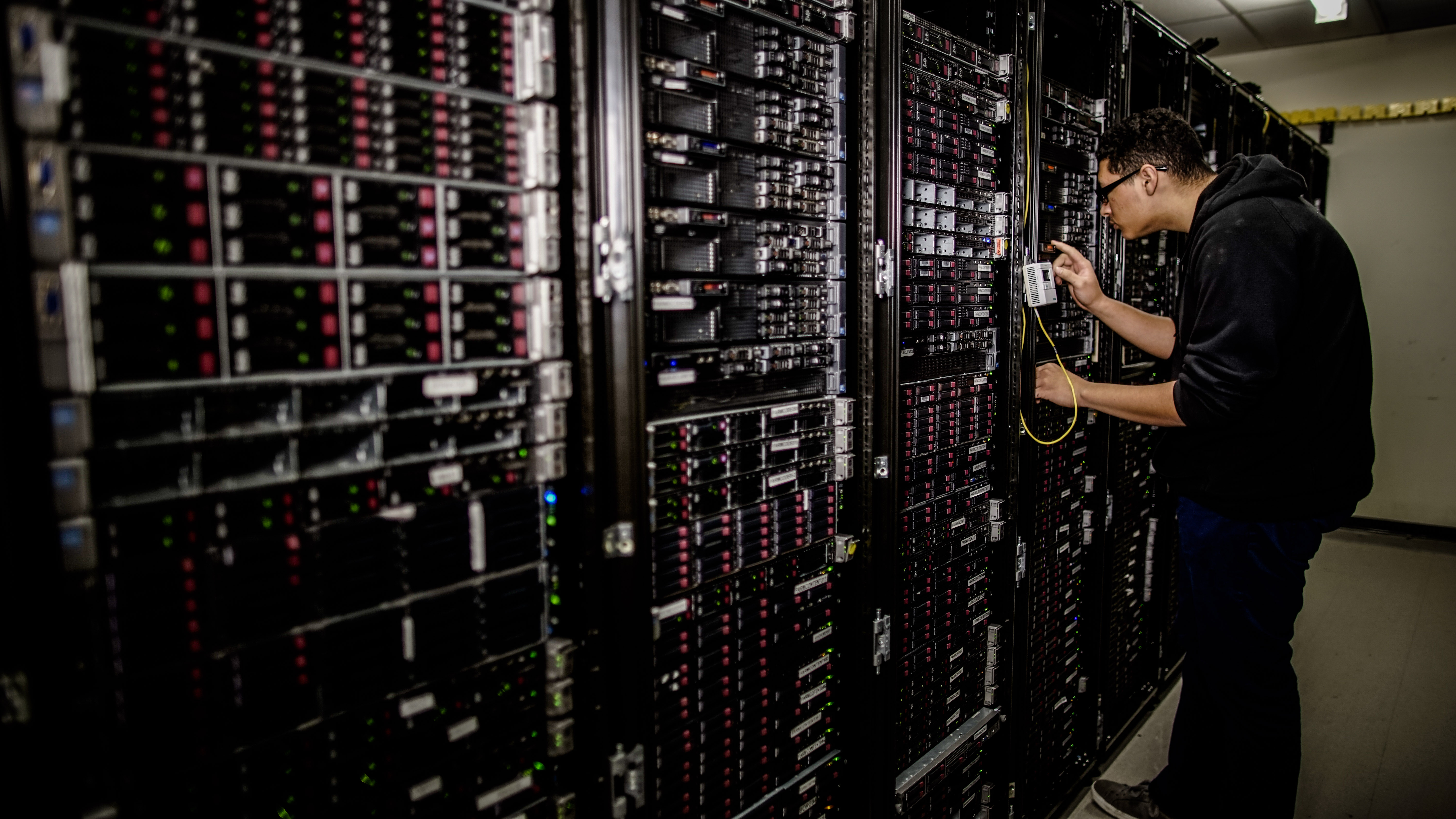 "There have been so many times where we thought we got it right, looking at each other, nodding, 'yes, this makes sense to me.' But then the interns would go through the documentation and test things and reveal things we hadn't spotted," said Mike Staten, who managed Domain Brown and the other Year Up interns. "Their perspective was invaluable."
Mike remembers one day when the studio hosted its monthly "day of play" event. The whole studio takes an entire day once a month to play a game together on Xbox. "Domain jumped in and grabbed a controller. And he was chatting with the developers of the artificial intelligence, really digging into the workflows and logic.
"AI helped him see how fast the world of tech changes. And I emphasized that he has to keep up; this will be his world in the next year, two years. Even after the interns leave, they have to keep their eyes on the horizon with respect to their careers in technology. "
By the time Domain finished his time at 343 Industries, Mike noticed that the whole studio was rallying behind the interns. "The team loved how much more efficient the interns made them. Plus, the fresh eyes were key."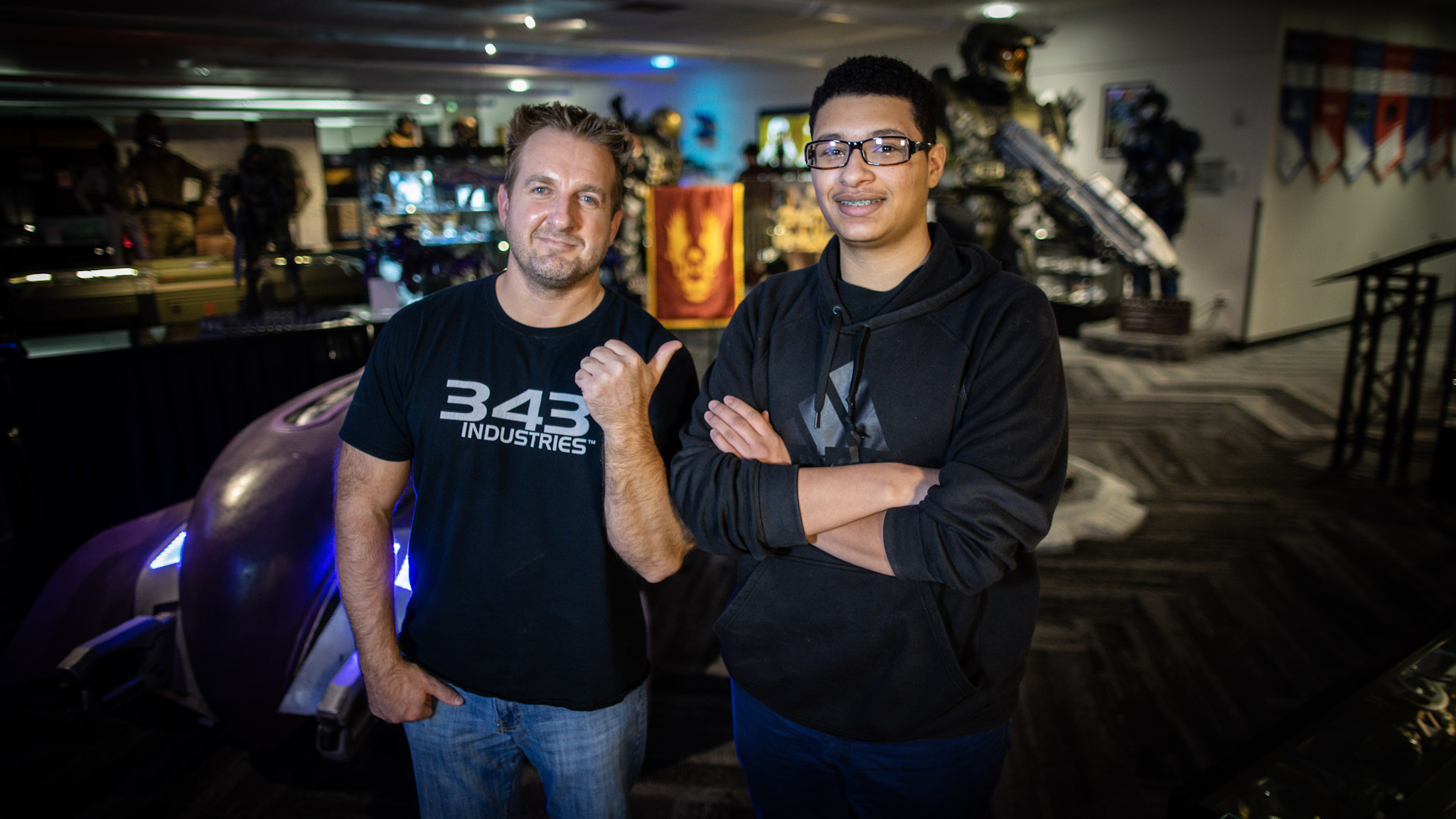 "I felt really happy when I got to work. If I didn't have Mike and my coworkers who didn't just see me as an intern, didn't see me as somehow smaller than them or there just to fix their stuff, I probably would not have finished," said Domain Brown.
Domain now works at a bank in downtown Seattle as an IT technician, making a better wage than at his minimum wage jobs. "Microsoft helped me see what IT really could be. I am so much more confident now. I was able to get this job very quickly because I have Microsoft on my resume.
"Now," he said, "I am happier. I can afford my life. I know I can really go up from here."
Candace Morris is a writer with Microsoft Life. To meet more people whose talents shape the way we work at Microsoft, visit MicrosoftLife.com.