Employee Spotlight: Aubra Moore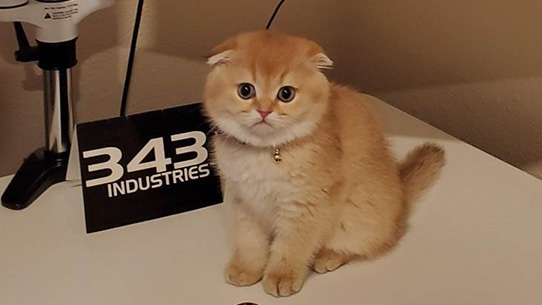 By Sofia Lillo -
Creating a game even in ideal circumstances is a titanic endeavor. It requires dozens of network and software components working in concert to capture animation, render worlds, handle petabytes of constantly changing code and ensuring that every computer and more importantly, every person is able to do their job flawlessly and faithfully.
In any technological organization, IT is more than just Information Technology- it's the empowerment of human potential. It's a pitcrew in a formula one race - it's the ring of calm experts around a surgical patient. It's a combination of imagination and hard work.
343 Industries isn't just building the biggest, most complex Halo game ever - it's simultaneously polishing a whole new engine and the tools that make it tick - and all during the most disruptive pandemic in the modern history of the planet.
So take your most dizzying fever-dream of how complex that challenge is - and multiply it by any number you can think of- because none of this is feasible without an IT team that understands not only the kaleidoscopic components that bring this game together — but also the intricate web of technology and communications that makes it all possible in a seemingly impossible situation, safely, smoothly and seamlessly.
Creating a game, especially one as powerful and incredible as Halo, requires robust technology to make sure everyone making the game can do it as best as they can. 343 Industries is a large studio that houses a variety of teams with different needs, but reliable technical support is universal. Our IT team works hard to make sure that all teams can access our systems in a safe and accessible way.
The IT team was the first responder on the scene when the pandemic slammed into our schedule- and they never skipped a beat. When circumstance went awry in the production pipeline, IT was there with sharp minds and rolled up sleeves. So it's not an exaggeration to say that without our amazing IT team and the dozens like them throughout the industry, that AAA scale game making would have ground to a halt. So we're delighted to introduce you to one of those heroes and let her explain what's involved and what a difference it makes.
SOFIA: Today, I, Sofia Lillo: Studio Operations Program Manager, have the honor of speaking to one of my wonderful coworkers that sits on the IT team here at 343 Industries. Welcome Aubra Moore to the 343 Industries Employee Spotlight, where I'll be interviewing you for our website, and to share with our lovely fans and prospective new hires.

AUBRA: Hi! I'm Aubra Moore, my pronouns are she/her, and I'm super excited and to be honest, a little nervous to get this interview underway!
SOFIA: Let's get this started! How did you come to have a job working at 343 Industries?
AUBRA: The connection was made when I was working with aQuantive, a company that was acquired by Microsoft, which was then purchased by Facebook. I was on the team to help the transition. As things were moving to Facebook, I started looking for opportunities for the future. I was grateful that our leadership pushed us to take on new opportunities that were presenting themselves and encouraged us to use the free cycles we had to help Microsoft. I first connected with 343 in this way and assisted them in improving their database performance. During that time, I came to love working with the studio and applied for a job here!
SOFIA: What job did you apply for?
AUBRA: There were two job openings at the time, one focused on networking and the other was focused on storage and file shares with an emphasis on a combination of SQL and SAN support. I got the impression they needed a strong generalist, which caught my interest. I loved the idea of being an IT generalist, and was excited at the opportunity to work across a variety of technologies. Even though I personally had some specialized knowledge in SQL, I was enthusiastic about continuing to grow my skills in a variety of technologies. 
SOFIA: Now let's talk about your current role. What's your title and what does your job entail? 
AUBRA: I'm an IT Engineering Manager. My core priority is to guide this team in the studio to improve stability, scale out infrastructure as needed, implement workflow improvements, and quickly complete new requests. Sometimes requests will come from teams that are like, "This is the need I have, can you do that?" and we go into problem solving mode and figure out a solution. However, we're trying to be more proactive, find patterns and bring those solutions to the teams in question. We try to identify the needs that we see teams having and I find that to be exciting and a productive way to help other teams.  Our team maintains the systems in the studio, a lot of these systems that people don't really see, such as the file servers, the databases, and network infrastructure. Another team we work incredibly close with is the infrastructure team, because they build on top of our systems. We don't necessarily own these processes end to end, but our systems play a critical role. 
Another example of how we work with groups and try to make their work have a smoother and more productive experience is when we work with co-development partners. These partners work with our internal teams, such as our publishing team or the team working on Halo Infinite. The tools that we built for co-development partners to work with the Infinite team were originally built for a low latency environment. Since we are dealing with partners around the world, we have to take higher latency into account, so we adapted workflows to optimize performance for our tools.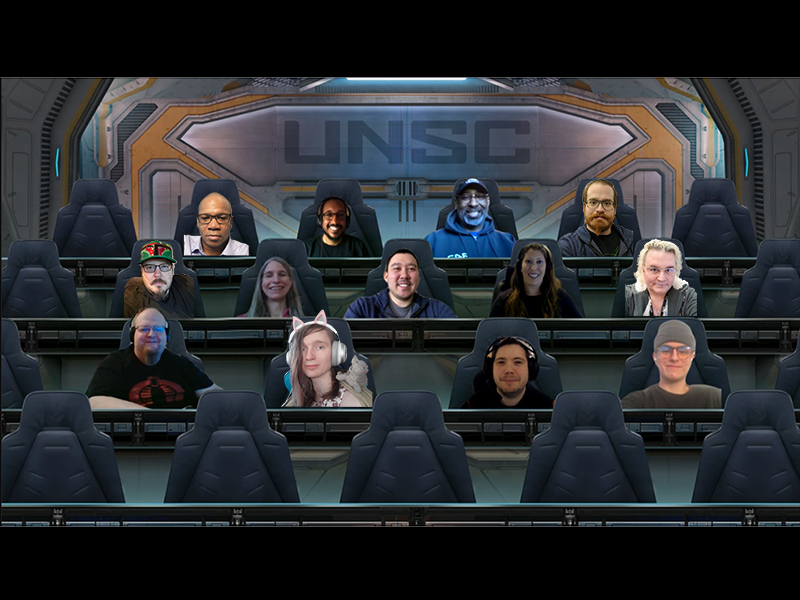 SOFIA: Tell us a little about your team - how is it comprised and how do you all work together?    
AUBRA: I work on the larger ONI team, the core groups are Operations, Project Manager team, Developer team and the Engineering team. I feel very lucky to be a part of Team ONI. The team's name is derived from the military intelligence group of the Office of Naval Intelligence (ONI) from Halo's fiction.  
This team has people with a variety of different technical areas of expertise, and I'm thankful that this team collaborates well with each other. When dealing with a complex problem, it has been great to be able to whiteboard possible options with the team in order to find the best solution. I also appreciate how the team embraces continuous learning and knowledge sharing. 
Not only do I work with a lot of smart people who have expertise in different areas, but I also feel like this team does a good job of supporting each other. Whenever someone needs assistance with a project or asks if someone can swap on-call, it's great to see how much this team champions each other. 
Now that we are all working remotely, I miss going out for lunch with members on the team. We still meet now online to connect or sync on group projects, but I'm looking forward to when we can see each other in person again. 😊 
SOFIA: Was IT always your goal when you were studying? What other careers did you consider?   
AUBRA: My degree was in Biology/Chemistry and interdisciplinary sciences. I've always wanted to help people and thought I might end up in medical research. I started in an entry level job in an analytical laboratory for environmental testing, but I quickly realized that my problem-solving skills were not getting utilized, because this job was focused on specific repeatable tests.  
I already loved video games and tinkering with my PC, so I talked to my then boyfriend, husband now, and he suggested pursuing a career in IT. I started taking Information Technology courses at Bellevue College and shortly after I started working as a desktop support intern.  
I loved how days were never the same and that there were always new problems to solve.  
Starting as an intern worked out perfectly because it allowed me to have flexibility in my schedule to continue taking specific IT courses to jumpstart my career in IT. 
SOFIA: What do you find is the most interesting thing about IT?  
AUBRA: I love that we get to work with everyone in the studio. I love the fact that we are always taking on new projects, we always have new problems to solve, new technologies we get to use...it's always new! 
SOFIA: What's the most surprising thing about your job compared to your assumptions before starting here? 
AUBRA: I was (pleasantly) surprised by how agile our IT department is and how flexible we are when requests come in. The requests that have come in have been more varied and unique than in other IT groups I've worked with in the past. For new requests, we work directly with internal teams and find out what best meets their needs and optimize a new solution for the issue they're hitting. One of the things that makes me feel good about my job, we really get to help people in the studio!   
SOFIA: Can you tell us about the challenges of the Work From Home (WFH) transition – priorities, process, etc. - both for YOU and the folks you support?
AUBRA: We did a lot of the heavy lifting before, because we work with co-development partners from around the globe, and had to focus on workflow optimization. It was driven by our Halo Infinite team with IT's coordination in order to create an effective onboarding process. Since we already had done so much work optimizing for high latency optimization that we could use that from WFH here locally and international WFH. For some of our solutions we were able to port or adapt our previous work with partner teams, but for other workflows we needed to quickly come up with new innovations. We had to ask questions like, how do we get builds to people while they're WFH? We tested a build server with a different VPN solution and we also tested Azure with builds, we did better with Azure, so that was our solution! Yay for Microsoft for being awesome! We also rolled it out with the partners and asked them whether this is a performance gain for them, and they switched when they got the same performance too. Testing and understanding different perspectives was super important to this process.  
I do want to bring attention to the fact that the root cause that we were supporting Working From Home was because of COVID-19 and that I don't want to glaze over the fact that there are a lot of people who are much more significantly impacted than I am. 
Bearing that in mind, I'm grateful that Microsoft has a leave option. I have a 6-year-old daughter and my childcare was up in the air, and my manager mentioned it as an option. Fortunately, I didn't need to use it, but it was so comforting to know that I had that as an option, and it's still there IF we ever need it.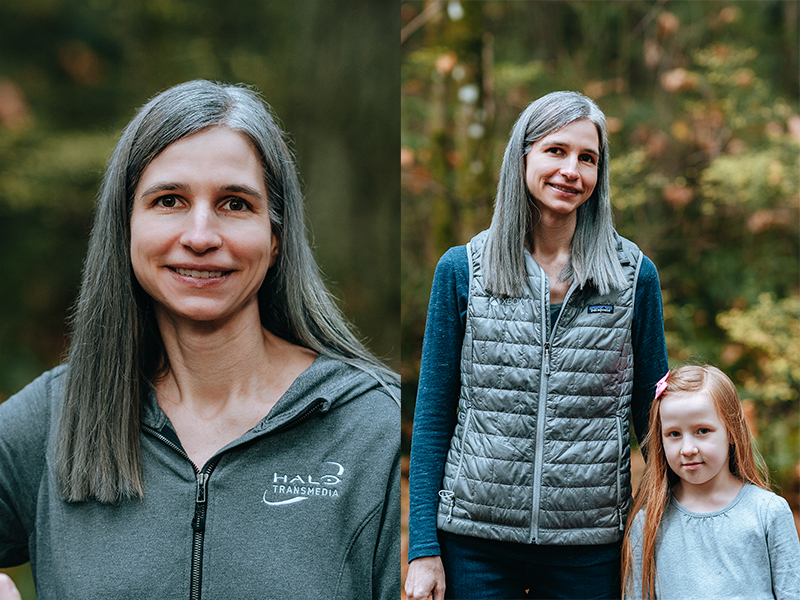 SOFIA: What would you say to a young womxn that wanted to join the tech workforce?  
AUBRA: I'd love to see more womxn in tech. When there are programs to help young people engage in this field I'm so excited to see it! DigiGirlz, a Microsoft program, is a favorite of mine and I'm thankful that management is supportive of this program and its goal. It's great to see all these young womxn driven to be trailblazers in tech! 
SOFIA: Is there a particular moment or memory that you have of working with DigiGirlz? 
AUBRA: We do a geocaching event that they run every year and I love seeing how these young womxn come up with these innovative solutions for all the different challenges.  
SOFIA: What's your favorite thing about working at 343?
AUBRA: I love the studio culture and personality! When I'm in the studio it feels really different from other groups at Microsoft. It has its own unique identity. Events like Givetoberfest are great because the whole studio really rallies around it! I love how supportive we are for Make-A-Wish as well, it's so encouraging when the whole studio comes together for their wishes. I feel so fortunate to work with some really amazing people, not just within the IT team but across the entire organization. 

SOFIA: What's the LEAST favorite aspect? (Be honest but gentle!!) 
AUBRA: It's funny how much we take for granted sometimes. Honestly, I miss the in-person connection, quick chats in the hallway, in the kitchenette, and like I mentioned before, I miss our team lunches. Before COVID-19 I was complaining about the parking spots, but I'll cherish that moment of trying to find a spot again and now it's the thing I wish for! 
SOFIA: As someone with dyslexia, what are your thoughts about 343's understanding and handling of neurodiversity in the workplace? 
AUBRA: I do want to start this off by saying that I acknowledge the variety of the neurodivergent perspectives, so I can only answer it for myself and my personal experience. I also want to recognize that my experience is not the same as others' experience and that it doesn't represent the community. Whenever I've been able to be open about my needs, I've always been supported. For example, when someone is talking about numbers and it's hard for me to keep track of them, I ask that they write them down or screenshare. Everyone is incredibly helpful and understanding. I don't even tell people that I'm doing this because I'm dyslexic, but I just ask, and people are happy to accommodate. It's so natural that I often don't explain further. I'm grateful that it is fairly easy to navigate my experiences, I feel very lucky that I have a career that I don't run into challenges often that don't require more than a subtle suggestion. The nature of the work is that there's a flexible structure around it that's super helpful, it's about the work getting done, not how you do it. I used to proofread emails because I was worried that I was using the wrong word, or typos that would interfere with clarity. It helped me be more polite – like it was a benefit I didn't expect to find from my own accommodation from dealing with dyslexia, but it helped me go back and thank people for doing the work that they're doing. 
SOFIA: What would you like to see translated into the game itself? 
AUBRA: I think that it's always wonderful that more people that have neurodiverse backgrounds be part of the group of people building or testing the game. I think it's awesome in terms of feedback but also it offers more options for the style of play, which I find is helpful. I do think that offering more ways to enjoy games, like if you may want to play more casually or more seriously and different options may work better for different people at different times.  
SOFIA: Do you feel like 343 gives you the freedom and space to be who you want to be?  
AUBRA: YES! I feel very supported to bring my authentic self to the studio. Due to COVID-19, I've been embracing my natural hair color. When we all started working from home, I just completely accepted it and recently dyed it to match my grey roots. Originally, I was concerned that as a woman in IT with grey hair I would be viewed as less technical. But the studio made me feel comfortable and I knew I wouldn't be perceived any differently and so, while I had been on my way (to grey) before COVID, I took it to heart and made the jump sooner. 
SOFIA: Is there a particular event that you can recall that exemplifies that comfort? 
AUBRA: One situation really speaks to how welcoming 343 is. Back in 2018 when the studio formed the LGBTQIA group, I reached out to Zara Varin and I asked if I should join because I wasn't sure if being a pansexual, in a straight-passing relationship, being married to a man, if I belonged in the LGBTQIA community. Here's Zara's response:
"First of all, you absolutely are part of the community. You absolutely do belong. I know a lot of folks who are in 'straight-passing' relationships who echo a lot of what you've said here (I've been there – I'm pansexual); everyone's struggles are different, but that doesn't mean they're any less important. They're part of you, and you're part of all of us. I appreciate so much where you're coming from, and hope you've never been made to feel as if you aren't allowed to celebrate however you're most comfortable doing. Part of what I hope this group can accomplish here is help us all build a community together & help folks be comfortable being themselves, however they wish to engage (closeted, questioning, allies, and all queer flavors under the rainbow), and know they have support. So, in terms of membership – it's for everyone, and absolutely for you if you want it to be, but please don't feel obligated to if you don't want to." 
I can't say enough how much that's helped me, not just at the studio as a great inclusive place but how much it's helped me personally. I didn't know if I was part of the LGBTQIA group in general, and it made me feel like I belong, which is so special in its own way.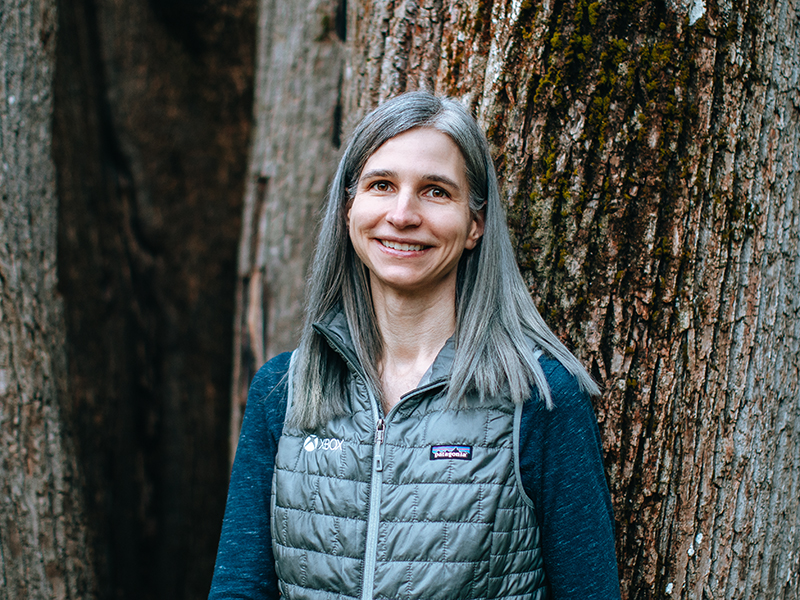 SOFIA: What's your favorite video game and why?  
AUBRA: I have so many favorites for different reasons, but if I had to pick just one favorite video game, I would say Dark Age of Camelot (DAoC). It's probably because it's when I discovered the gaming community and made lasting friendships. Our guild would sometimes host in-person events such as white water rafting trips. That's how I fell in love with white water rafting and ended up moving from Wisconsin to Washington State. It also provided a connection through which I met my husband. We later realized that that we had met and remembered each other from DAoC and Shadowbane!  
I love solving puzzles, so I was blown away when I discovered Portal and Portal 2, and I still like to play these two again from time to time. 
Gaming is important to our family, so I really enjoy games that my 6-year-old can play as well. These include Pokémon GO, Minecraft and Animal Crossing. 
SOFIA: What was the FIRST game that really captured your attention? 
AUBRA: The first game that captured my attention was Age of Empires back to when I was in high school. I played both Age of Empires I and II, but probably put more hours into II. I remember being surprised by the variety of ways I could play, including campaign, multiplayer and custom maps.  

SOFIA: Is the process of making games anything like you imagined from a player's perspective? 
AUBRA: I dreamed of working in gaming, but never thought it would happen.  Now that I work in gaming, I've realized I had no idea how much work, iteration, and specialization goes into creating games. 
SOFIA: What do you find to be the most unique or surprising aspect of the gaming industry?
AUBRA: Compared to when I started playing video games, I'm surprised by how much the concept of a gamer has expanded and how much this industry has grown. When I first started playing games, it was a much smaller industry with fewer options for games. I love that gaming has become more inclusive with a larger variety of games that appeal and connect to more people. I remember being surprised and moved when I first saw that Xbox built the Adaptive Controller to allow more ways for people to enjoy video games. 
SOFIA: What do you think 343 stands for as a studio, and what inspires you to go to work every day? 
AUBRA: I feel like I can't do this question justice, but the first thing that comes to mind is community. Especially since we're all so isolated right now due to COVID-19, I think that places to find a community are incredibly important. I love seeing the Halo Community Spotlights, and how it's exploding with creativity and passion from our very own players and fans! One of the most inspiring things about working at 343 is when kids choose to visit the studio through Make-a-Wish and how the entire studio gets involved in making it a special day. When I think about what inspires me each day, I would say the people I work with in the studio, solving unique challenges, and the variety of technology we get to use every day.  
SOFIA: Thanks so much Aubra! This was so much fun 😊