Employee Spotlight: RJ Ranola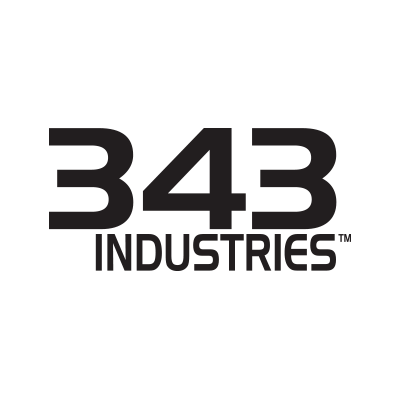 By Iva Lindstrom -
RJ Ranola, Senior Environment Artist, details his journey from graphic design, to animation and storyboarding, to eventually arriving at the shores of 343 Industries - twice! As he works to immerse players into the spectacular worlds of the Halo universe, RJ gives us a view into his own exciting life with the holy trinity of 3D printing, competitive weightlifting, and track racing.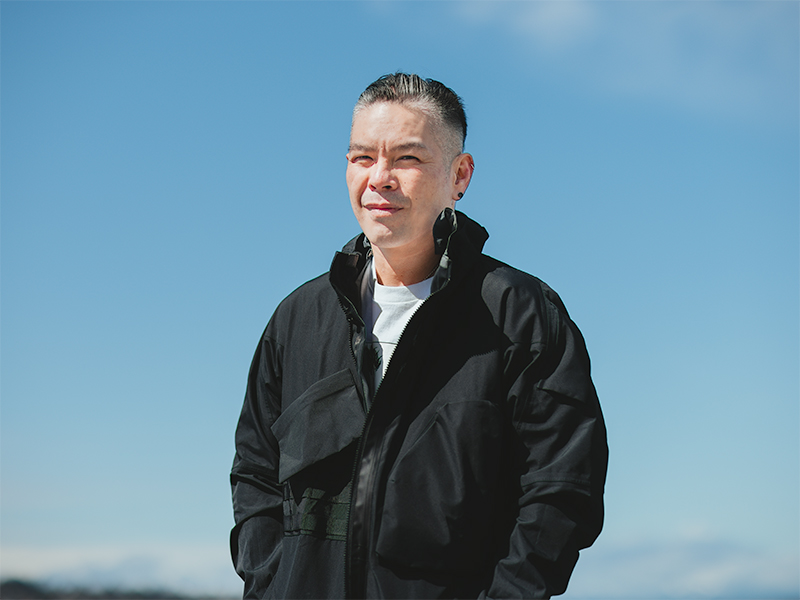 Iva: Welcome to the Employee Spotlight! Please tell us your name and pronouns, as well as your job title.
My name is RJ Ranola, and my pronouns are he/him. My job title is Senior Environment Artist.
Iva: Tell us what a Senior Environment Artist's work involves.
Our job is to immerse the players in the world of the game. We do the scenery of the game – working with designers and tech artists to create compelling spaces with the game design requirements within the Slipspace game engine. We also support the Art Director's vision of the game while taking ownership of environments. As visual storytellers, we establish the player experience, what world or situation they're in.
We can lead the player to a certain point of interest, or make the player feel a certain way because of how we established the scene.
Iva: Where do you and your teammates find inspiration to create the worlds you do?
I think a lot of inspiration comes from inside the team. We feed off each other, like one person would do something amazing and then let me use that design language to make something else. It was really rough during Covid, when we first started working from home, but we have figured out ways to collaborate. We were video chatting the other day and it felt like we were right next to each other! I would say that my coworkers inspire me.
Iva: What do you think makes your team work so well together?
I think it's that we don't let our egos get in the way. People don't get upset with feedback. You can't get so emotionally attached to something you created that you have trouble when things need to be changed, maybe even scrapped.
I think a big part of why the Infinite Team – definitely the Environment Art Team – works so well together is that everyone is willing to collaborate. It makes things that much easier when everyone has this attitude and focus towards the same goal. Everyone wants to do whatever it takes to make a great game.
Iva: When you're building a new world, how do you create something original while being loyal to 20 years of Halo lore and worlds?
The great thing about Halo is that there's such a rich history to its legacy design, but there is still a lot of space to try to do different things.
With Halo Infinite, the emphasis was that it was really for the fans. 343 was listening and taking a lot of feedback from the community. I've never seen so much feedback! Infinite was similar in some ways, but also very different in others, keeping certain things, but really changing the style within the look and feel of Halo, going back to some of its roots and updating it while respecting and incorporating styles from different eras. I give a lot of the credit to the Art Directors, Sparth, and Martin Deschambault for taking a legacy look and bringing it up to date, while also building on a lot of the visual styles and nuances from Halo 4 to make something that feels truly holistic. There's a little bit of every Halo in Halo Infinite.
Iva: Can you give an example of something in Halo Infinite with a legacy look that's been updated?
Definitely. I wasn't a part of this design, but the Forerunner treatment was a huge one. If you look at the Forerunner styles and themes in Halo Infinite compared to the legacy Forerunner aesthetic, they're very different in fidelity. We took our style elements, but with the silhouette of the legacy Forerunner. And fans picked up on it! There was a Forerunner door spotted on the multiplayer map Fragmentation and fans were like, "That's the door from Halo: CE!" I feel like we represented the legacy of Halo in such a beautiful way.
Iva: What does it mean to you when fans notice a callback you and your team put into the game, like the Forerunner door?
It's pretty awesome! I think the most fun part of this project was the Easter eggs: the arcade game, the concert on top of the Tower.
The concert originated from a 2AM conversation with my coworkers and my environment lead. We were joking around and talking about props and someone mentioned a Banished guitar or a Brute one. I took some assets and quickly put together this guitar, and that just snowballed into the audio team throwing in some strumming audio. Then someone mentioned a concert.
I like it because the fans really went wild with some of the Craig memes. And it was one way to show that we listen to fans. You know, Craig became quasi-canon because we made that record album and fans were happy because they did it, their feedback helped bring that to life.
Iva: That is great. Is the concert your favorite Easter egg, or is there another one that you like better?
There are some awesome Easter eggs, like the giant sandwich. But hands down, I like the concert and guitar. When I saw the guitar with audio riffs attached to it, I instantly loved it.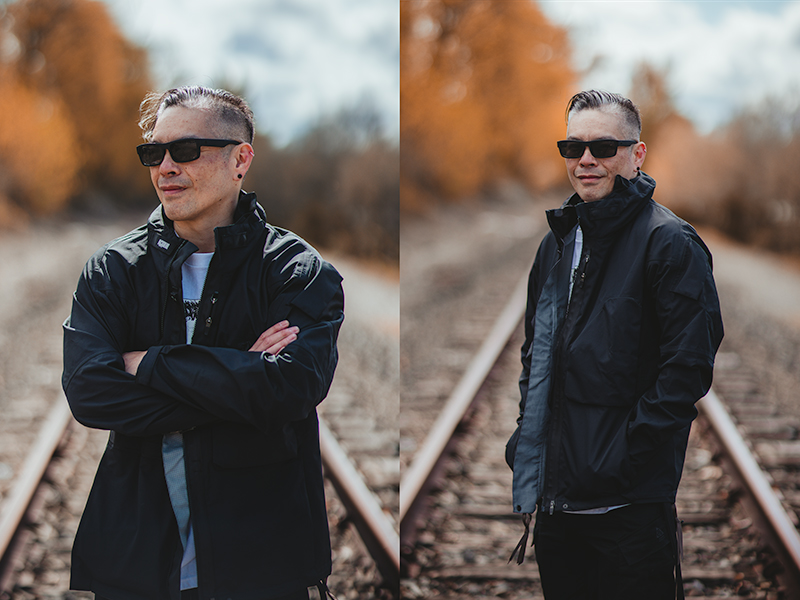 Iva: What's your Halo origin story?
I originally went into graphic design. In my first year in college, I realized I hated it. I grew up doing a lot of flyers for nightclubs and it seemed like graphic design was the direction I had to go. When it came down to it though, I really wasn't liking it, so I switched to Media, Arts, and Animation. I hadn't done any animation work, but I started work in 3D animation as a storyboard artist intern for an advertising company. They were doing a lot of CG commercials and I got my foot in the door to move up from storyboard artist to texture artist.
The thing about working in advertising is that it's often contract, and sometimes you just couldn't find a contract. I kept getting laid off for a few months, then called back in, then laid off again, and we'd just had my son at that point. I was freaking out and reached out to a couple of art school friends who were working in the video game industry for ideas on how to get into the field. They looked at my portfolio and saw I had a lot of cityscapes. That was always my favorite part of creating scenes; I was less concerned with characters and more interested in what was behind them. My friend told me to think about environment art.
My first big break was at EA, interviewing for Def Jam Icon, which was a bunch of rappers battling each other. They brought me in mostly for my traditional art background and liked that I had graffiti in my portfolio. They took a big gamble on bringing me in, but the minute I started working on environments, I loved it and knew this was the thing I wanted to do. I loved coming to work, waking up and knowing I love my job.
I went from there to Activision, Raven Software, where I gained experience working on first person shooters. Then I got an interview with 343. It seemed like they were putting together this rockstar pool of talent and were pulling in all these people, and for me it was weird coming to 343 with all of these big named people in the video game community; I freaked out. I was a fan of theirs, so meeting them in person, I felt kind of starstruck, and it took me a while to get over that.
That was 2010 and I was very honored when 343 made me an offer. I came over and it was crazy that I was working on Halo. I remember playing it at my first job, and having LAN parties with my roommates, with people bringing these giant, heavy TVs to people's houses to play. And here I am!
Iva: Later, you left 343 for a bit and returned. What brought you back?
It's because I love working on Halo! I truly do. I think I needed to get away from Halo for a little bit just to realize how much. I love working on the content. I don't have any regrets about leaving, because I feel like I came back with a bigger passion for the Halo franchise. At the end of the day, I needed to work on something I truly love. At first, it was a nice break from working on sci-fi, but in the end, my personal preference of work was always sci-fi. I'm glad I had the opportunity to come back and work on this project again.
Iva: When you look back on your career, what accomplishments are you most proud of and why?
I would honestly say Halo Infinite. I've never experienced anything like the release of Infinite.
I have a lot of other projects I worked on where I worked so hard and the reviews and community feedback came out and, it was rough when things weren't a grand slam out of the park. I remember my first video game, Def Jam Icon, which was released the same month as Halo 3. I remember going to Best Buy and there were a bunch of Def Jams there, but hardly any Halos on the rack. It was kind of a heartbreaking feeling as an artist. You just want your art to be out there for a lot of people to see and enjoy. I'm very proud of the work I did on Def Jam, but not a lot of people played it. But Halo had a lot of people playing it.
I know reviews were mixed, but I feel like, with Halo Infinite, I've never experienced anything like it. So many people were hating it after the E3 trailer, and then we just had this mind-blowing turnaround. I honestly did not expect it to be so highly received. I had my own expectations in my head and it exceeded them, so this is my biggest accomplishment so far.
Iva: What's your favorite thing about working at 343?
I definitely love the people, but it's also the franchise that I love. I love the stories, the narrative, the art style. It's crazy how Halo started as just a video game and now it's a franchise up there with Star Wars. It's mind-blowing!
Iva: What's your favorite Halo community story?
I remember when I first started working at 343, I had never experienced things like Make-a-Wish kids coming into the studio. That just never happened anywhere I had worked. And I thought, wow, these kids and families are facing these incredible challenges and they get one wish granted and it was to come and see the Halo studio.
I remember one of the kids who came with Make-a-Wish wasn't going to make the release of Halo 4 and 343 brought a dev kit to the hospital and the kid got to play the game all the way through. It just showed what kind of a company I was working for. It was very touching, knowing that kids want to use their wish to play Halo.
Iva: What's the biggest challenge in your role? The biggest reward?
I think the biggest challenge is making the fans happy and excited, but also on our side, trying to be creative and bring in new ideas. I think we nailed it with Infinite, which has a good mix. I had no idea that the Grappleshot would change everything for the game! I was not a believer, and I wasn't sold on it, but, once the game started really coming together, I thought, wow, this is actually really fun. I think one of the biggest rewards is making a game the fans are happy about. The true test was my son playing Halo Infinite constantly, where I had to tell him to go to work and he's like, "Just one more match!"
I think the thing I'm most proud of is working on the Mammoth for Halo 4 and seeing it become a toy made by Mega Bloks. I was so excited that I could give that to my kids for Christmas, something I helped create. And they were proud too. That's the biggest reward for me.
Iva: If someone wanted to pursue a career like yours, what sort of skills, hard and soft skills, will they need? What advice would you give that person?
For environment art, being observant of your surroundings is definitely a skill in and of itself. When we go on vacation, I'll stop and take pictures of alleyways or the way wires drape on something, or some kind of cool shape I see when I'm hiking with my family. Being inspired by and very observant of everything around you can really benefit you in this career.
You also need to have a good understanding of shape and spatial awareness of silhouettes. For environment artists, it's our craft, our trade. It's the thing we love. We love doing the work. I love that about my team. We'll walk to go get coffee in Redmond and we'll be taking pictures of cranes or buildings on the way. We go hiking and come back with hundreds of pictures of rocks and landscapes. We get inspired by everyday surroundings.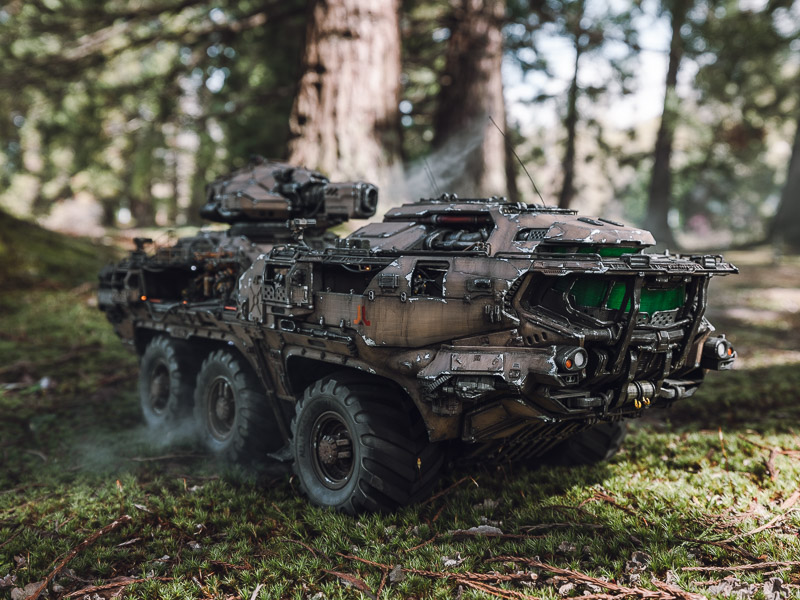 Iva: Your RC Mammoth is legendary in the studio. Tell us how that got started.
It started when Covid hit. In the past, I did a lot of miniature war game painting. It's something I got into later in my adult years. I think my son was getting into it and I tend to immerse myself into whatever my children's interests are, but that one kind of stuck with me and I really enjoyed it. So, when Covid hit, we were just sitting around a lot. I couldn't go anywhere, so I picked up my old hobby and started painting miniatures again.
Then, my wife bought me a 3D printer for Christmas, and the first thing I wanted to make with it was the Mammoth. It started off as a static model for miniature war games. There's a big community for that, Halo: Ground Command. I went on their Facebook page and saw that they were 3D printing their own stuff. They would find screenshots and break down the games and then model and make stuff that wasn't available anymore because the Halo: Ground Command game isn't being produced anymore. But there are hundreds of these fans who are keeping the game alive and it's cool to see what they make.
I decided to make a Mammoth, just a static one. I saw online that they make six-wheeled RC vehicles and I thought it would be cool if I made mine move, so I switched gears. The scale size of the Mammoth is 1/100, which is still ginormous – it's over two and a half feet long. And that's basically what I started doing on my weekends.
Iva: What aspect of the Mammoth build are you most proud of?
I think with the RC Mammoth build I am most proud of turning a digital design into a physical build and handling the challenges that came with this execution. When I revisited the Mammoth modeling file from 10 years ago, it did not have the fidelity necessary for modern 3D printing. I had to start from scratch and did high-poly modeling of every piece. This project from start to finish took almost a full year.
Iva: The RC Mammoth gets such great reactions. Would you share some of your favorites?
I think the biggest reactions have been when I posted it on Facebook groups for Halo 3D printing, where people were making armor and helping each other out. When I started working on it, I just had the front, but it was still so big and I had to make it out of about 100 pieces and assemble it. I couldn't just print it as one giant piece. The reactions from the fans in the online groups blew me away.
I remember bringing my WIP Mammoth to the studio during a playtest, and back when I didn't even have it painted yet. My Lead, Justin Dinges, brought it to the attention of John Friend, who is the Director of Consumer Products. His jaw dropped and he couldn't believe I made this thing – and it moves! I did the whole thing and I spent time on really getting the details polished: It has the turret, LED lights, six tires as well as rear and front steering.
Then on December 8, we had a Halo Infinite release party at 343 and I was driving it around to share it with my peers. I don't think people expected that anyone would actually make something like that. It's good to see something you've spent so much time on come together and then share it with others. I don't get upset when people give negative feedback, but when it's positive, I love it, you know? It's good to know people enjoy it.
Iva: Who is your favorite Halo character and why?
Of course, I love the Master Chief, but I have always loved Captain Lasky. Like the way the voice actor (Darren O'Hare) played Lasky for Halo 4, just so calm and cool compared to the other commanders and captains. There's this bounce to the way his animators made him move. Yeah, Lasky is one cool cat.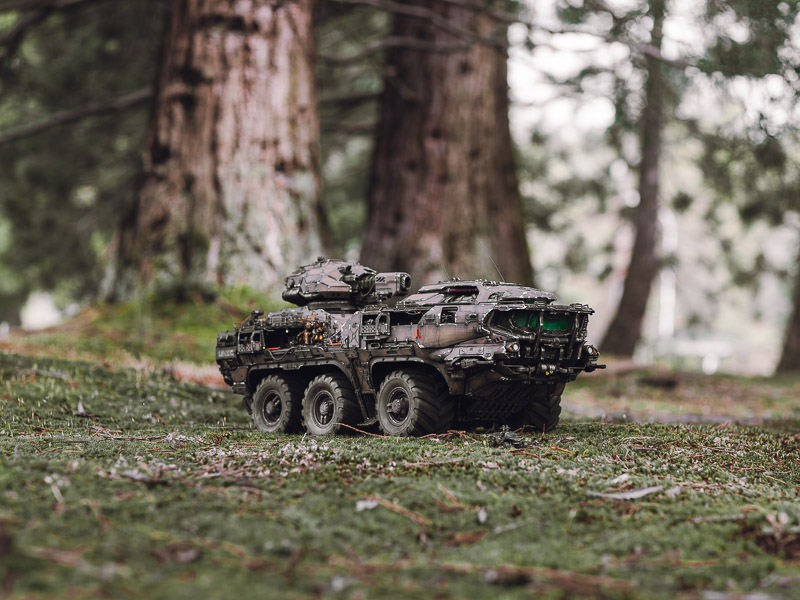 Iva: What's your favorite Halo storyline?
Halo: Reach, hands down. I love the story of Halo: Reach. I love that it's a precursor to the Chief story. It's very similar to Rogue One, taking a page out of a story you know, but with totally different characters. I love the way Reach is a tragedy, but there's hope at the end of it.
Iva: What's your earliest gaming memory?
I think it was going to my cousin's house and seeing that he had a ColecoVision and we played Donkey Kong. I thought it was the coolest thing in the world. I think I was four. But I thought it was amazing. But my earliest video game was at a mini golf course – a lot of those miniature golf places had arcade cabinets back in the 80s – and they had a Star Wars one. I love those movies. I remember having to stand on a stool to reach the controls.
Iva: Were you hooked from the start, way back then?
I didn't know I was going to make video games, but I always knew I wanted to. When I was a young child, I saw this documentary on how Star Wars was made and I loved it. I loved seeing the creative process and what was behind the scenes.
I honestly think that, if I was born in the 60s, I would have worked as a set designer or scale modeler for movie sets instead of being an environment artist. That's something I do now as a hobby: dioramas and model-making. I think it was when the PlayStation came out and I saw how cool the cinematic graphics were, and then Xbox came out with Halo, which was awesome, that was when I started switching gears and instead of wanting to work at Industrial Light and Magic, I wanted to work in video games.
Video games and movies caught up to each other. I remember when I first started working and we were using bitmaps and then normal maps and now there's all these shaders and there are people who just work on shaders because they're so complex these days. I have some friends who work in the movie industry and I think it's hilarious that they're using game engines to make their stuff. I remember the minute it hit home how cinematic games look; I was working late and I had an old CG movie from the early 2000s playing on my dev kit and one of my coworkers walked by and thought it was a cinematic for our game.
Iva: Outside of work, you're a competitive weightlifter. What drew you to that? What keeps you going with it?
After my son was born, I gained a lot of weight. I was taking cholesterol meds, but I hadn't noticed how bad my health was until I went to get life insurance and I had to get a physical. The insurance company told me my cholesterol and triglycerides were concerningly high, so I went to my doctor, who told me I had to make some life changes. My wife signed me up for a weight loss challenge at a gym. The prize was a free vacation in Vegas, and I ended up winning it. People from 343 started coming with me to the gym on lunches and it really helped me with my healthy habits.
CrossFit wasn't working for me. I started developing a pain in my foot and found out that I had a bone spur in my heel that was preventing me from doing a lot of the CrossFit exercises. But I loved the barbell lifting and one of the coaches recommended Olympic weightlifting. It puts less stress on your body than powerlifting, because there are more techniques for raising the barbell up to the overhead position. I started doing it competitively when I found out that you lift against people in your own age and weight group. I'm not breaking records or anything, but I enjoy doing it. It's fun and I get exercise. My kids got into it, too. I love going to the gym together with my children and working out together.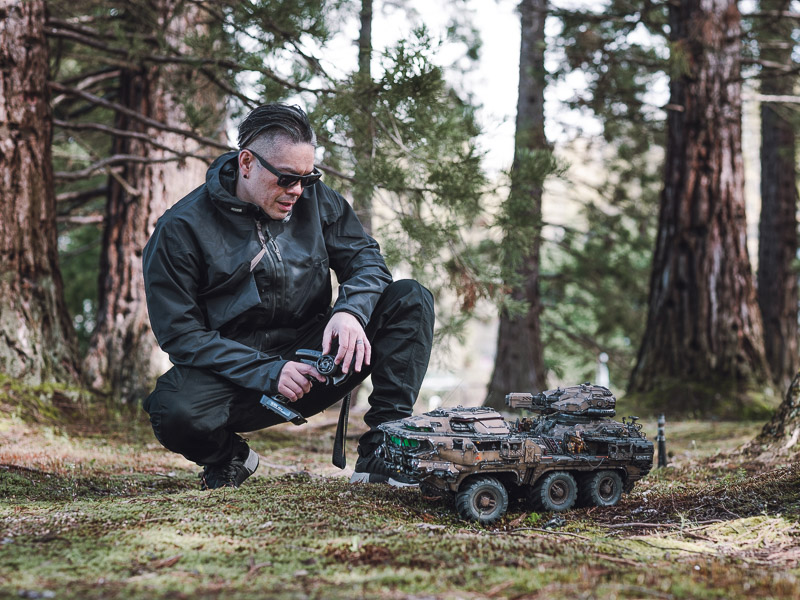 Iva: Is there an accomplishment in that arena you're particularly proud of?
I'm excited that I qualified for nationals in the United States. It wasn't really my goal, but I like to set goals, short term and long term. I guess that's why I started competitive weightlifting. At first I just wanted to do better, but then I needed something to shoot for. I would set totals I wanted to hit and work toward them. Last year, I qualified with enough points to compete at nationals.
Iva: You have another interesting hobby: track racing. How did you get into that?
It was one of my coworkers at 343, Chiyo Lai, a Senior Environment Artist. He helped me get my first sports car, a Subaru WRX STI. They're fast and they fit a whole family, too. He'd been trying to get me to the track for years and I never got around to it until about two years ago, and I loved it. It changed everything about the way I drive. I learned so much from it.
Just learning how to really drive your car is an accomplishment. You get to really unload on the car in a very safe way. You're not trying to cut someone off or anything; it isn't dangerous like that. But you get out there and you do it and you learn so much of what you were doing wrong, like where to put your hands. You don't put them at 10 and 2 like in the movies. You drive with your hands at 3 and 9.
It's something I was always scared to do, but now I'm working on my own car and stuff. My son is into it, too. He and I went to our first track day together when he turned 16, and it was great. He doesn't drive like a jerk. He learned how to really drive and be observant.
Iva: Do you think being a gamer gives you an edge on the track?
No, I think going on the track gave me an edge at being a gamer, to be honest. After being on the track, I was playing Forza and destroying it. It pours out of you, because you understand the turns and you're not just slamming on stuff. You know that being smooth is what makes you fast. I see more things that translate from being on the track into video games than I do from games onto the track.
Iva: That sounds awesome! To close things out today, aside from Halo, what games are you into and why?
I love Final Fantasy 7, mostly because I love the art style. I love steampunk mixed with fantasy. For me, playing video games takes way longer than any regular person, because I'm looking at everything, at pipes, at corners of rooms. I'm looking at the details to understand what other environment artists from other companies make. If you take the time to observe, there are stories to be told by environment artists. Visual storytelling is part of the immersion of being in the game space.