Help Finish the Fight Against COVID-19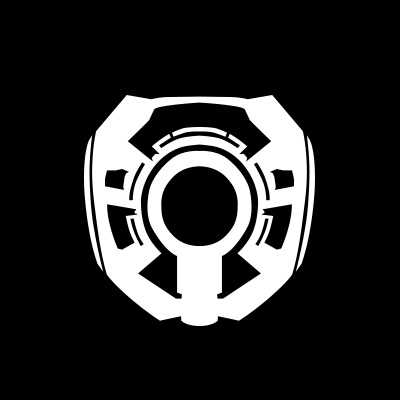 By 343 Industries -
In the Halo fictional universe, humanity is united with a common goal of survival in a battle against the alien collective known as The Covenant. Our hero, the Master Chief, overcomes insurmountable odds to drive back the hostiles and save the known universe from annihilation. As the events of Halo 2 conclude, we're treated to this now iconic response by Spartan-117 when asked "what you're doing on that ship," 
Sir. Finishing this fight.  
Today the world is engaged in a different kind of fight – instead of an alien cult hellbent on our destruction, we're facing a dangerous threat from a microscopic virus. And in lieu of the UNSC, we have real world heroes in our scientists, doctors, nurses, caregivers, and essential services across every sector fighting for humanity. And while we may not have a real-life Master Chief to help finish this fight, we do have something even better – all of us.  
The millions of fans around the world who comprise the Halo community are no strangers to helping those in need. Over the years, the Halo community has rallied to help others through hardships big and small, from individuals in need to larger efforts like raising over $220K for global disaster relief or the "Fight the Flood" initiative that generated over $175K for Hurricane Katrina relief. 
Giving back is one of the core studio values of 343 Industries and everyone across the studio has a shared desire to find ways to help support those impacted by the COVID-19 pandemic. We're excited to partner with our community to offer a few different ways players can help in these difficult times.  
 #WeGotThisSpartans COVID-19 Relief Shirt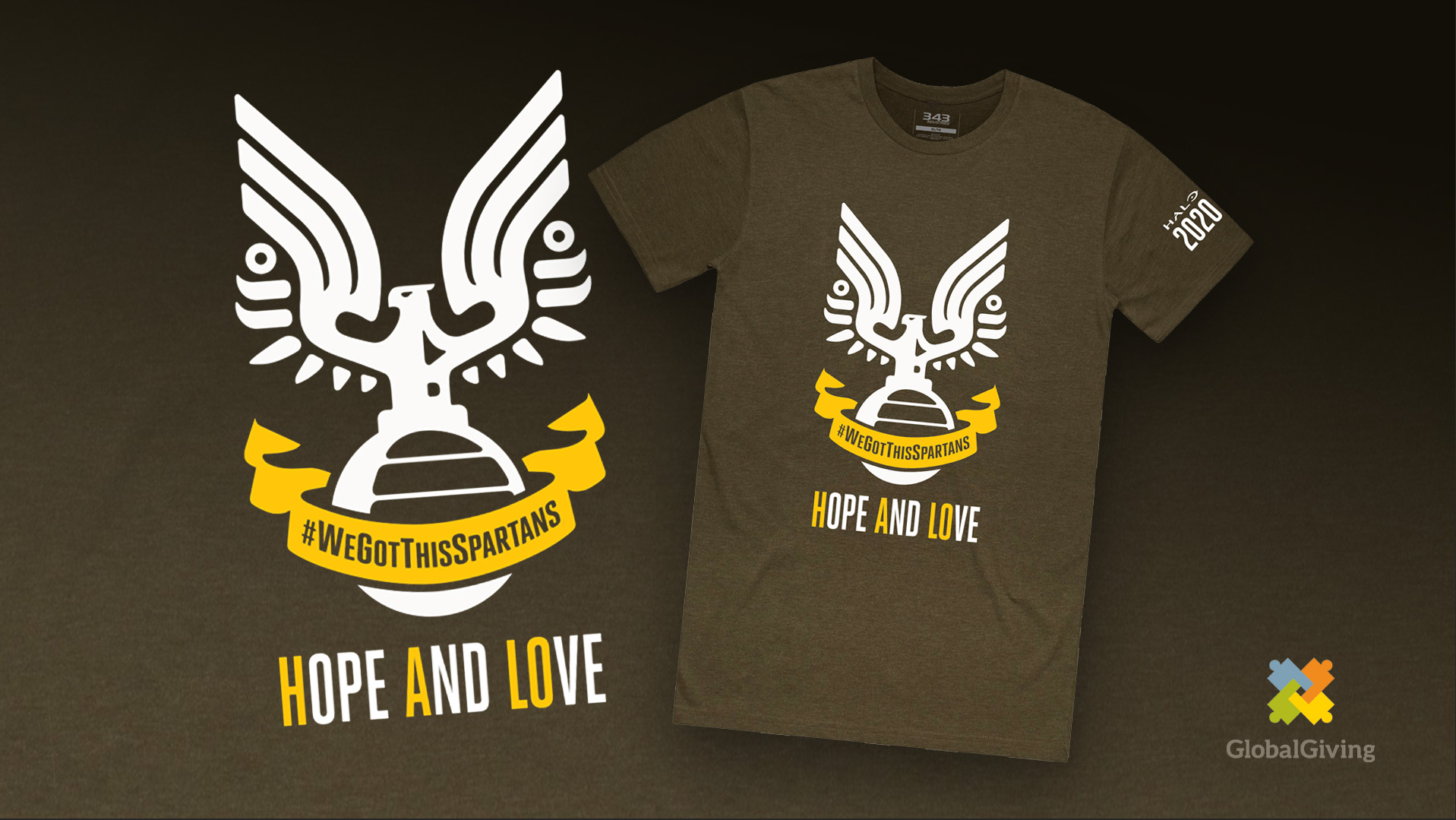 Today, in partnership with our friends at Meta Threads, we're excited to offer a limited edition t-shirt as one way that Halo fans can contribute towards helping global communities impacted by COVID-19. All profits from the sale of these shirts will go directly to GlobalGiving's Coronavirus Relief Fund. Your donation will give communities on the front lines of this crisis the resources they need to act quickly and protect the most vulnerable.  
This t-shirt is meant to reflect 343 and Halo's commitment to helping those affected by the COVID-19 virus. We've taken the iconic UNSC emblem and repurposed the banner to reflect a Halo-version of a popular hashtag that stands for community and resilience (#WeGotThis). Empathy and compassion are key during these trying times and you can't spell "Hope and Love" without "HALO."  
Of course, any donation, big or small, is incredibly helpful during this crisis and we encourage everyone to do what you can – if you'd prefer to donate directly to GlobalGiving or another organization, please do! If you'd like to help but also want a cool shirt, please do!  
The #WeGotThisSpartans shirt is available today through April 21st. As a special bonus, each shirt purchase will include a free month of Xbox Game Pass Ultimate.  
Please visit metathreads.com/halorelief to order and get additional details.  
Relief and Recovery REQ Pack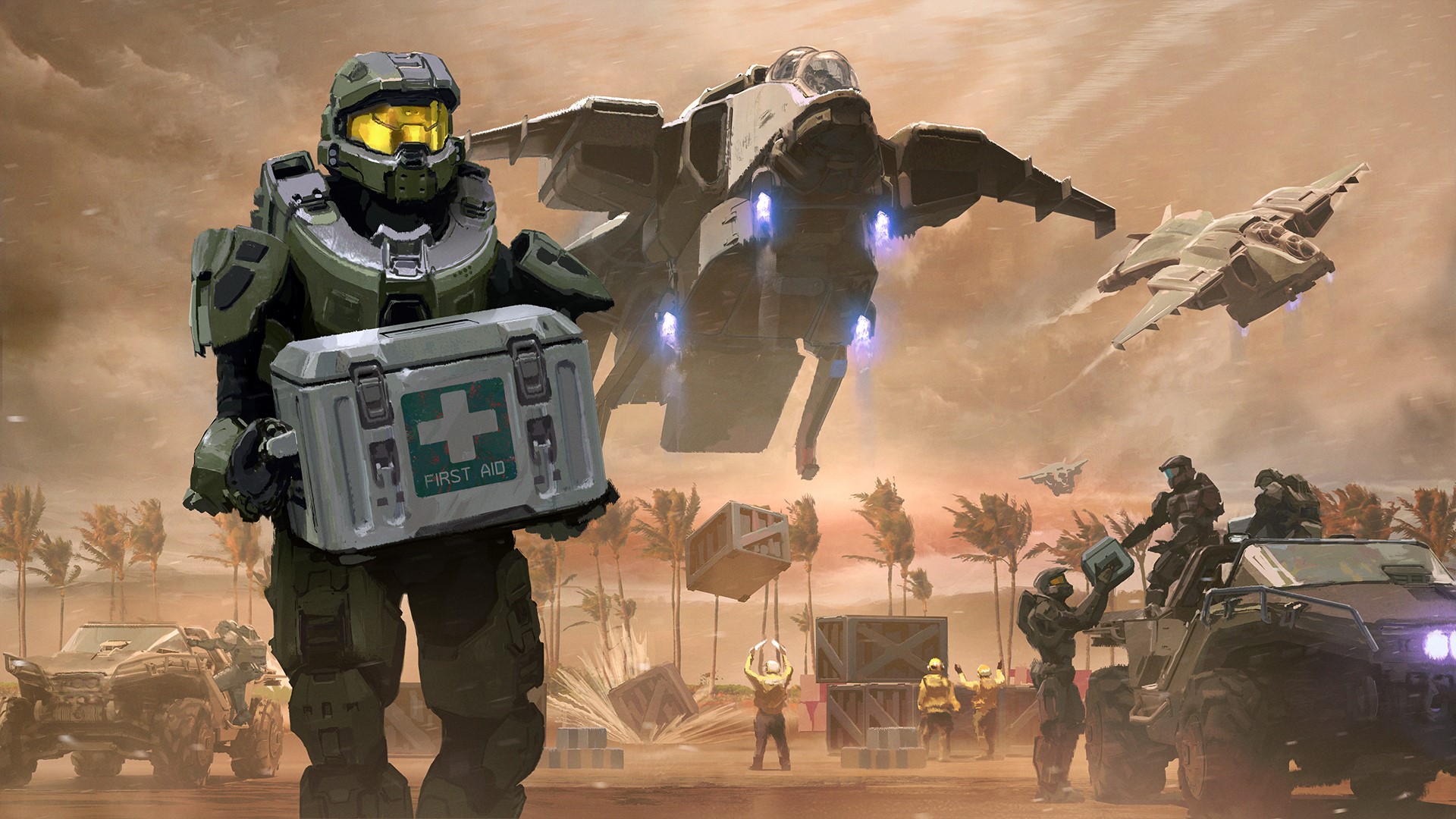 For players looking for an alternate means of helping out, we've brought back the "Relief and Recovery" REQ Pack in Halo 5: Guardians. The Relief and Recovery REQ Pack is available now through April 30th and all proceeds from this in-game purchase will go directly to GlobalGiving's Coronavirus Relief Fund.
We're humbled and blown away by the outpouring of support from the Halo community since we launched this pack on March 27. In less than two weeks, we've already raised over $200K thanks to the generous contributions of Halo players around the world! Thank you, Spartans.  
And speaking of in-game offerings, to help make your time indoors a bit more enjoyable, we've activated Double XP across both Halo 5 and Halo: The Master Chief Collection through April 30. Additionally, we're giving away Arena and Warzone XP Boost Packs each week in Halo 5 simply for logging in.  
Donate to the CDC Foundation by Playing Xbox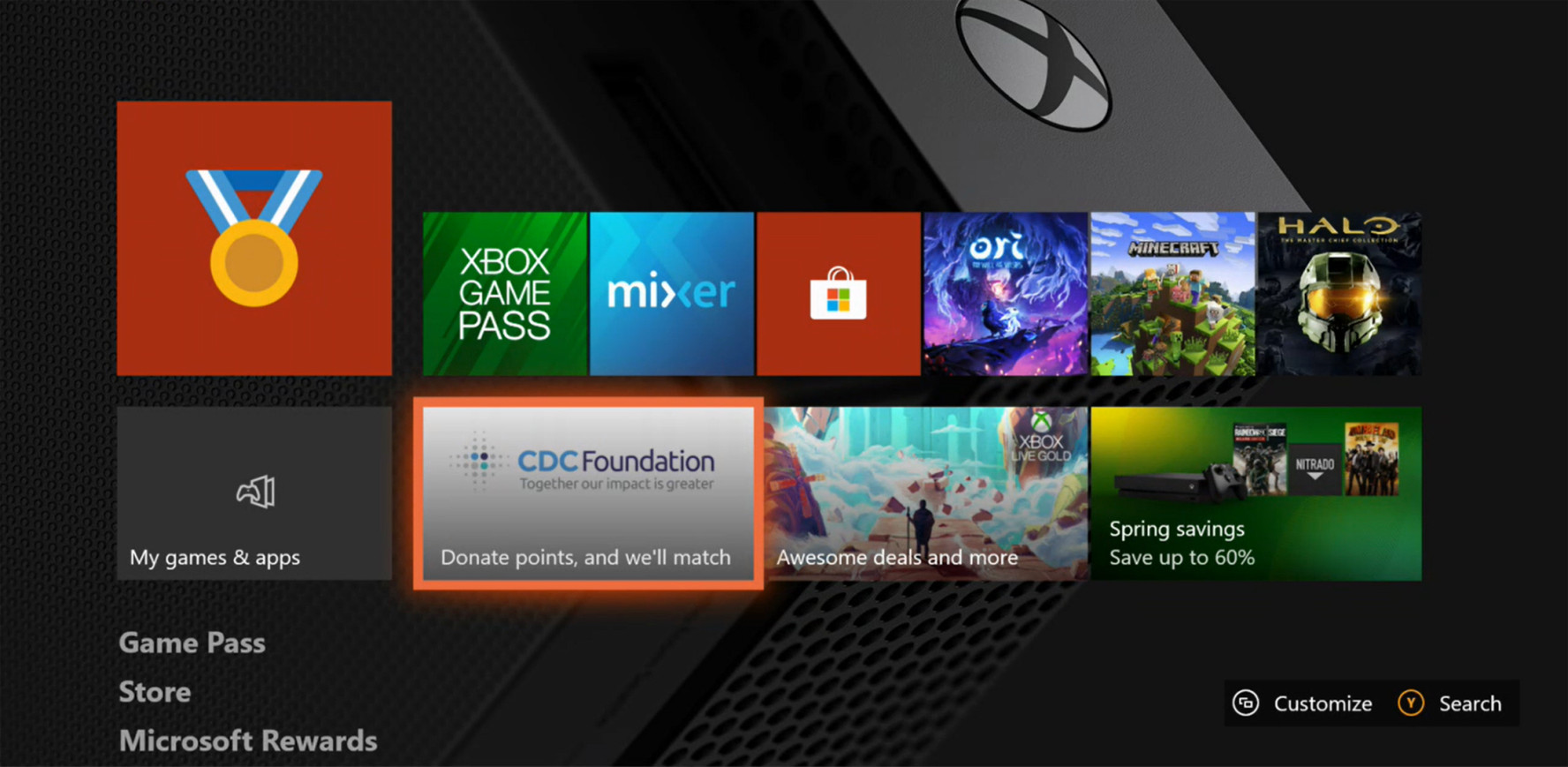 Lastly, while not specifically a Halo program, we did want to highlight another fantastic opportunity to help those in need that's as simple as playing games on your Xbox. Please read this article on Xbox Wire for the full details but the gist of this (US only) program is: 
     1. Sign up for Microsoft Rewards at microsoftrewards.com
     2. Earn points by playing games on your Xbox (like Halo!) 
     3. Hit the CDC button on your Xbox dashboard and donate your Microsoft Rewards points to the CDC Foundation. 
         1,000 Rewards points = $1 donated. 
     4. Microsoft will match your donation one-to-one. 
And that's it! Helping others has never been so easy! Head over to Xbox Wire for additional details.  
Whether you're able to donate to organizations in need or just doing your part to #flattenthecurve and practice social distancing, we're all in this fight together. Thank you for your continued support of not only Halo, but each other and our greater community.  
Stay safe and stay healthy – we got this, Spartans!