Employee Spotlight: Leonard Holman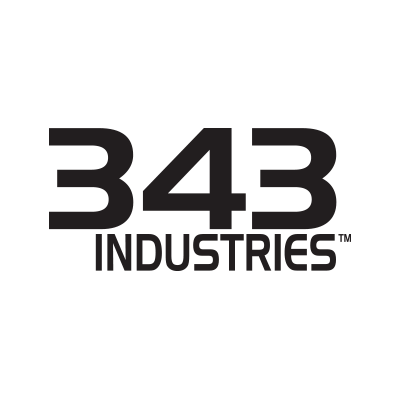 By Iva Lindstrom -
If you peel back the awe-inspiring art, legendary characters, and adrenalin-pumping action from Halo Infinite, you'll find the game's framework: code.
Leonard Holman, Senior Software Engineer, is one of the many brilliant people crafting the code that allows players to immerse themselves in the world of Halo.
To reveal how creative coding and the analytical dissection of tasks make our favorite game possible, Leonard agreed to give us a peek inside his career, passions, and creative mindset. He'll share his life-long passion for understanding how things work and how to improve them, whether it's code, woodworking, cooking, or outdoor photography.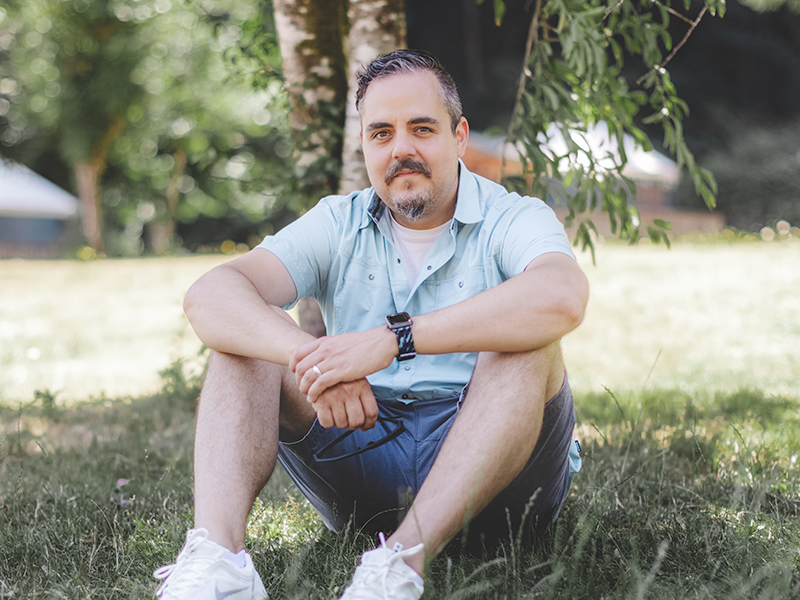 Iva: Please, tell us your name and pronouns, as well as your job title.
Leonard: Leonard Holman, he/him, Senior Software Engineer.
Iva: Tell us a bit about your role, including what a typical day looks like.
Leonard: I am leading up the engineering efforts for customization on the Live team, which provides rewards, engagement, and matchmaking for Halo Infinite, as well as support for long term service with seasonal updates.
I work with many different teams on the underlying systems of our Customization features. That means working on the elements of that feature, how it all interacts with our online systems – and how it's exposed and presented to the player.
My typical day maybe isn't very typical; I work on lots of different aspects of the game, and that includes writing tools for our designers and artists. On any given day, I work with our Live designers and producers to complete specific tasks; collaborate with services to get all the systems working correctly; team up with Tech Art to get a specific asset working in game; partner with UI/UX, Graphics, Sandbox, Systems and Multiplayer on various tasks; and then also collaborating with our test team to help fix bugs and get them whatever they need to help test those parts of the game. I hope I didn't miss anyone, but I truly love the variety of workstreams and getting to interact with so many talented and varied team members. The Live team depends on multiple disciplines to get everything running. I really can't express how grateful I am to have the opportunity to work with such talented people.
Iva: What's your Halo origin story?
Leonard: My work origin story was something of a long shot. I have an older brother who has lived in the Seattle area for a while and I visited him often through the years, so I always wanted to eventually move here. Right when I was intending to look for jobs out here, I met my future wife and love halted my plans to move to Seattle. The tough part was convincing my wife to move out here since she had lots of family and friends back in Florida, on top of the fact she loves sunshine and beaches; it was really a hard sell to move here. Then one day, she was approached by Microsoft recruitment and, of course I was like, "You have to at least talk to them … right?" Well, long story short, she was offered the job and, since it was a great career opportunity anyway, it was an easy decision for us to relocate to Washington. Shortly after moving and looking around for jobs, my wife found the listing for a job at 343 and I recall saying it would be a dream job working on Halo, but never thought it would actually happen. Never did it occur to me that I could work on a game I grew up playing and loving so much. Well, I applied, I waited, waited some more, and eventually heard back with the good news! Dream job checked off the list.
Iva: What's your favorite Halo community moment?
Leonard: I had a unique opportunity to take part in a global community event that I will never forget and that I wish everyone at 343 could someday experience. Way back in 2017 when I worked on the Live team at a few Halo Championship Series esports events, our team was managing the matchmaking and lobby code, an essential role at these events. I recall seeing some emails at work asking people to volunteer to run these events and never thought of asking or imagine I would be selected. Once again, my wife pushed me to throw my hat in the ring, and looking back, I am so thankful she did. The first event I went to was in London, then Mexico City, but the last event, in Denver, is where this story begins.
After each event, 343 would have a gathering for the winners and staff. At the Denver Dreamhack event, there were a lot of old-school community members there and one of the members secretly made a tribute video for long-time community legends known as Lunchbox and Roy. A few community members even ran out and bought a TV just so they could show the video to everyone in the hotel during the after party. I don't know exactly how many people were there, but I remember there being lots of people all huddled around this little TV in the hotel lobby. As the video played, I stood there watching in awe as fans laughed, cried, and shared memories of their Halo gaming experiences.
It suddenly struck me that I was a part of creating these emotions and memories; it felt good to be a part of something that brought all these happy moments for our fans. I'll admit I shed a tear and I may or may not be tearing up now, reminiscing about it. That day, it felt like I was a part of the community rather than just working. I felt honored and grateful to be part of the Halo family, driving these friendships and feelings, and overall happiness across the globe.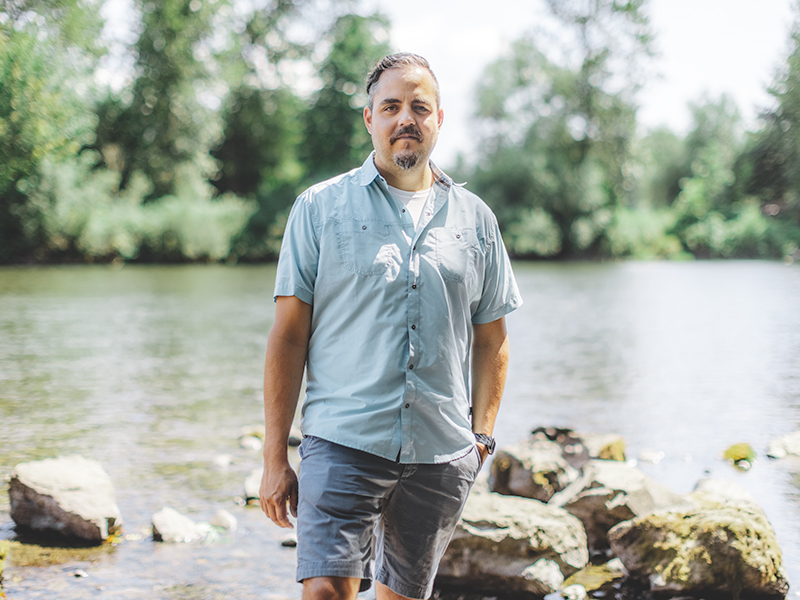 Iva: What's your favorite thing about working at 343?
Leonard: It really is the people I work with. The talent and the passion are incredible, but, on top of that, I have fun working with everyone and I really love what I work on. I'd also have to say another favorite thing of mine is all the things 343 does for Make-a-Wish. Not just the giving part, but being able to take part in some of the experiences with the kids and their families is incredible. Seeing the pure happiness on their faces is very special and I love that 343 makes things very special for everyone involved.
Iva: What is the biggest challenge in your role? The greatest reward?
Leonard: The biggest challenge I have is getting everything organized and delivered. Working closely with Design and Art, they continually have so many great ideas and so getting everything finished and into the game is hard. The teams are constantly pushing the boundaries of what's possible, so it's a challenge to complete everything within the time we have.
One of the greatest rewards is seeing the final results and seeing co-workers' reactions getting their hands on the game, followed, of course, by fans' reactions. Sometimes, it amazes me when I finish working on something and get it working with ugly temporary art, like red rectangles, or debug text or something simple, then when the Art team gets their hands on it, and they do things with it I never thought it could do. I also look forward to seeing the new game trailers prepared for major moments; it's always rewarding to see the game come together and fan anticipation for launch. I also can't repeat enough how much I enjoy community events and interacting with fans.
Iva: If someone wanted to pursue a career like yours, what skills (hard and soft skills) are essential? What advice would you give that person in terms of education and career path?
Leonard: The advice I'd give is start programming and build up your problem-solving skills. Like any skill, to be good at it, you must keep building on it, keep learning, and perfecting it. Be persistent and don't give up. Your hard work will show in the end. I am still always trying to learn new things now and build upon my skills when I can. Teamwork is also an essential skill, since most of the work requires working with others. In terms of education, I'd say any path in software engineering or computer science is the path to take. I'd also advise non-software engineers trying to get into the game industry to pick up some programming or scripting. This skill will set you apart.
Iva: You work with several teams and designers on a variety of very complex tasks. How do you approach scheduling and multitasking to manage your workload?
Leonard: I focus on the important foundation pieces first, and then break those down into smaller, more manageable pieces. Communication is also key when working on complex tasks with others. It's is important to communicate clearly to set expectations on how things are going, if help is needed, and make sure there are no bad surprises. Another thing I do that helps me is starting early in the morning. I know not everyone is a morning person, but an early start gives me time to get things done before others start their day.
Iva: Tell us about working in the SlipSpace engine.
Leonard: SlipSpace really is a mystical beast; it walks this fine line of intimidating futuristic technology married to little gems of classic gameplay and subtly authentic legacy behaviors. I love that the Engineering team has embraced the modern features of the C++ language. It's an exciting time to be a C++ developer, at least I think so. Every once in a while, you find some real old nuggets of surprising stuff from the original Halo CE code. It's almost like excavating an old archeological site, trying to figure out what it was doing and if it's still needed. It happens less often now, but it's always fun when you find some old glimpse of the past … and either modernize it to take advantage of current tech, or leave it just as you found it.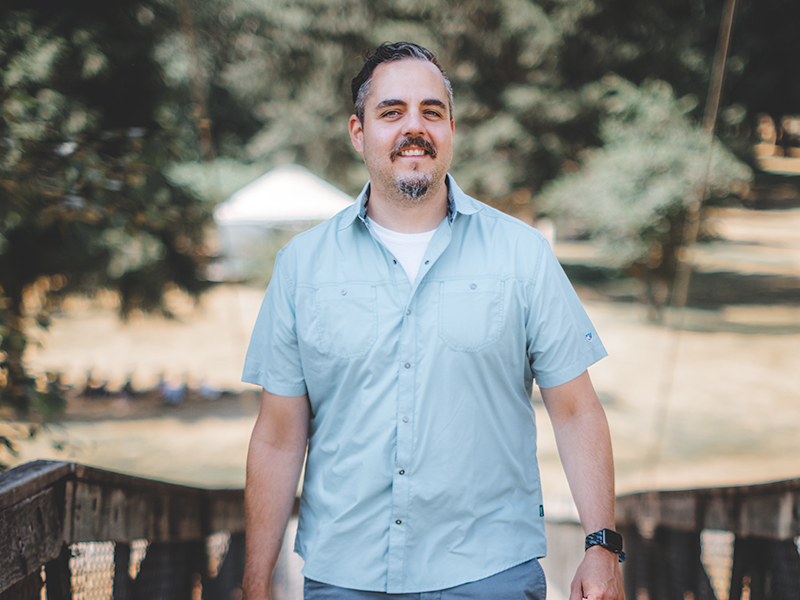 Iva: What customizations are you most excited about and why?
Leonard: I am proud of the prosthetics and how they are not simply a customization, but a body option that gets applied to whatever armor or customization you pick. I love that it was designed as part of your body and how it is an inclusive customization type. I am also excited that you can un-equip your shoulder pads which I think is funny. I believe shoulder pads have just always been there in Halo,  so being able to turn them off is a small but exciting thing for me, even if no one will actually do so. You will have that choice. I mean there is so much I'm thrilled about, it's hard to pick, but outside of the above, I can't wait to show off the Armor FX . It just brings something very new to the Halo universe as a player customization, and some of the options look amazing. I'm excited for where we can take this type of customization in the future.
Iva: When a designer tells you about their vision for a customization, what process do you go through to take that from something abstract and make it into a reality inside the game?
Leonard: The process I go through is to just dive right in and try and do what they want. I visualize the concept and break down the things I think are needed to make it work. I like to work in an MVP (Minimal Viable Product) process where you build upon small goals and build or pivot to reach a larger final goal. When working on something so abstract, there are lots of the steps that need to happen to get things working correctly and it can take way too long for it to fail and be thrown away, wasting a lot of time and money. So, building upon small goals and then expanding in the areas that are successful is a good way to track and visualize progress or to simply cut your losses. My observation with this approach, even with a loss, is that it's easy to pivot into a different solution without throwing away much work. At the very least, even with a loss, you can learn a lot from what failed and move on.
Iva: What do you wish people knew about being a software engineer?
Leonard: I wish people knew how creative code can be. Yes, it's technical and a technical skill, but I feel it can also be very creative in an artistic way at times. Building something from scratch and designing how something works and how people will interface with it, I believe is a very creative process and, when done correctly, it can be very satisfying. The opportunity to collaborate with artists and designers and build something they then leverage to make something even more incredible is also very rewarding. I am always blown away with how an artist can make something so beautiful in the game with the things engineers make.
Iva: Who is your favorite Halo canon character and why?
Leonard: Well for me, it has to be the Master Chief. Other than him being the obvious hero, it's how matter-of-fact he is about doing the right thing. He never has doubts about jumping in and getting something done despite the odds against him. I respect that attitude a lot, even if he is fictional. At all of the recent Halo reveals, I still got goosebumps when he made his first appearances.
Iva: Which Halo canon storyline is your favorite and why?
Leonard: For me, my favorite storyline is from the book Halo: The Fall of Reach. I am a big fan of origin stories, and I enjoyed the backstory of the Master Chief, Cortana, Dr. Halsey, the MJOLNIR armor, and the Covenant.
Iva: What games are you into (Halo and non-Halo)?
Leonard: I grew up playing a lot of different games, but mostly got into shooters after the original Doom. I still mostly play shooters, like Apex Legends, PUBG, and Escape from Tarkov. I love playing the more realistic, gritty survival shooters like Tarkov, but games like Halo and Apex are always fun to quickly jump in and have fun. Tarkov is strange; I could explain the game to someone, and they will either love it or hate it. It's over the top realistic and it's super hard and unbalanced -- I mean I don't even know why I play it -- but I enjoy it for some reason. I'm still also a big Nintendo fan; Mario and Zelda still have a big place in my heart in terms of games I play.
Iva: What's your earliest gaming memory?
Leonard: Playing Atari 2600 with my brother. I remember playing this crazy hard platformer called Miner 2049er. Funny enough, my brother still has his original Atari 2600 and games, and every once in a while, we crack it open and play again. It's still as hard as I remember, and I get a kick out of my nieces and nephews giving it a try and hating it. I hope the year 2049 isn't like the game portrays, but I'll be ready.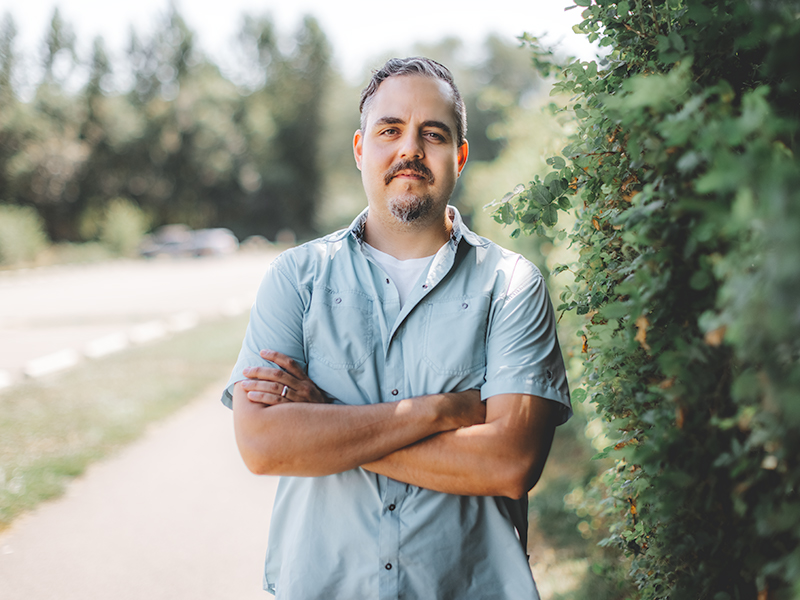 Iva: What are your interests outside of work?
Leonard: Outside of work, I enjoy tinkering, building things, and photography. I guess I'm always thinking about how something can be done better or differently. I really enjoy cooking with this mindset, trying to see how I can make something at home and make it more to my tastes. My wife really enjoys this, too; she gets to eat the successes of my trials and tribulations. There are lots of failures, too, but I'm the only one who enjoys eating those.
Iva: Please share a story of one of your favorite outdoor adventures.
Leonard: I'd have to say one of my most memorable outdoor adventures is the morning I hiked Mount Dickerman in the North Cascades of Washington and kayaked in the afternoon on the same day. My wife and I did this hike a week after we summited Mount St. Helens. You'd think our Mount St. Helens summit would be the story here, and honestly that was an epic day I will always remember, but we hiked Mount Dickerman on a weekday, so there were literally no other hikers there. Perhaps it was because I was still sore from doing Mount St. Helens the week prior, but I honestly felt like it was considerably harder than Mount St. Helens.
Anyway, when we reached the summit ridge, there was one other person who was leaving, and as we passed him, he said, "enjoy it all to yourself!" We were up there all alone the entire time. It was so peaceful. We took our time enjoying the stunning views of all the major peaks and relaxed from the hard work getting up there; it was really one of the most enjoyable moments, and sharing it with my wife made it extra special. When we returned home from the hike in the late afternoon, we decided to take our kayaks out on Lake Sammamish. We paddled, enjoyed the sunshine, and the lake before ending our adventurous day. I think what I recall most was the vast difference in the landscape I was able to experience in just one day. We hiked early through the cold, rocky forest with snow at the top, then paddled in the hot sun, in cool water, spotted eagles, and could see Mount Rainier from a distance. The Pacific Northwest really is a beautiful place. I can't get enough of it.
Iva: Where are some of your favorite places to hike? Do you have any goals you're working toward?
Leonard: This is a hard one. I think I've hiked mostly around the Cascades. One of my favorite hikes to take new people is Lake Serene; it's a worthy destination to take visitors where they will see waterfalls, vast views, and an alpine lake. Blanca Lake is probably one of my favorite hikes in the Cascades, though. I'd say my favorite places to hike are really anyplace with a view of Mount Rainier. I just can't get enough of the view of that mountain, so any chance I get to view Mount Rainier from a different vantage point is something I enjoy. I do have a goal to go to Mount Rainier's base camp at least once. I don't really want to summit Rainier though, at least not yet. I know that can change, but I'm not in any hurry at the moment. Another goal of mine is to summit Mount St. Helens for sunrise. Talking about this is giving me the urge to plan it out.
Iva: You said you like tinkering and making things work as a hobby. What is the most challenging (or rewarding) item you have worked on?
Leonard: I just enjoy making things. I typically see something and, rather than want to buy it, I want to try and build it. And sometimes, to understand how to build something, you have to take it apart! Growing up, I used to break things a lot, taking things apart trying to figure out how they work. I mean, I still break things, but I'm better about getting them working again. My friends make fun of me all the time for this, and it mostly annoys my wife, but I can't help trying to see how something works.
Speaking of breaking something, maybe the most recent challenging thing I did was desolder a keyboard I messed up building. Not the most fun thing to do, but, in the end, I learned a lot and had fun building it. I don't really have a most challenging "thing," but I'd say the hardest part of building anything is paying attention to the finishing details. Those are what make something look good or work correctly and it's always tough to get them right and it takes time and patience. I recently worked on building these work benches for my dad. Since COVID, I spent some time building my dad work benches for his garage, including one that has wheels and recessed areas for a miter saw and table saw. It was rewarding, since I was building something with my dad, and we were then able to use them to work on and fix other projects.
Iva: Why do you think you chose a hobby (tinkering and fixing things) that seems so similar to the work you do, at least in terms of the critical thinking skills required?
Leonard: I think maybe I enjoy building and tinkering because of how tangible the final result is and how much fun it is to use when it's done. I work behind a screen all day, so I get a lot of enjoyment stepping away from that and working with my hands and doing something different.
Here are some photographs Leonard has taken of his adventures, and one of him taking an icy plunge.