Employee Spotlight: Fernando Reyes Medina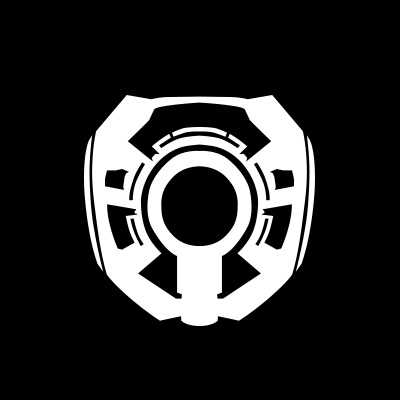 By 343 Industries -
Fernando works with the multiplayer design team as a Technical Designer. In this role, he straddles the sometimes-delicate line between programmer and designer, merging each discipline to help shape the multiplayer experiences planned for Halo Infinite.
Before joining 343 Industries, Fernando was a Software Engineer working with the Xbox team to build and integrate the Cortana personal assistant into the platform. Born and raised in Mexico City, earning his computer science degree from Tecnologico de Monterrey, a prestigious Mexican university that has brought Xbox and 343 Industries more than one superstar over the years. With that degree in hand and a burning passion for gaming, Fernando builds games at work, and also continues to work on personal gaming projects in his spare time.
Fernando is passionate about giving back to his community, volunteering as one of the leads of Latinx in Gaming, an organization created within the Xbox organization at Microsoft, to help a sometimes-underrepresented Latino community break into the games industry and create a social and professional infrastructure to support and network as they immerse themselves in the region and the industry. It's a program that helps us find historically underrepresented Latin American talent, and a program that can help us find superstar artists, developers, creators and designers that we might otherwise miss.
But we'll let Fernando take it from here…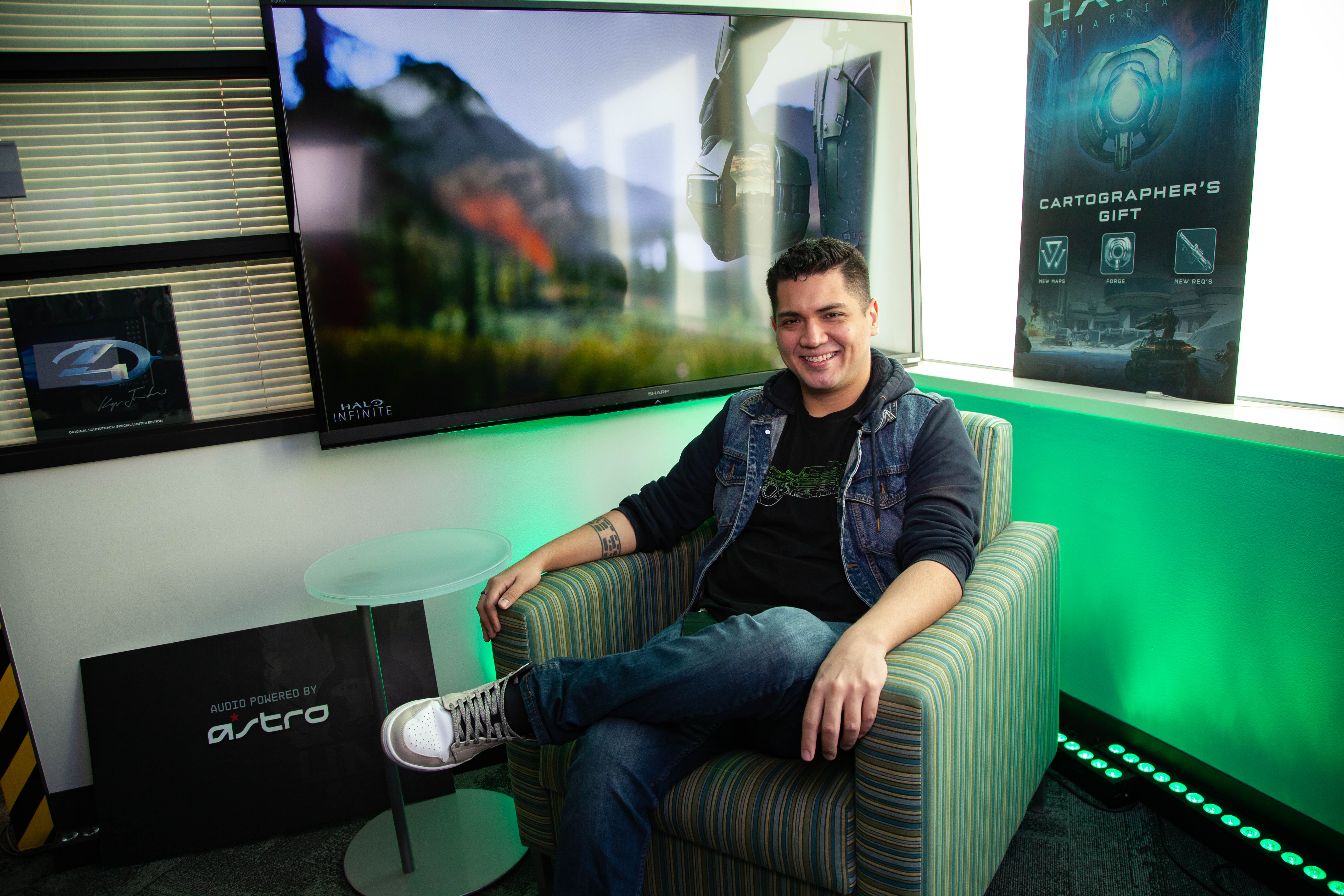 How did you end up working in Halo? 
Halo was the main reason I chose computer science as my major. When I was 15, my friends and I would rent an Xbox for 50 cents an hour and play Halo 2 split-screen. When the gaming café finally connected the consoles to Xbox Live, all I could think about was how incredible it was that Halo could unite people from all over the world. That's when I knew I wanted to make games for a living.
Fast forward a few years, a Microsoft recruiter came searching for internship candidates at my university. I expressed my passion for Halo and interest in a 343 Industries internship, and I was fortunate to get an opportunity to interview. 
Never having had a full conversation in English with native English speakers, I flew to Washington state, had my interviews, and received an offer for Xbox. Even though there were no current openings at 343 Industries at that time, I got my foot in the door, so that I could keep trying for my dream job. I accepted the Xbox organization's offer and ended up doing three internships developing different features for Xbox One and Xbox One X. After becoming a full-time engineer on the Xbox Platform, I continued to network in hopes of finding my way to 343 Industries. I was almost ready to give up hope, but I knew I had to do what I came here to do – make a Halo game.
Every year, Microsoft holds an exciting internal development event called "One Week Hackathon." I started searching for people who might want to help me build my own concept for Halo-themed game and I was lucky enough to find an amazing group of people willing to put in the work. I didn't want to make a "Halo 5.5" FPS, so I decided to give my own take on the franchise by creating an accessible Halo experience that may be more of an inviting path to the Halo universe for those that may not prefer FPS games. Thus, Halo Heroes was born.
Halo Heroes is our take at creating a simple, easily accessible Halo multiplayer experience that could bridge the gap between long-time fans and curious newcomers. When we showcased the game, everyone that played internally loved it and that led to an opportunity to present it to the leadership team at 343 Industries. It was an amazing and humbling experience to be at the studio and show my game to the creators of my inspiration!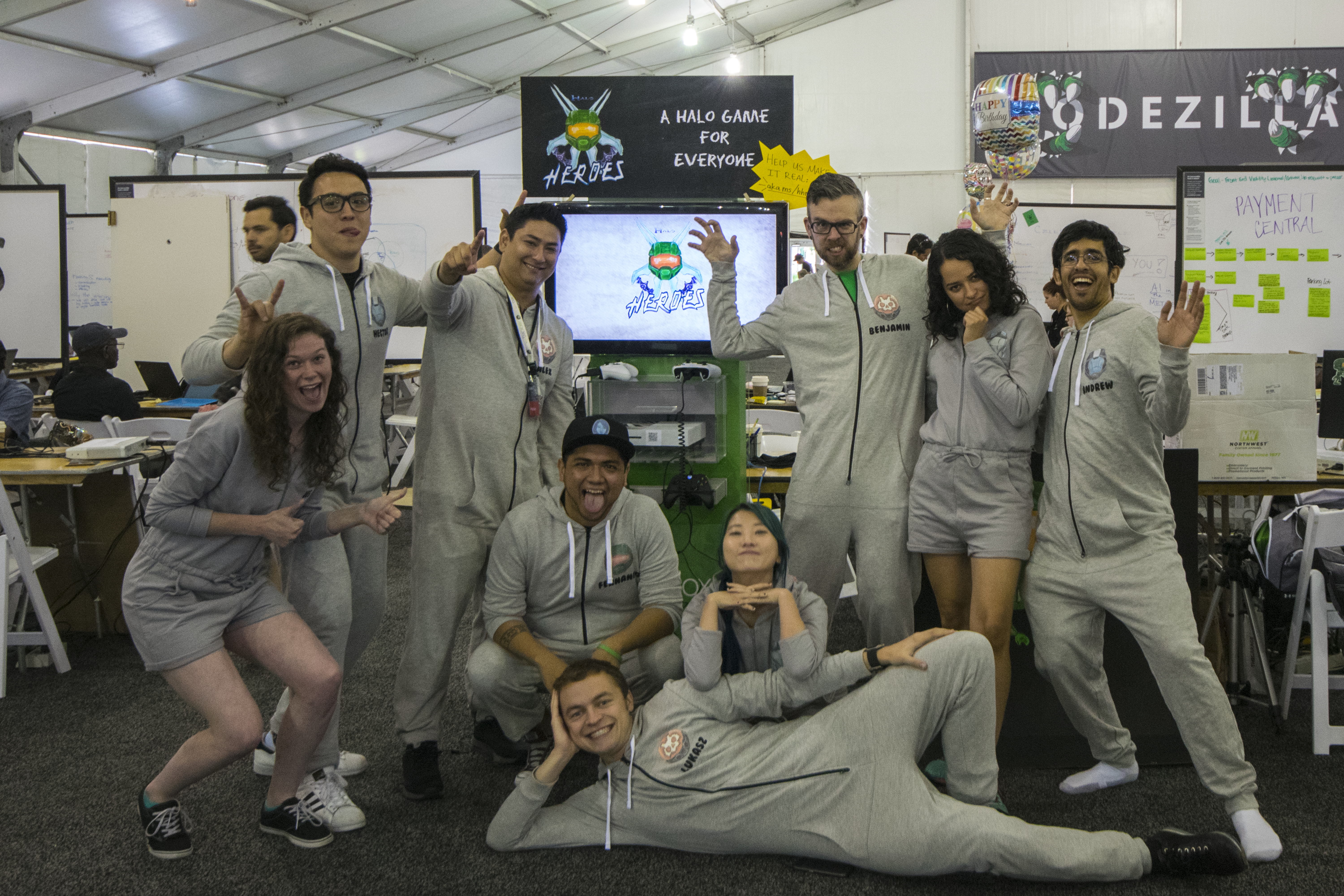 [Halo Heroes Team, from Left to right: Jes Diesing, Hector Galindo, Alex Pumpian, Fernando Reyes Medina, Beverly van Daal, Lukasz Stempniewicz, Benjamin Williams, Gabriela Ponce, Andrew Acosta]
At that point I felt that we really accomplished something great and now that I had made my Halo game, I could pursue new opportunities elsewhere—but wait – there's a twist! A couple of months later, a technical designer position became available on the Halo multiplayer team. I applied -- and in part, thanks to Halo Heroes, and the relationships I had fostered over my time in Microsoft – and of course my development experience at Xbox – I finally landed my dream job!
What does a typical day look like for you? 
While there's no such thing as a "typical day" in game development, there are definitely typical patterns. We usually start the day by having a multiplayer team sync meeting. This is where everyone shares their status on what specific projects and elements they're working on that day. After that, we have a playtest session to see the current shape of the game. Based on the current state and plan, I design and code new or improved gameplay systems for the game. Given my technical background, I usually assist other less-technical designers with stuff that they may need, ranging from scripted dynamic elements on maps (I can't give you specific examples because they're under wraps, but think about stuff like the Turbine bridge on Halo 2 Zanzibar for example), one-off or interactive events that can happen during a match or other systems that the game modes may require. I do a lot of "firefighting" by solving bugs that come up in playtest sessions or prototyping new functionality that we want to test before committing engineering resources.
I also work with other partner teams finding clean, professional and maintainable scripting practices so all the pieces that we build are compatible and can be reused by other teams. In a single sentence, being a technical designer is wearing both engineer and the designer hats at the same time. I have to think about designing an awesome experience for our players but simultaneously considering how we can actually implement it within the constraints of resources, time, technical complexity and intended emotional goals.
As one of the Latino developers working in the studio, what is the thing that excites you the most? 
It was gratifying to discover that Latin America is such a big and important market for Xbox and Halo.  People back home in Mexico and in other Latin-American countries are really passionate about the game and I'm really happy to see that we listen and we care about those players here at the Halo HQ. Just think about how great our Halo Championship Series event in Mexico City was last year! And yes, the Master Chief is called El Jefe Maestro in Mexico! Frankie on the other hand is known as "El Gordo" or Maestro Limpio.
I am also very grateful about how supportive and welcoming my team has been since I joined the studio. I struggled a bit adapting to life in a country with a different language and culture, but everyone has been committed to and happy for me bringing my true self to work every day.
What's the best piece of advice you'd give someone looking to either begin or excel in this particular career? 
I've learned a few things though, since starting at 343 Industries. I think that finding your passion and working hard will help you accomplish whatever goal you have in mind. Making games is difficult, but every game that you make should be better than the previous one. It's important to always be creating and challenging your own abilities. But it's also important to remember to be grateful to the folks who are there for you, supporting your dreams. I know wouldn't be in the place I am if it weren't for my family, friends, teachers, colleagues, managers, and mentors that encouraged me and helped me along the way.
What is the future for Halo for you? 
When I think of Halo, my first thoughts are not about how I love all the gameplay elements or the amazing lore (although both statements are true), but rather all the magical hours I've spent playing the game with my friends. It's been a way for me to connect with people I miss but also a way to make new friends from all over the world. I am really excited about the work we are doing to bring more players to the franchise.
What is your favorite videogame from all time? 
Fair to say that Halo is one of my favorite games ever, but if I had to mention another? Chrono Trigger for sure! Incredible soundtrack, amazing art, and gameplay way ahead of its time. Although to be fair, I don't think there is any game I have played for more hours than Halo 3.