Employee Spotlight: Erika Martinez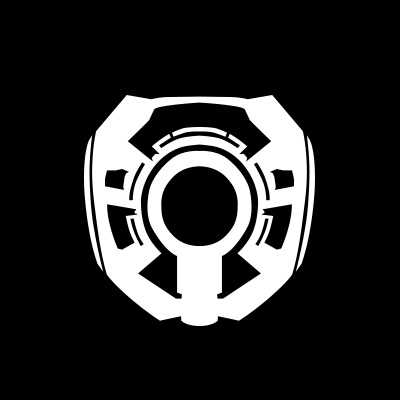 By 343 Industries -
Halo Infinite is being shaped and refined by many wonderful people. From designers to engineers, large teams are actively working on making the next-gen experience with the Master Chief, and that requires a lot of coordination to get all the moving pieces aligned and organized. There's a certain role that Heather Chandler calls out as, "the main driving force that guides the game development process to ensure that the work gets done…leads the team and keeps them motivated during stressful times…" That role is a Producer!
We're lucky to steal the extremely scarce time of the wonderful Erika Martinez and get some insight on her personal journey as well as how she became a producer for the Game Editor Team working on Halo Infinite.
Where does Erika Martinez' (She/Her) origin story begin and how did it lead to you being a Producer on Halo Infinite at 343 Industries?
My origin story starts with playing video games growing up! It begins with me huddled around a Super Nintendo with my siblings and I would man the controller while they cheered on my pixelated avatar. This was one of my fondest memories growing up, and as an adult I wanted to be part of the worlds that filled me with joy.  My journey to becoming a Producer was full of twists and turns but it led me to exactly where I wanted to be.
I attended the University of Washington (Bothell), and received my Bachelor of Arts: Interdisciplinary Arts & Sciences and majored in Media & Communication Studios. For those that don't know, it's somewhat difficult to break into the industry.
To get my foot in the door of the gaming industry, I worked at Best Buy's retail gaming department while taking on on-call game testing jobs. A previous co-worker from Best Buy referred me to work for Google. My first opportunity to work on a game was on Ingress, an augmented reality mobile game, that was published by Niantic.
After working at Google for two years, I briefly took a position as a User Permissions Project Manager at Microsoft. After gaining more experience, I knew it was time to level up! I already knew I wanted to get back into gaming, so I reached out to a recruiter with that specific goal.
I was fortunate to be hired as a Release Manager for Xbox. My role was to make sure that the products, predominantly games, were updated in the Xbox Store. I made sure that the game met all the required certifications before it would get released. Working on the Xbox Team was phenomenal because I had the opportunity to work with so many different folks from different studios, for example: Turn 10, Minecraft, Xbox Games Studios, and of course 343 Industries!  
Two years later, guess who wanted a dedicated Release Manager onsite? 343 Industries, of course! I remember being so intimidated, but they reached out to have me join their team! With my manager's encouragement, and personal goal to drive my career forward, I'd give it a go. I joined 343's Publishing team, who were focused on Halo Wars 2. It was after shipping the game and all it's DLCs was when I made my transition to working with the team on Halo Infinite as a Producer.
The journey took a few years, but it felt right 😊 I currently work as the Producer on Core Tech, specifically the Game Editor Team (Tools & Workflows).
For those looking for some insight on where that team sits, here are some details. We have three teams that all support each other. There's the Infrastructure team, who focuses on supporting the engineers' systems and their day-to-day IT needs. Then there's the Tools and Workflow team (that's me!) that focuses on the specific tools that our content creators (designer, artists, etc.) use to make the game. Also, you may be asking, what's a workflow? A workflow is a series of sequential tasks that are carried out based on user-defined rules or conditions, to execute a process. The last team of this trio is the graphics team. If you're curious what that's all about, I recommend checking out Ani's Employee Spotlight! 
How many cats do you have to herd as a Producer working on Halo Infinite do? How does one navigate such a gigantic project?
I roughly estimate about 25 cats? One of my favorite parts of being a producer is bridging the cross-communication that must occur in different teams. On Tools & Workflows, it's key to establishing touch points in which we take user feedback on the tools we build.
On my end, when navigating such a large project, I view the groups by discipline and team. It helps me paint a bigger picture. For example, Environment Artists that are working on the game's Campaign, or Environment Artists on the Multiplayer team, they have separate products with different needs. It's important that we evaluate those needs so we can build what the content creator requires and has an efficient workflow so that they can accomplish their goals. So in my job, I need to make sure these toolsets that are used by different teams are the best they can be and making sure we're accounting for those needs being met by a specific deadline. I'm super lucky too, because I'm not alone, I work with a bunch of great producers that help organize their team's needs.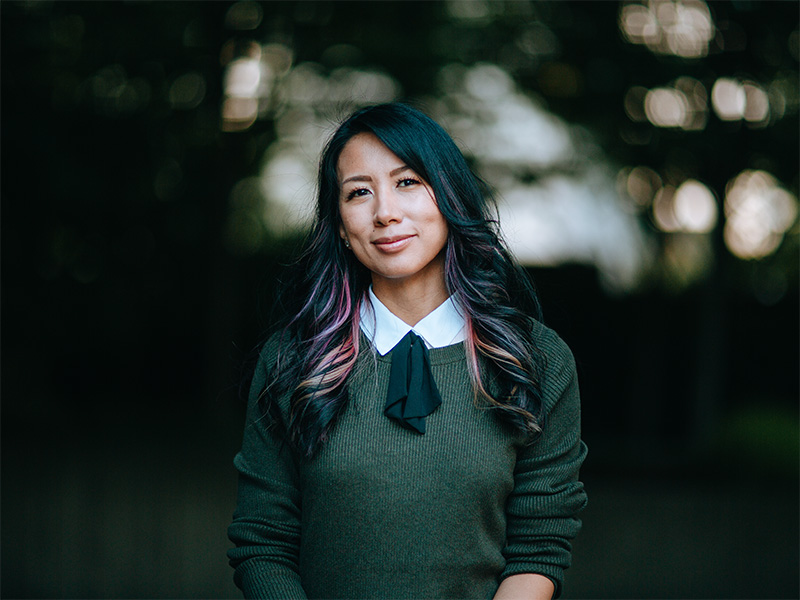 What's the most memorable moment you've had working at 343?
I have two actually!
On my second day at 343 Industries, the studio was throwing a Cinco De Mayo celebration. There was a salsa and guacamole-making competition, food, and it was a fantastic way to meet folks at 343. Everyone was so lively! Since then, it was one of my favorite events we did every year. I was so sad that we had to miss it this year due to COVID-19. I'll admit, I always look forward to it because it feels like a special work anniversary.
Attending E3 was something I'd always dreamed of doing, this was before it became open to the public, and in 2016 I was able to go. I worked on the main expo floor and was able to meet many passionate Halo fans. It was such an incredible experience, because it's not every day that we get to meet our passionate commuinty face-to-face so now I hold onto that experience as a fond memory.
What initiatives of Diversity & Inclusivity have been your favorite at 343?
The current Diversity & Inclusivity (D&I) group's forming was inspired by external mixers that had tech talks and resources. Zara Varin and I wanted to bring similar experiences to 343 Industries. When starting this effort with Zara, we bounced ideas on how we would go about doing that. To name a few ideas, we wrote a quarterly newsletter which was meant to highlight all kinds of efforts happening within the studio that including individuals were achieving achievements and events actively working on related to Diversity & Inclusivity, as well as a way to share resources for people to educate themselves. We wanted to celebrate the efforts of our coworkers. We also established a webpage as our hub in which anyone could access our resources. And finally, we started a seminar series, which is a series of talks where we strive to help educate others in the studio about topics such as intersectionality, mental wellness, allyship and more. Our biggest desire was to create a space where people could feel like they belong especially when new people come to 343. The goal was to have a group they could feel connected to. We're lucky that we have a team dedicated to continue to push these efforts and their passion is amazing because this comes from a grassroots effort and our passion in promoting Diversity & Inclusivity.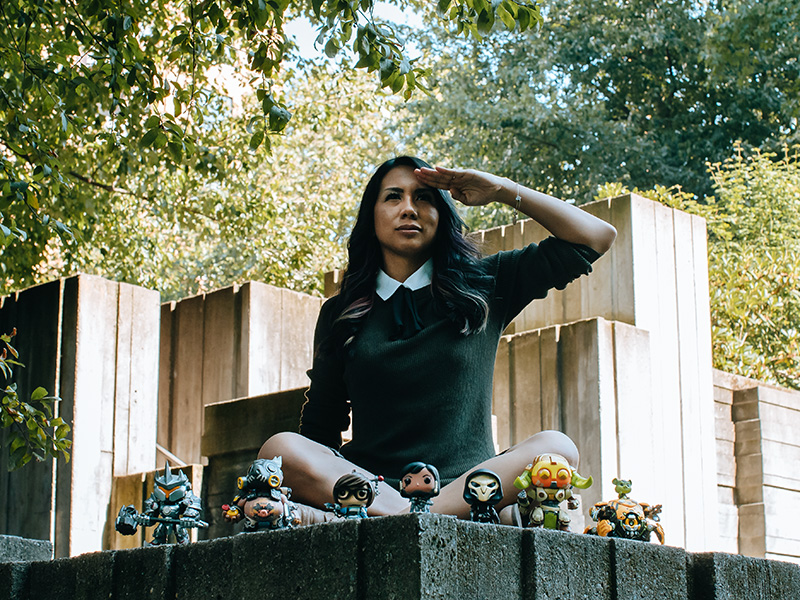 What advice would you share with someone that wants to become a Producer?
A good place to start is to learn how a game is built from beginning to end. If you can, it's helpful to try to make a small prototype built with a tutorial from Unity or follow a YouTube walkthrough. It'll help you get used to the verbiage used and the order in which games are made.
Displaying the ability to follow through with a small project of your own shows that you are willing to learn and grasp some technical concepts. Being able to teach yourself something so vague, like technical concepts and dig in is a quality that comes in handy as a producer. It's important to have the ability to understand nebulous terms and ideas and be able to step back and look at the big picture. I found that doing this on personal projects has helped me in my career, so I can give my own personal stamp of approval.
I also encourage participating in local game jams for team member experience and networking. Networking is important, in that you can find a mentor or someone that works in that particular field. Their expertise  can help identify areas that you can work on to get closer to your goal of becoming a producer.
What do you love about video games and what made you want to work in gaming?
One of my biggest motivations to continue working in gaming is that I want to give someone the experience that they can be a hero. When I was very young, I lost my ability to hear well and had severe hearing loss in both ears. I have BTE Hearing aids. Because it was hard for me to communicate with others, it led me to be withdrawn from people and I struggled in school. During hard times, the thing I looked forward to everyday was coming home to play video games.
Video games allowed me to feel like I could accomplish something amazing. Whether it was saving a princess or the world. I could read the dialogue between characters! Endless clear communication! I could level up my stats in game in a way that I couldn't in real life. In turn, video games helped me gain confidence in myself.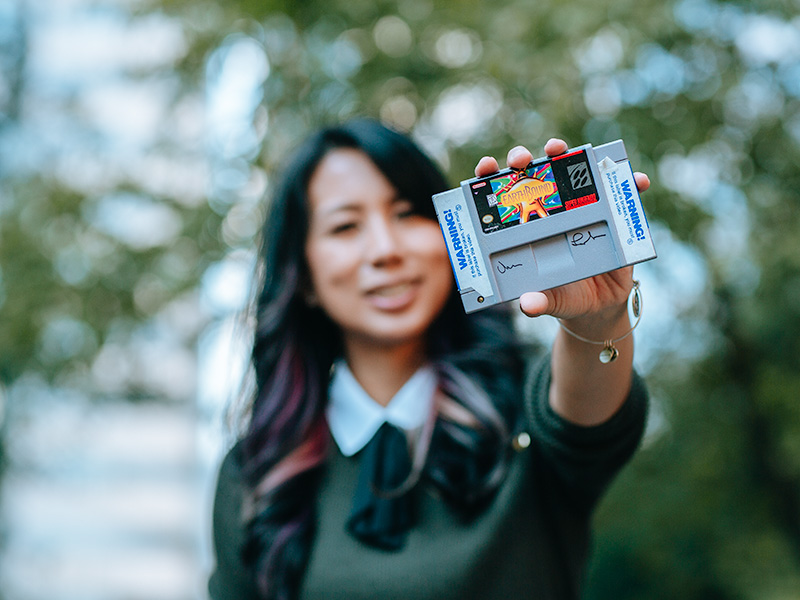 Do you have a role model or someone that inspires you?
I'm constantly inspired by the team members around me. I work with so many badass, driven, inspiring womxn. Shoutout to my manager too, Casey Wu, who can deadlift 3x more than me and holds our Core Tech team together.
What's your favorite video game and why?
Earthbound a turn-based JRPG which released in 1995 but I played it several years later, because my family acquired a Super Nintendo years after its release. And guess how I got it? My Dad bought the Earthbound cartridge from the 99-cent bin from Blockbuster and it was one of the games in there!
I love this game for several reasons. One of those reasons is that I played it during the peak pre-internet era, where there were barely any online walkthroughs, or the existence of YouTube tutorials. So you can imagine all of the proud moments I had, especially when I made it over to the next city in the game or when I found the next melody of the Sound Stone.
Spoiler Alert coming up for this next reason! At the very end of the game, during the last boss battle they involve YOU, the player. It blew my mind because I had entered my name at the very beginning of the game, and I had forgotten about it. The creators broke the 4th wall during the boss battle, and it made me feel like a substantial part of the story.
To add a little bit more to this question, I had met Marcus Lindblom a few years back before I joined 343. He played a huge role in localizing Earthbound so that it could be released in America. Luckily for me, he joined 343 Industries to work on Halo Wars: Definite Edition and I had the chance to work directly with him. He graciously signed my Earthbound cartridge. It feels surreal to be able to work alongside someone who was part of my favorite game of all time.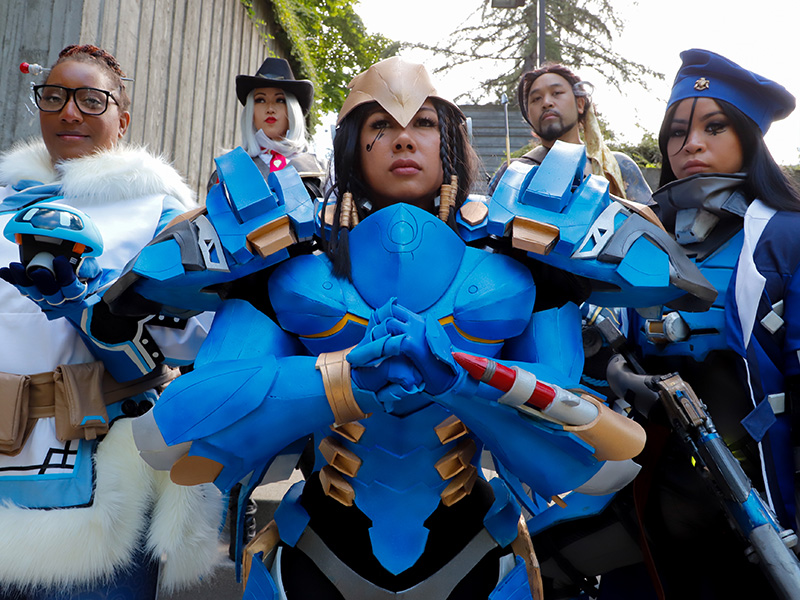 If we could do an anime crossover with Halo, which anime would it be and why?
I may be completely biased on this but one of my favorite Anime is Gurren Lagann. I'd love to see the Master Chief pilot a Lagann. A Lagann is like a giant Mech but so much more! You should watch it. You'll get it. So, Chief's piloting a Lagann and it transforms accordingly to match his armor?! Like it would go green and have the same specs but on the same scale, so like 10 times bigger. Then, he would find Shimon as the lost pilot and then they'd go save the universe from another discovered species such as the Anti-Spiral. The Master Chief can pierce the heavens!
Speaking of anime, I cosplay on my free time. I've been into cosplay as a hobby for over a decade. I was first introduced to cosplay during high school when an Anime Club attendee invited me to cosplay with them from the game Ragnarok Online. My first cosplay was commissioned but I was so inspired to learn how to sew/craft after that. I love that with cosplay, there's SO many creative ways to make pieces of the outfit and bring a character to life.  You also don't have to make the cosplay yourself, you're free to choose! I also love that being a different character for a day at a convention brings so many unique experiences you would not otherwise experience in non-cosplay. There's a lot to love about it and which is why I haven't quite put this hobby down.
It's Hispanic Heritage month! What does the Latinx community mean to you in general and at 343?
For this month, I want to take the time to appreciate my Grandma who was key to exposing me to Mexican culture, making delicious tortillas, enchiladas, endless love, kindness, and hard work. Growing up, I was not often surrounded by the Mexican side of my family since we resided in the Pacific Northwest.
Seeing the activity that occurs in the Xbox Latinx community has inspired me to try to partake in the activities and reconnect to my heritage, and this applies to 343's Latinx Community as well.
I encourage folks with a similar Latin American origin or background to come over to 343! It's a place that embraces inclusivity, is always actively aspiring and we'd love for you to join our ongoing journey.