Employee Spotlight: Bereket Kifle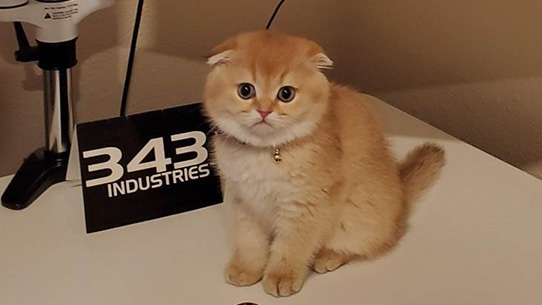 By Sofia Lillo -
SOFIA: Tell me about yourself! Bereket Kifle is a legendary and enormously pleasurable name to say out loud - I've just enunciated it like four times in a row - what's the origin and what can you tell us about it? What are your personal pronouns?
BEREKET: Hi! Haha, I get that a lot. My first name, Bereket is pronounced the way it's spelled: Bear-eh-ket, and it originates from Ethiopia, it means blessing or gift in Amharic. Kifle actually ISN'T pronounced like Rifle (a lot of people think that) but it's actually more like filet but with a k! Kifle means my section/field. So, my full name is a blessing in my world, because my parents saw me as such. Oh, and my pronouns are he/him.
SOFIA: Are you also from Ethiopia? Or rather, where are you from, and what brought you to us here at 343 Industries?
BEREKET: My parents are immigrants from Ethiopia but met by chance in Chicago! They're on the older side of parenting, so they were very excited to have children, and that's why me and my sisters' names are filled with so much love and blessings. I was born in Evanston, Illinois, however, we moved soon after and I was raised in Kenosha, Wisconsin.
For my career, I started as an application developer and took a contract with Northwestern Mutual, and when my contract was initially over, I found myself at a crossroads. They wanted to extend it but instead, I decided to take a 2-week vacation instead, where I went to Europe and visited 13 cities in 6 different countries. My two friends and I started in Chicago, and went to New York, Zurich, Munich, Berlin, Hamburg, Salzburg, Prague, etc. It gave me time to think that Wisconsin wasn't where I wanted to stay.
I always pictured myself living somewhere on the West Coast, either in Los Angeles or Seattle. Seattle stood out to me because when I was younger, I visited my aunt and uncle that lived in Olympia. They took me to then EMP (Experience Music Project), now known as MoPop (Museum of Pop Culture) and I really loved that place. It was the best for a kid! I'm an engineer, and Seattle is a very friendly place for an engineer looking for job opportunities. So, I decided to take a leap of faith and said, "Why Not!" and moved in with my aunt and uncle. I had made a promise to myself if it didn't work out, I'd go to graduate school instead. I took a chance and was lucky that my skills lined up for the opportunity; a vendor then reached out to me and offered me the role I'm in now. I've grown a fair bit in the three years I've been in Seattle and am a lead now (after a few attempts at other full-time positions within 343), but I could not have done this without my aunt and uncle's hospitality and their constant support.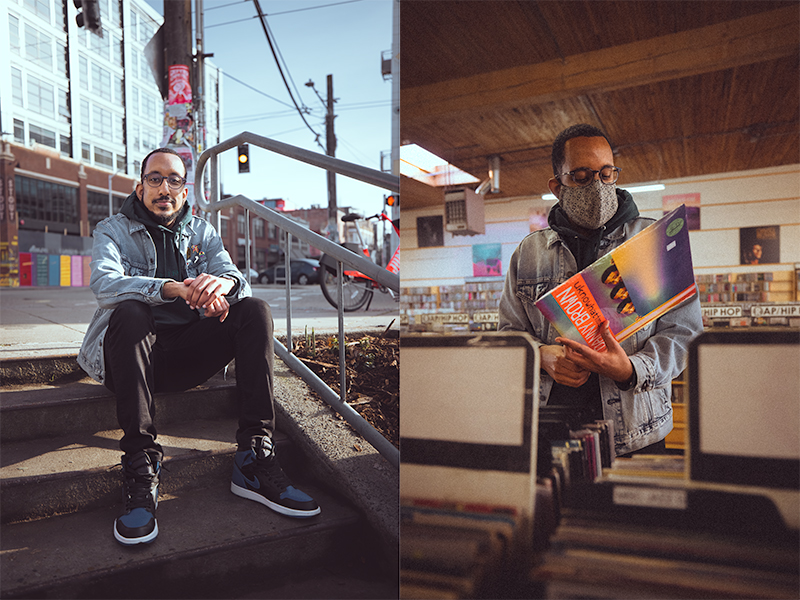 SOFIA: That's such a sweet story about your aunt and uncle! Well, what did you study, and does it align with what you do today?
BEREKET: When I was in Wisconsin, I went to a commuter college in Kenosha, and initially foolishly tried to do the pre-med track, to appease the parents of course. I thought I could pivot and be a Physicist. I decided to try out an intro to computer science course and it was one of those moments where everything clicked. After that course, I dove into Computer Science. I'll be honest, I'm not much of a scripter, however, I do have experience with the scripting side of things. I've done applications developing mobile apps and tools for the Wisconsin weather preparedness to help alert for natural disasters, and some of the work I've done is with 343. 
SOFIA: Wow! That sounds incredible. What is your role here and what's a day in your life look like?
BEREKET: I'm a Software Engineer Lead, a new position that I moved into in May/June of 2020. I work on the Development Team on Team ONI (Office of Naval Intelligence – a name that's from Halo's military intelligence group, it's an internal name), that sits in 343's IT department. My fantastic team and I help get automation and alerting set up, as well as creating bots. The IT team uses bots for various things like ticket management, inquiring about servers, and more! We also create a variety of versions of them for things like infrastructure. The bots we make are used studio-wise for our team that works on Halo Infinite.
Each day is different, which I really like about the job.
I'm fortunate enough to introduce some of the tools that we make to people inside the studio and our partners. I got to show our 343 customer support team the new version of the bots we made that could help them with their work. It's fun and interesting to see how our team can create bots that different teams can leverage and automate processes for them.
Another tool that the team built, codenamed A-List, is an internal site that helps users across 343 and our partner studios gain access to different resources they need without having to reach out to IT every time. It's been such a hit that we've been showing it off to other studios, like The Initiative. They were excited about it, so we're even helping them set up something similar. 

On top of that, we've been busy and grinding away because we're shifting over a majority of the on-premises tools and automation that are running physically AT 343 and moving them into Azure to reduce redundancy and downtime. For example, we're in the process of shifting from predetermined keywords and phrases that our bots recognize, to a more natural, dynamic form of language processing, allowing for more flexibility and maintainability!
And of course, taking down bugs, bugs, bugs. It's one of my favorites because it's one of the investigative parts of the job.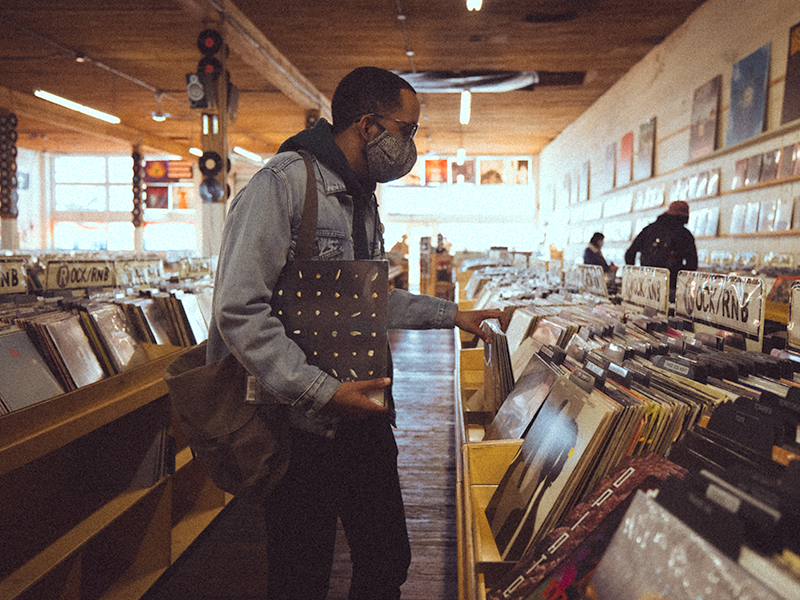 SOFIA: That all sounds great and like it really keeps you on your toes! Can you tell me about a moment that really surprised you while working here at 343?
BEREKET: The moment I found out about the sheer variety of different positions that exist here at 343. I knew that 343 made Halo, the game itself, but I'll admit that I didn't comprehend all of the different parts that went into it. We have a team that focuses purely on Halo toys, which requires a team that designs not only the toys themselves, but the packaging and so on! There's so much thought and work that goes into something like that. Or when I had the chance to help out at one of our events and go to the Halo Championship Series Finals up close and learning about the amount of work and time that goes into those events is huge. Or Halo: Fireteam Raven, learning about the design process that went into that arcade machine...
Although, one moment I have to mention is when I walked into our game testing room for the first time; it's a gamers heaven! It really blew me away when I went in to do a Playtest. That's something that I miss about being in the office, sitting with my coworkers, talking and testing out the awesome game we're working on all together in one room. 
SOFIA: Playtests with coworkers are the best, I know what you mean. So, if you weren't doing this, what would you be doing? 
BEREKET: Honestly, I'm not sure. I think I'd probably be a Software Engineer SOMEWHERE else. This is what I'm meant to do! I took one of those tests in middle school that said I should go into computers and as any young kid would do, I ignored it. It's clear that this is what I'm good at; plus, I enjoy what I do.
If it had to be completely unrelated? I'd probably want to be some sort of racecar driver. I've loved cars ever since I was a kid. I was totally one of those little boys that loved Hot Wheels, and I had A LOT of them. I remember how my parents used to playfully joke about how I used to pronounce all the car names. When we went to Munich on that trip I mentioned, my friends and I went to BMW World, rented a BMW M3 and took it on the autobahn, that's German for highway. The fastest I drove (there and ever!) was 150 km/hour, which if I converted, it's 93.2 miles/hour. 
SOFIA: I have to ask then! What's your favorite car?
BEREKET: As a kid, I loved Nissan cars and still do, but I especially loved the GT-R and 350Z. I'd love to have one of those even today!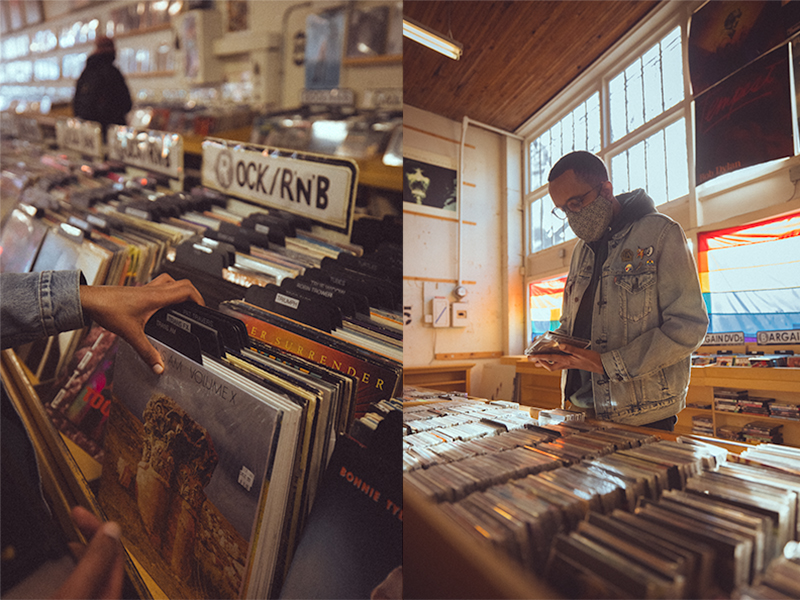 SOFIA: Speaking of kids, what would you tell an aspiring younger person if they asked how you got to where you are in your career?
BEREKET: It really was a path of discovery for me, and I encourage others to do that same. It's about taking advantage of whatever opportunities that come up to you! If there are any opportunities to explore – make sure you take it and don't squander it. I do realize this comes with some level of privilege, but most importantly, don't be afraid to explore your interests. 
People may discourage you from bouncing around and trying new things, and it may be difficult to do long-term, but the most important thing is that you're going to be happy with what you're doing in the end. It's a marathon, not a sprint!
The best reminders of this tenet come from the anecdotes of authors who catch their break later in life. For example, Mark Lawrence, one of my favorite fantasy authors, was actually a nuclear physicist until he decided to write novels in his mid 40s. I find his story to be reassuring as well as inspiring. It's not the end of the world if you don't find your niche until later, it's more important to find it in the first place. 
SOFIA: That's a really nice message 😊 It's a good one if it's what led you here! What is your favorite part about working at 343? 
BEREKET: There are so many varieties of positions here at 343, and due to the nature of my role, it means that I get to meet a lot of different characters, some of share similar interests! I've been able to make life-long friends and even got invited to some memorable events including a wedding as well as the fantastic Halo Outpost Discovery.
My favorite part of 343 is the people. They're all so different but they are a funny, genuine, kind-hearted and accepting bunch.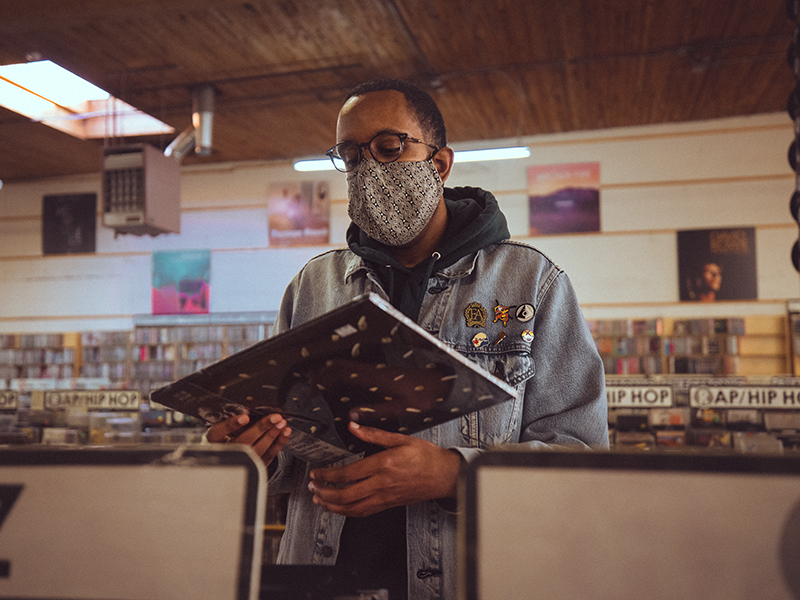 SOFIA: That's so sweet! I'd love to hear you describe what your most memorable moment you've had while gaming.
BEREKET: There's no one moment that really stands out to me, but there are a few fond memories I can share. Like I remember the pure joy when I felt when I got a Nintendo 64. I remember how much it blew my mind when I played Super Mario 64. From there, my next big console was the GameCube, which also has a special place in my heart. 
Maybe I'm reminiscing a bit, but I have those memories of being in various friends' basements in high school for hours and playing any variant game mode of Halo 3. 
I'll admit that I was one of those kids that was grinding away for an embarrassing amount of time a day in World of Warcraft (WoW), it was almost like a job. I was putting in a workday's amount of time eating Oreos and chugging Gatorade, using ping pong tables as our stations (shoutout to my friend Jake). I'll be honest, I look back on this fondly, because I genuinely enjoyed going through the grind! Even now, I'll get the newest content expansion and get together with my friends to play through it. It's a game that I always come back to.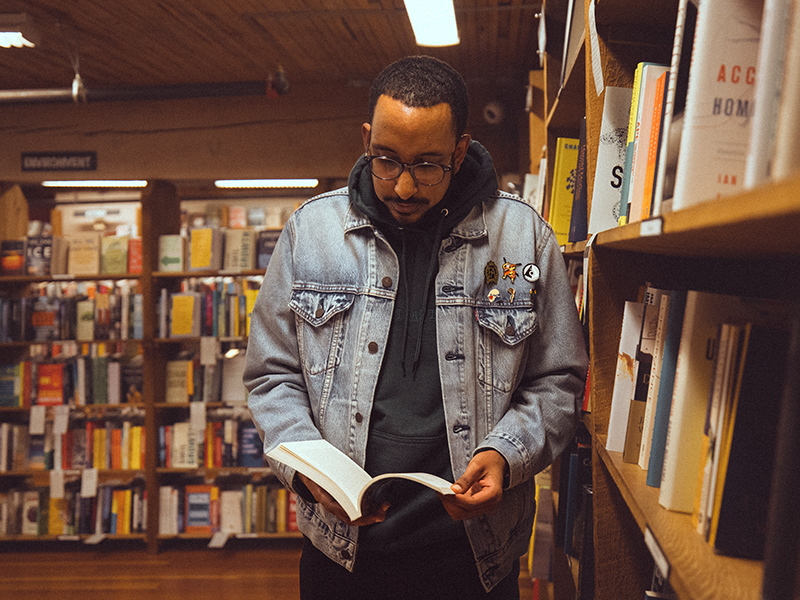 SOFIA: What about outside of gaming, do you have any other hobbies?
BEREKET: I'd consider myself a social introvert, so of course I love books! My favorite genres are sci-fi, fantasy, or even better, sci-fi AND fantasy. One of my favorite books, which was recommended by my friend Liz, a friend I met through a mini-golf team outing, is The Library at Mount Char by Scott Hawkins. It's a fantasy book that single-handedly blew my mind.
Speaking of sci-fi, I need to mention my love for The Expanse. It's like a sci-fi version of Game of Thrones, except the authors of the book series are actually finishing it, and they're involved in the writing of the show. The entire cast is diverse, but their diversity isn't something that's the root of conflict. They're not explicit about the gender or race about a character, the conflict in the plot focuses more on the circumstances of a location, how backgrounds and environment affected them more, like growing up on different planets and their cultures. It's cool to see a world that's moved past that conflict.  
I also like playing instruments! I'll say I can play 4 instruments: I can definitely get away with playing the saxophone, piano and drums and I'm currently trying to get comfortable with the guitar. The music I tend to play is more on the instrumental side, like Polyphia and Chon, so like progressive rock and metal bands. I love to add some pop punk into the mix too, like Weezer. Right now, my pandemic favorite is "F.C.P.R.E.M.I.X." by The Fall of Troy. I've gotten the intro and the verses down, I'm not proficient in the solos just yet!  
My last hobby I want to mention is that I'm a ping pong fanatic! This is one thing that I truly miss about being in the 343 office. I miss being able to play against my coworkers/friends, to get together and "sharpen the blades". One of my favorite spots, when not in the office, to play is in this gorgeous outdoor space in Pioneer Square, in downtown Seattle. If you haven't been before – I highly recommend checking it out and sharpening YOUR blade!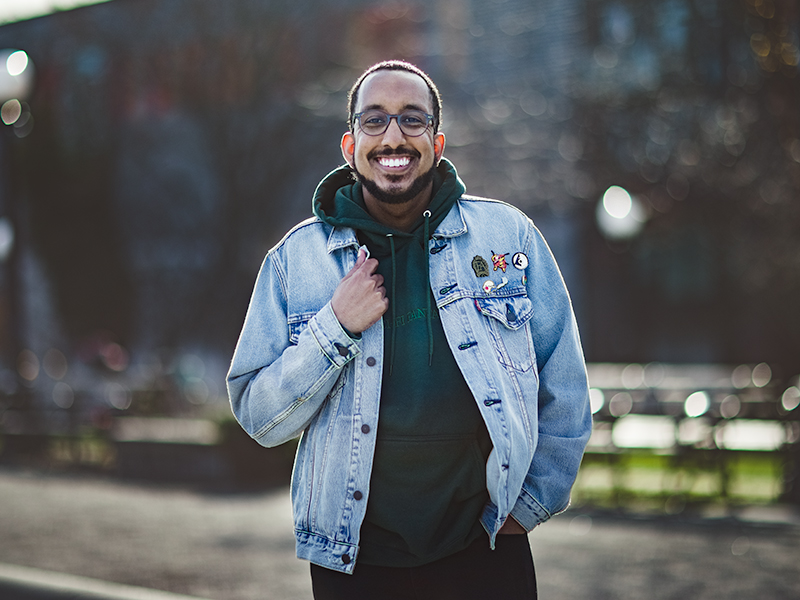 SOFIA: Wow, you're busy when you're not gaming! But now I'm curious, what are your gaming habits? 
BEREKET: I still dutifully play WoW; however, I am a casual player, don't @ me. 2020 was a big Battle Royale year for me, I played a lot of Call of Duty: Warzone and PlayerUnknown's Battlegrounds (PUBG). With all that time in quarantine, I also took the time to take on some single player games, like Ghost of Tsushima (GoT). The art design was unlike anything that I've ever seen before, the amount of detail in the game was unreal, I'm not going to lie, I spent a lot of time looking at foliage alone. I was honestly shocked and awed by how fast it loaded and the high graphic fidelity, it was an all-around very awesome experience.
On top of GoT, I was part of the bandwagon that played through and beat Hades. I beat the game A LOT. My favorite part of Hades was experimenting with the different combinations of Boons you could try together and find the combos that worked best. I'm not going to lie; I occasionally watch random builds on YouTube to see how they play. I even watched one video that the main character, Zagreus, was able to take a small amount of damage but beat it by using revenge damage to destroy everyone. Mild Spoiler for the weapons! My favorite weapon is the spear aka Varatha, I love the hidden aspect "The Aspect of Guan Yu", even though is messes with your health intake and maximum. It really pushes you to be more cautious, it's precarious in the beginning but then it's smooth sailing.
SOFIA: Last but definitely not least, I'd like to hear about what diversity and representation mean to you?
BEREKET: I love sci-fi because it's hopeful and it shows a future where we've gotten past these issues like marginalization. The narrative works towards a future where marginalized voices are naturally represented, or they do a good job of using metaphors to explain and break down our current issues regarding underrepresentation. There is recognition of people's differences but ultimately, that's all they are, and none of that holds us back. They recognize what makes people different, but it shows that it shouldn't hold us back or affect the opinion of others. No physical or mental difference should be a reason to hold anyone back.