Employee Spotlight: Tiana Los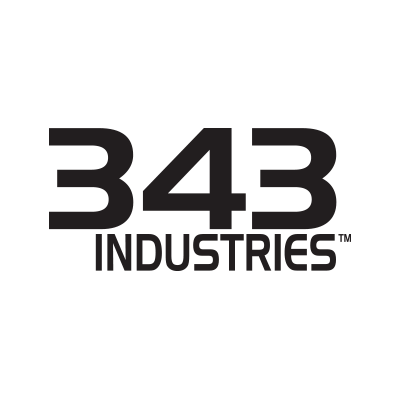 By Iva Lindstrom -
Tiana "Titan" Los wears many hats, not only within 343, but also in her experience set and personal interests. At 343, she drives web design and development with an eye on the user journey, durable design, accessibility as well as upholding Halo's legendary artistic standards. A STEM enthusiast, she has immersed herself in diverse fields, often teaching herself the skills needed to excel at the projects she takes on. Not surprisingly, that inner fire extends to her love of Halo, where she has earned the maximum Halo Waypoint Milestone level and had earned every Halo Achievement on Xbox 360. Here, Tiana shares her fascinating career journey, the philosophy that drives her, and some of the books and games that have earned her seal of approval.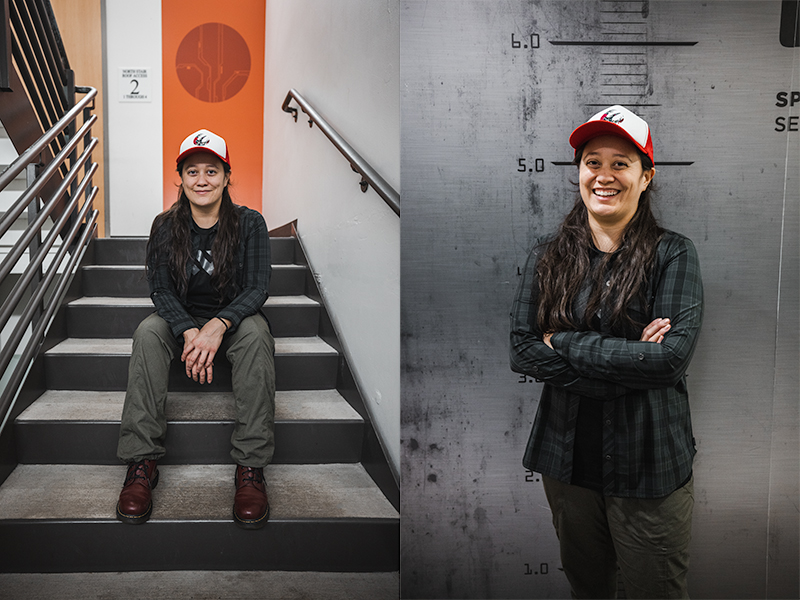 Iva: Please tell us your name and pronouns, as well as your job title.
Tiana: Tiana "Titan" Los (she/her, they/them) and I'm a Senior Experience Designer on the Transmedia Content Design Team. Transmedia includes storytelling, products, or experiences that span a variety of media forms (print, social media, email, website) and platforms (computer, mobile). The Transmedia Content Design Team is separate from the game development team; however, we work closely with the game team to create complimenting experiences.
Iva: Give us some insight into what you do here at 343.
Tiana: I lead the new website design of HaloWaypoint.com, and I'm the User Experience (UX) lead for the Waypoint website and mobile app. More about this and the Waypoint design process is in the June Inside Infinite.
Experience Design encapsulates a lot of disciplines and skills including UX, User Interface (UI) / Visual Design, User Research (UR), Information Architecture (IA), and more. As an Experience Designer, I create digital experiences for products. Digital products can be a website, mobile application, software, games, and more. When designing an experience, it's more than trying to create something that "looks cool," although that is always a goal! When designing, I start by thinking about the user. I think of how users will visit the website (Are they visiting from their computer or their phone?) and consider the rest of their "user journey." On a user journey, someone may check their notifications, read through the latest forum posts that they're interested in, read a news blog, view their game stats, eventually exit, and then return to the experience again. Designing for a user journey entails various design disciplines, and there's a lot of problem solving involved. Like with any problem solving, it's important to test design assumptions, and that's where User Research (UR) comes in. For any experience, I work with many teams and individuals who help define, develop, launch, and sustain products.
I also lead three designers: CJ Ramos (UI/Visual Desinger), Jason Unck (UX Designer), and Pat Marko (Designer). We are part of the overall Transmedia Content Design Team, and we each have our areas of expertise – UX, UI, IA, accessibility, visual design, print design, illustration, and more! With design, there are so many layers of detail. For example, whenever we design something for Halo, it must feel like it's part of the Halo Universe – and that's a huge part of the fun. Some of my team's awesome design work includes the intricate and fiction-rich Halo 20th Anniversary playing cards created by CJ as Lead Designer working with Designers Pat and Eddie Arriesgado. You can also play with a digital version of these cards for free through Microsoft's online Solitaire game – be sure to turn on the Halo theme! Pat designed the official Halo cosplay guides – the Mark VII Cosplay Guide and The Rookie Cosplay Guide.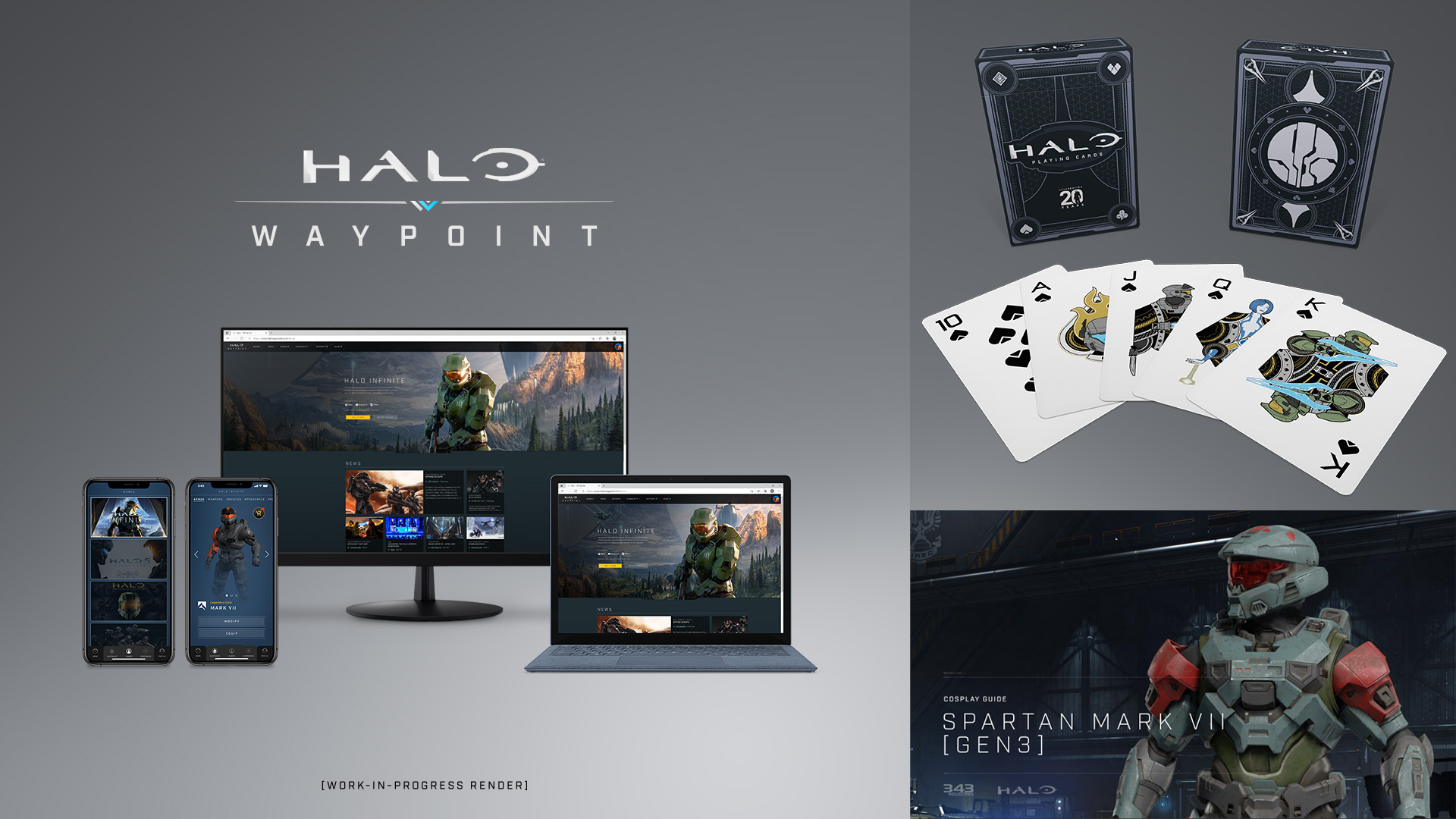 Work by the Transmedia Content Design Team
Iva: What is the biggest challenge in your role? The greatest reward?
Tiana: Design impacts accessible experiences and inclusive content. Whether designing a web page or a cultural image for social media, we begin the design process with accessibility and inclusivity in mind. The fun challenge is to improve what's been done before. How can we ensure more people can access the experience?
The greatest reward is getting feedback from users around an intended accessible experience. Positive feedback is validating, and negative feedback inspires us to iterate and improve. More can always be done to improve accessibility and inclusion.
Iva: What's your favorite thing about working at 343? 
Tiana: Working on all things Halo is awesome, but my favorite thing is that I can be my authentic self every day.
Iva: You work across several teams here at 343. Can you speak to the challenges this creates and the processes you've developed to manage all the tasks?
Tiana: In Transmedia Content Design, we work on a variety of projects. It's exciting to partner with teams throughout the studio and Xbox, like Halo Franchise, the Community Team, Administration, Consumer Products, Halo Support, Esports, Publishing, Marketing, Halo Infinite, Xbox User Research, and many more.
Coordination and planning are critical challenges, because we're often working on multiple projects for multiple teams. Each project has a separate timeline, and that's where Producers keep us on track and communicate with many people. It's quite literally like clockwork with all the gears turning and working in sync to tell time – or in our case, design for Halo.
Whenever possible, we systematize or templatize design work; I call this "durable design." For example, while working on the redesign of Halo Waypoint, we used the software Figma, which empowers designers with a "design library" aka "design system." Design systems allow us to craft "components," like a button that gets reused throughout every design. Making changes to that one component changes that button everywhere. It's an efficient design practice that lets us focus on other challenges.
Our Design Team also creates templates that empower our partner teams. For example, we've created some of the social media image templates that the Community Team uses on Twitter, YouTube, etc. Templates empower anyone to drop in an image into the working file and then export an image with a consistent visual treatment (frame, icon, font, etc.). By employing durable design, we can tackle more work, partner with more teams, and take the time necessary for unique projects like the Halo Solitaire card deck.
We are always looking for ways to improve our process so that we have more time to focus on design challenges and opportunities. Once we're done with most projects, we have a "retrospective" so that we can learn from that project – what went well, what could have gone better, etc. It's a constant learning experience.
Iva: Working with so many teams throughout 343, have you noticed any common trends?
Tiana: People are passionate about what they do and why. Designers, for example, strive for design excellence, not just because it's a team value, but because we're obsessed with doing our best and crafting that special Halo moment. Not everyone at 343 is a hardcore gamer, but everyone brings skills, expertise, and their own experience.
Iva: What's your Halo origin story?
Tiana: After my university internship, I chose web design as a career path. Up until that point I had taught myself web design and development, so I went back to school to study it formally. At the same time, I knew that I needed more experience, so I started my own freelance design company. I wore every hat. I marketed, designed and developed websites, led another designer, and managed every project, including billing. I didn't make a lot of money, but the entrepreneur experience was invaluable.
All that experience helped me land my first job as a Web Designer and Front-end Web Developer. I developed websites that I custom designed for dentists and orthodontists. I also created custom Adobe Flash animations for every website. Later, I did more freelance work as a JavaScript Developer. I then worked as an Online Advertisement Designer and created animated cell phone and digital package advertisements. While working in advertising, my dream job called me back. I joined 343 Industries in 2011 as a contractor UI Artist working on Halo Waypoint.
Due to my experience, my role at the studio changed over the years. I started doing more UX design in addition to UI. While working at 343, I also sought additional experience by working during my personal time on indie games with friends and my husband. I taught myself C# to develop games and I learned Unity.
After working at 343 for five years, I had the opportunity to expand my UX skills and left to work as a UX Designer at Azure Data. I wanted to work in an abstract design space that created UX/UI for Enterprise data products from storage to analytics, big data, data governance, and more. While at Azure, I worked closely with an integrated UR team, which is rare for a design team.
Three years later, after what I call my "Tour of Data," I had the opportunity to rejoin 343 and lead the UX and website re-design of Halo Waypoint: "There and Back Again, a Titan's Tale." It's been an awesome blur since rejoining the studio in 2019.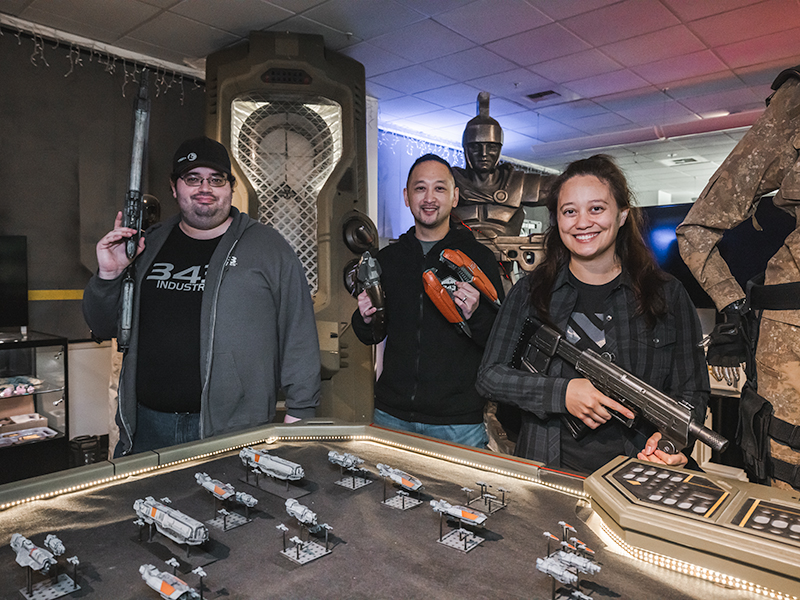 Members of the Transmedia Content Design Team (L-R): Pat Marko, CJ Ramos, and Tiana Los
Iva: What's your favorite Halo Community moment?
Tiana: Whenever Halo positively impacts the lives of our fans. Halo changed my life and I want more people to experience how Halo can enrich their lives. I'm proud to be part of 343 every time the studio gives back to Halo fans, the community, and the foundations we support, like the Make-A-Wish Foundation, Limbitless Solutions, and many more.
Iva: Your team works on the assets that celebrate culture: Black History Month, Women's History Month, Asian American Pacific Islander (AAPI) Heritage Month, Pride, Juneteenth, Hispanic Heritage Month, Native American Heritage Month, Veteran's Day, and many more. You are active in 343's AAPI and D&I initiatives. Can you speak to why you feel this emphasis is important for a company and why inclusion is important for you, personally?
Tiana: When I returned to 343 in 2019, I was inspired by the inclusive initiatives at the studio and Xbox. I was introduced to concepts like allyship and intersectionality. I'm proud that 343 actively works to improve inclusion. This year, I became active with Xbox initiatives and 343's AAPI (Asian American Pacific Islander) and D&I (Diversity and Inclusion) initiatives, because it's all part of who I am.
I come from a multi-ethnic family. My dad was born and raised in Hawaii; that side of my family is Filipino, Polynesian, and Native Hawaiian. My mom's family fought in the American Revolution and is mostly of German and Irish descent. I grew up with the spirit of aloha. Teamwork is one of my values. "Coach" was another name for my dad, who worked in hydroengineering by day. My dad coached my middle school basketball team, and he coached my varsity track & field team (among many others). He also started and coached the local United States of America Track & Field (USATF) chapter, and, while on that team, I medaled multiple times regionally within Washington State for multiple throwing events. He taught me how to play tennis, golf, fish, and shoot firearms. I was raised to be thoughtful, considerate, and include people in the fun. My mom has been in human resources for 40+ years. I grew up volunteering at the hospital gift shop, annual fun run, the local museum, and art gallery.
I identify as queer. At 343, I can be my authentic self, which means that I can be my best and whole self at work. When the studio celebrates culture, we celebrate the diversity of the Halo community and the Spartans who make Halo every day. I want everyone to join in the fun of Halo.
Diversity is important for any team, because we each bring different skills, work experience, lived life experiences, and more. As problem solvers, we create better creative solutions because of that wealth of knowledge and experience that can be found on a diverse team. As a result, designs and experiences are more inclusive – not just for our team, but also for Halo fans around the world.
Iva: Halo is part of your love story with your spouse. Tell us about that.
Tiana: While dating, my husband and I played the Halo 2 campaign on Legendary. If you recall, in Halo 2, if one of you died on Legendary, BOTH of you respawned at the check point. It was a test of communication! And later, in our first year of marriage, my birthday gift to him was Xbox Live for myself. We ended up playing Halo 3 multiplayer with our TVs and Xboxes side by side.
My husband and I were a warthog team in Halo 3 -- he'd drive and I'd gun. I earned numerous perfections that way. Communication and support are what make us a great team. 'Laser on the hill!'
Iva: You were a Halo completionist. Tell us about your achievements. What achievement are you most proud of and why?
Tiana: By 2011, I had the maximum Halo Waypoint Milestone level and had earned every Halo Achievement on Xbox 360. Three of my most memorable achievements were in Halo 3. 'Two for One' – I was on Construct (open side) laser spawn, and I remember the moment the enemy Spartans and stars aligned. I earned both 'Steppin' Razor' and 'Overkill' at the same time on Epitaph. 'Running the Show' in Halo Wars took the longest but was the most rewarding.
Iva: Which Halo canon storyline is your favorite and why?
Tiana: That's difficult to pinpoint, because I have many favorite parts of Halo storytelling.
I love the concept of I Love Bees. As an audio story and interactivity fan, I love the intended experience of an interactive Alternate Reality Game (ARG) that uses transmedia (telling a story across different platforms or formats) with the real world as a platform in addition to digital platforms.
For me, the Halo 3: ODST storyline is one of the most memorable. Sadie's Story added a deeper layer to the campaign experience. I'm a fan of the Halo terminal experiences, and, years later, it was exciting working on the Halo Waypoint Classified codes.
I enjoy stories in many mediums (books, audiobooks, games, film, etc.). I've read Halo: The Fall of Reach, and really enjoyed experiencing another side of that story in the game Halo: Reach. I've also read Contact Harvest. As a Sergeant Forge fan, I plan to read the stories about Captain Rion Forge, Forge's daughter, starting with Halo: Smoke and Shadow.
Iva: Who is your favorite Halo canon character and why?
Tiana: My favorite is Sergeant John Forge, because I really enjoyed Halo Wars' campaign story and multiplayer gameplay. I'm also an Ensemble Studios fan because of Age of Empires II! Sergeant Forge is such a badass when he takes out the Arbiter and dies a hero's death by sacrificing himself so that the Spirit of Fire could escape. Forge was also my go-to leader in Halo Wars multiplayer.
Iva: What games are you into and why?
Tiana: Halo 3 got me into online gaming and first-person shooters (FPS). I played Halo: Combat Evolved at a LAN party once and Halo 2 years later, but Halo 3's multiplayer opened a new digital world for me. There I found community with a close group of friends.
In the last two years, I've gotten into battle royale games like Fortnite and Apex Legends. As an FPS player, I'm much better at shooting than building! Even so, my Fortnite career is now over 1,000.
I'm also part of an Age of Empires II: Definitive Edition gaming crew – wololo! As a real-time strategy (RTS) gamer and a fan of Ensemble Studios (the original developers of Age of Empires II), I played a lot of Halo Wars. A. Lot.
Iva: What's your earliest gaming memory? 
Tiana: My first digital gaming memory was playing hangman on a kid's learning keyboard. On a computer, I first played Corncob 3D, a DOS flight simulator game, The Oregon Trail, and Where in the World Is Carmen San Diego.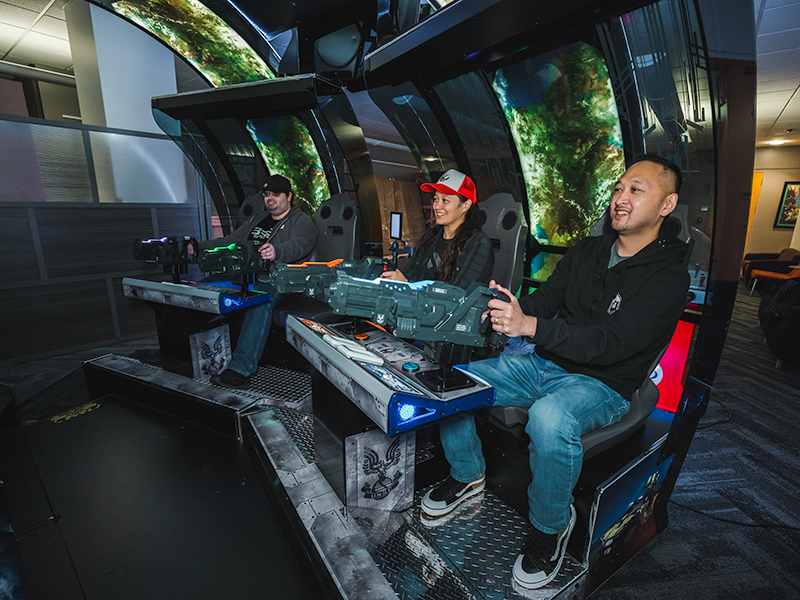 Members of the Transmedia Content Design Team (L-R): Pat Marko, Tiana Los, and CJ Ramos
Iva: Your career in STEM started early. Can you walk us through your unique journey through aerospace aspirations, Running Start, hydroelectrics, and self-taught web development?
Tiana: As a kid, I first remember wanting to be an astronaut. I'm still a huge fan of NASA and have visited Space Center Houston and Cape Canaveral. I love watching SpaceX launches online, and I've visited Blue Origin.
I love learning how things work. As a kid I'd take things apart, and not always put them back together 😉. Before I was seven, my dad gave me my first toolset; I also had the run of the garage growing up. I'd craft wood projects based on my ideas and take over the garage for art projects. Years later, when I had my own garage, I spent years enjoying working on my 1989 Jeep XJ.
While in high school, I participated in the Running Start program that allowed me to attend a community college during my last two years of high school. I was able to graduate with a two-year degree while simultaneously graduating from high school. As a 16-year-old college student, my first college job was a government role as a "Student Helper" in the Hydroelectric Engineering Department for the Grant County Public Utility District (GCPUD) at Wanapum Dam during the summers and holidays. Yes, I was a dam worker!
Working as clerical support for the Turbine Replacement Project cultivated my attention to detail and raised my awareness of project management. It was a global project with parts coming from around the world. Watching a mammoth, newly assembled, hydroelectric turbine lower into the generator floor was amazing. I had great encouragement to explore the engineering path, and I almost did! I was most interested in Mechanical and Civil Engineering. That's how I got started in tech.
After graduating from high school and community college simultaneously, I transferred to the University of Washington in Seattle. I declared art history as my major, and I was able to move from the being a Student Helper at Hydro to the GCPUD's Heritage Museum for the Wanapum Tribe of Native Americans as a Student Intern. I archived in the museum's climate-controlled repository inside the depths of Wanapum Dam on the Columbia River. There was always a hum of the generators. I loved it. The museum wanted a new website, and I said that I'd create one. I taught myself everything I needed to build a website and designed, developed, produced content, and program managed the entire redesign of the website. Later, after finishing my BA, I went back to school for web design.
Iva: You said your career approach is "why not?" Tell us about that philosophy and how it has shaped your journey.
Tiana: It's how I've seized many opportunities throughout life. "You need a rhythm guitarist in your band? Why not? I'll learn." I didn't learn rhythm guitar; instead that opportunity led me to play bass guitar in a band for years. When I was working at the Wanapum Heritage Museum and they needed a new website, I asked myself, "Why not?" and proceeded to teach myself everything needed to make that new website happen. It's the question I ask myself or others when posed with an obstacle or an opportunity. You never know where the opportunities or skills will take you.
Iva: You're an accomplished artist. Tell us about your influences, achievements, and impact of your creativity on your work.
Tiana: I expressed myself creatively growing up. My artwork has been shown at multiple galleries and juried shows. My favorites among my own art pieces combined ready-made and mixed media art. I love when art draws a reaction from the person viewing or experiencing the art – whether that reaction is strongly positive or negative. Whenever I experience art or design that elicits a strong negative reaction in me, I try to understand why. That creative mindset influences all areas of my work and keeps me open to new ideas.
Iva: You're a sci fi super fan. Tell us about some of your favorites.
Tiana: I was born and raised in the Columbia Basin. It's a desert plateau in Eastern Washington State. I come from a rural, farming, ranching, and manufacturing community. Growing up, I related to Luke Skywalker watching the suns set on Tatooine. I'm an original Star Wars fan – I dig the grit and imperfections – and I enjoy watching how franchises and universes expand over time.
Ellen Ripley from the Alien franchise is still one of my heroes.
I'm a huge Dune fan; Dune and Children of Dune are my favorites. I've listened to the stories many times, watched the films and mini-series, and I'm reading the in-progress graphic novel and various editions of the printed book. Not only do I work in transmedia, but I'm a transmedia fan.
I also enjoy high fantasy, and, every holiday season, my husband and I rewatch the entire The Lord of the Rings extended edition films. As a creative, watching the many "making of" LOTR videos expanded my awareness of the many people and roles involved in filmmaking.
Iva: You're an eclectic reader. Please share some of your recent favorite reads/listens and why you enjoyed them.
Tiana: Right now, I'm half-way through Earnest Cline's Ready Player Two, read by Wil Wheaton, and, as an accessibility advocate, I love that accessibility was part of the genesis of the ONI (OASIS Neural Interface). I'm also starting the sixth book in James A. Corey's The Expanse series, Babylon's Ashes, and I'm just beginning to watch the TV series.
I love books and reading. I joke with my husband that we live in a library - every room has multiple bookshelves full of our favorites and eclectic interests. Nevertheless, I enjoy storytelling in every format, and listening to stories is my favorite way to enjoy a narrative. I grew up listening to "Old West" genre audiobooks by Louis L'Amour. Humans have verbally told stories ever since we could communicate - there's beauty in that ancient, oral tradition. Stories can be told around campfires, by bedsides, and pass from one generation to the next.
Covid quarantine has allowed time for me to explore other storytelling mediums like web comics, manga, and anime. I now have a growing manga collection in our library.