International Women's Day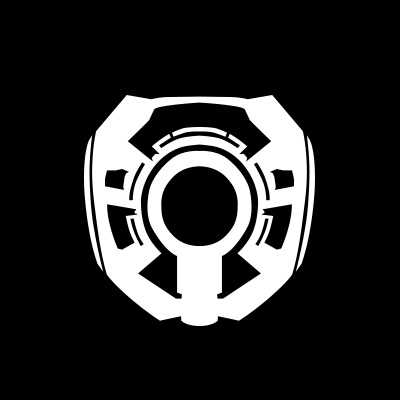 By Alex Wakeford -
Each year, the month of March marks Women's History Month, a reflection and celebration of the contributions to society and history made by women. To mark International Women's Day, it seemed like an opportune time to celebrate the women of Halo—both internally and in the community.
343 Industries is what it is today because of the monumental contributions to this franchise over its twenty-year history made by all who identify as women—cisgender women, transgender women, non-binary women. We are better, our media is better, the industry is better, and the community is better because of the tireless work and unyielding spirit of women that has impacted every aspect of the Halo franchise.
To kick things off, we wanted to highlight the one-two punch delivered by our amazing Transmedia Content Team, with Spartan Commander Laurette Agryna and the Weapon in the iconic pose of Rosie the Riveter (which both make for an excellent background!)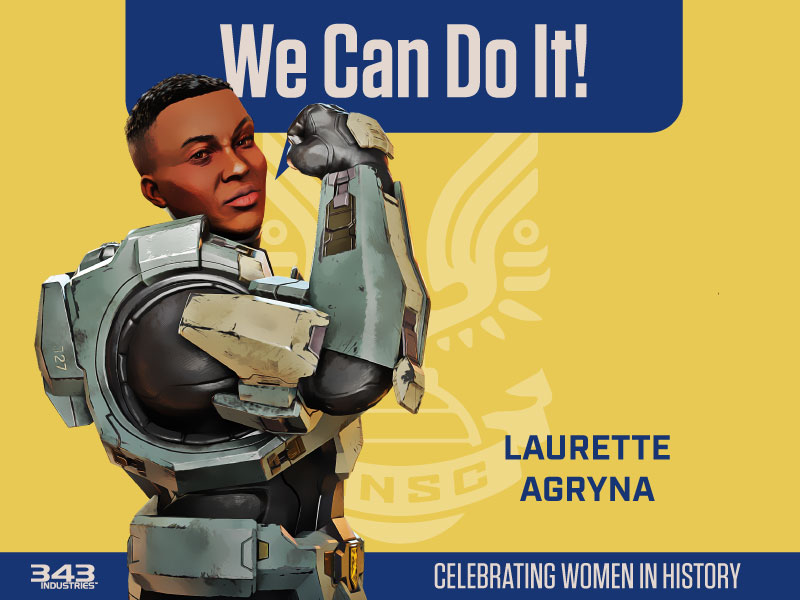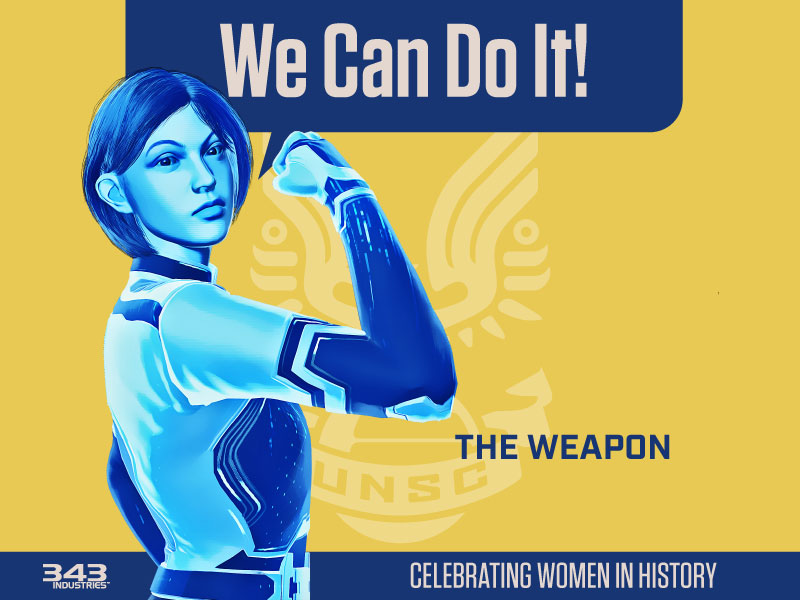 And, of course, if you want to grab an even snazzier version of the title collage, click here to enhance!
COMMUNITY CONTESSAS
Looking to our HCS community, we've got some incredibly exciting events coming up that you'll definitely want to keep an eye on!
UMG LADY SPARTAN PRO SERIES
UMG Gaming have announced Season 1 of their Lady Spartan Series. Players will be competing for a share of the $20,000 prize pool over a 3-month period, starting March 5. The inaugural season will feature five tournaments, 32 teams, and a grand final on May 21-22.
This program is aimed at shining a spotlight on the women of the Halo community, offering a place for the women of Halo esports to build their skills, confidence, and encourage players to jump into the HCS Open Ecosystem.
The Lady Spartan Pro Series will be featured on twitch.tv/UMGGaming as well as twitch.tv/Xbox.
Also, be sure to keep up with the latest by following Lady Spartans Pro Series on Twitter.
HCS GRASSROOTS LADIES BTB
On March 9, our HCS Grassroots members will be officially announcing their first HCS Grassroots Ladies BTB playdate in Halo Infinite.
This community playdate already has 3 full teams of 12 players competing in a fun, lighthearted event where viewers can earn exclusive Twitch Drops and other prizes. Stay tuned for more details in the official announcement!
EMPLOYEE SPOTLIGHTS
The games that we love all come from people who span such an immense variety of disciplines, bringing unique talents and invaluable perspectives to their role.
We've been endeavoring to highlight this breadth in our Employee Spotlight articles over on 343industries.com, where you can read about the myriad experiences across production, UI/UX, admin, franchise management, and more from some of the women here at 343.
Tiana Los (she/her, they/them) drives web design and development with an eye on the user journey, durable design, accessibility as well as upholding the legendary artistic standards of the Halo franchise.
Lace Yamamoto (she/her, they/them) shares their processes for the intense multitasking, team-building, and effective communication as part of the Administrative Support Team that many consider to be the backbone of the studio.
Brie Chin-Deyerle (she/her) explores her role in helping people level up through the Microsoft interns at 343 Industries, helping aspiring game software engineers, and provides insights into her work on the Academy and Bots in Halo Infinite.
Nina Mariën (she/her) takes us through the world of production, handling all the contours—the strategy and tactics—of various projects, from people to products, and what makes a successful project and program manager.
Aubra Moore (she/her) dives into IT, the 'pitcrew in a formula one race' of the gaming industry, detailing some of the work that goes into building the biggest, most complex Halo game during a global pandemic.
Paige Johnson (she/her) takes us on a journey through a day in the life of the UI/UX teams working on Halo Infinite, sharing her passion for all things design.
Corrinne Robinson (she/her) details her management of the Franchise Team that nurtures countless collaborations across games, books, comics, and partnerships, to bring the many compelling stories of the Halo universe to life.
Lina Gaeta (she/her) introduces us to the underlying architecture of Halo Infinite as a lead software engineer and discusses the significance of women looking to join the video game industry (both in STEM and through creative paths).
Elizabeth Van Wick (she/her) kicked off our Employee Spotlights with an exploration of her role as Head of Business, Operations, and Esports, building our strategies and plans for esports and competitive programming while managing the business and operations teams.
On a related note to this, we've also got an awesome roundtable featuring Brie Deyerle, Christina Parker, Ellen Yang, Angie Dunn, Andrea Gausmann, and Casey Wu on 343industries.com. Our panelists share their experiences starting and advancing in their careers, as well as how they give back to those entering the field, and their hopes for the industry's future.
You can check out that roundtable discussion here!
MEDIA MADAME
The Halo universe is one filled with varying degrees of cosmic strife, with many heroes rising to these conflicts with strength, courage, and wisdom—the hallmarks of heroism. But there is great depth and complexity to be found as well, moral quandaries and unthinkable sacrifices that have been an endless wellspring of intrigue for Halo stories over the last two decades.
Looking ahead to the upcoming Halo television series (now just a matter of weeks away!), we can't wait to see Yerrin Ha, Shabana Azmi, Natascha McElhone, Kate Kennedy, Olive Gray, Charlie Murphy, Natascha Culzac, and Jen Taylor shine on the silver screen with their takes on compelling and complex characters both storied and brand-new to the universe.
This also seemed like a great opportunity to highlight some specific Halo stories from over the years told by women.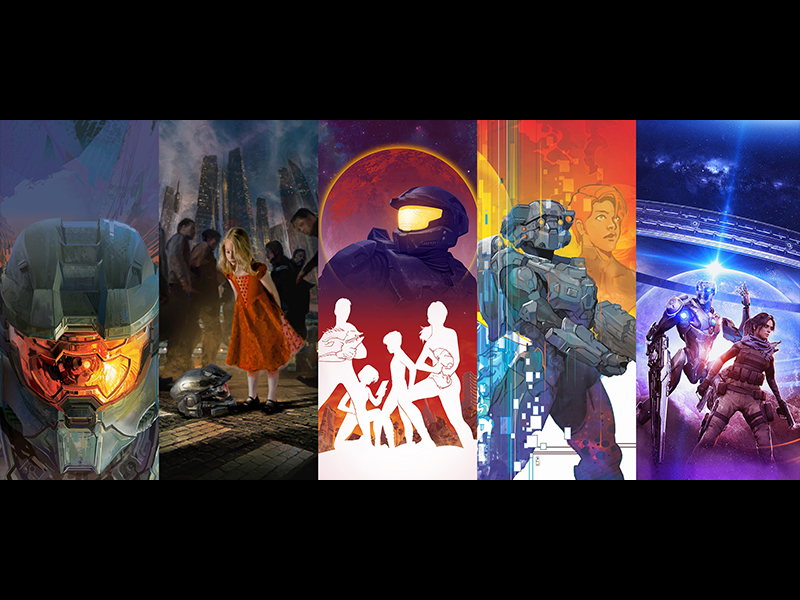 HALO: REBIRTH – CHLOE BEAR
The Forerunner Saga, a trilogy of novels by Greg Bear about the events that led to the firing of Halo to defeat the Flood, concluded with an epilogue story by his daughter, Chloe Bear.
Taking place just after the Halo Array has been fired, with the surviving Forerunners and humans on the Ark reeling from this last resort measure, these old enemies come together to mourn the passing of the old galaxy and celebrate the birth of the new before returning home to Earth.
This story is available as a free PDF, which you can grab in the title link above!
HALO: FRACTURES, 'PROMISES TO KEEP' – CHRISTIE GOLDEN
What might be thought as almost a companion to the Rebirth epilogue, 'Promises to Keep' follows up on the final acts of the Forerunners as they conclude their mission of reseeding the galaxy with life after the firing of Halo.
Faced with the grief of what they have done, and a final mission to their shattered capital, sacrifices must be made to ensure the galaxy's future by reviving the Domain.
HALO: SMOKE AND SHADOW, RENEGADES, POINT OF LIGHT, THE RUBICON PROTOCOL – KELLY GAY
Kelly Gay began writing for Halo in 2016, introducing us to the character Lucy Orion Forge—daughter of Sergeant John Forge from Halo Wars.
As she searches for the lost UNSC Spirit of Fire while running a salvaging crew aboard her ship, the Ace of Spades, her journey intersects with a tragic being formerly known as 343 Guilty Spark, sweeping them up in an adventure of galactic proportions as ancient plans by the Librarian herself come to fruition.
Kelly's next novel, Halo: The Rubicon Protocol, is slated for release August 9 and explores the events that took place on Zeta Halo in the six months before the Master Chief was discovered and awakened.
HALO: EVOLUTIONS, 'THE MONA LISA' – TESSA KUM AND JEFF VANDERMEER
There are few tales in the Halo franchise quite as terrifying as 'The Mona Lisa,' a story co-written by Tessa Kum and Jeff VanderMeer included in the Halo: Evolutions anthology novel.
Sergeant Zhao Heng Lopez leads her team of Marines to a derelict prison ship in the debris field of Alpha Halo where they discover the terrifying experiments that resulted in a Flood outbreak.
HALO: LONE WOLF – ANNE TOOLE
Silent, stoic, and an artist with a sniper rifle, Spartan Linda-058 has been a fan-favorite character since 2001.
Halo: Lone Wolf is a four-issue comic series that takes place shortly after the end of the Human-Covenant war, with Linda being sent on a solo assassination and recovery mission that explores her character's interiority in great depth.
HALO: BATTLE BORN, MERIDIAN DIVIDE – CASSANDRA CLARKE
We have seen the Covenant reduce worlds to glass, the heroism of those who stand against them, but in Halo: Battle Born and Meridian Divide we get a closer look at the civilian side of this devastating interstellar war.
Set on the colony world Meridian, it is up to Evie Rousseau, Saskia Nazari, Dorian Nguyen, and Victor Gallardo to help Spartan Owen-B096 to scout the Covenant's occupying force and discover what it is their enemy seeks.
HALO: FRACTURES, 'WHAT REMAINS' – MORGAN LOCKHART
Taking place in the immediate aftermath of the Guardian's departure from Meridian in Halo 5: Guardians, a handful of colonists marooned on a glassed world with no chance of escape. Their last ember of hope comes as a galaxy-wide message is transmitted, an AI known as Cortana demanding allegiance...
HALO: GLASSLANDS, THE THURSDAY WAR, MORTAL DICTATA – KAREN TRAVISS
The Kilo-5 Trilogy explores the uncertain frailty of the aftermath of the Human-Covenant war, with an ONI black ops team being formed to keep the Elites locked in a civil war as humanity rebuilds. But the actions taken here give rise to Jul 'Mdama and his resurgent Covenant faction after learning that a Forerunner known as the Didact lies dormant within the hollow shell of the shield world Requiem.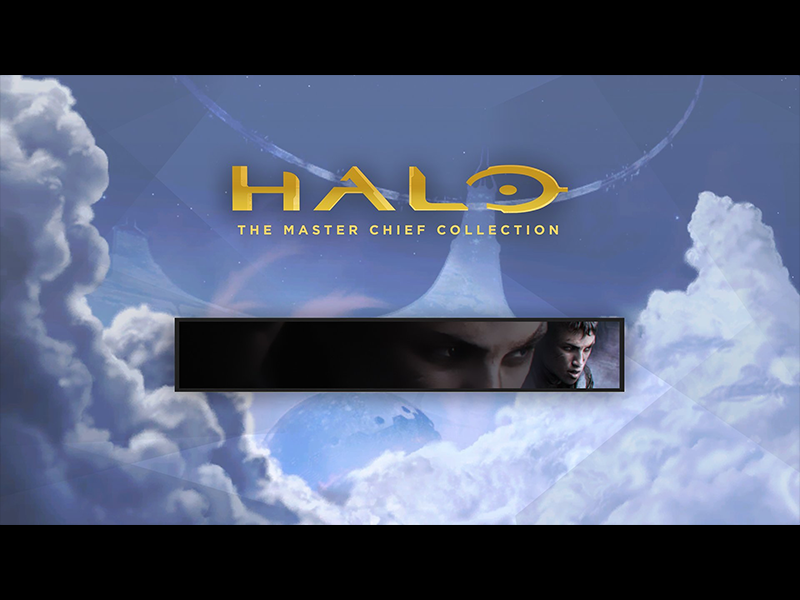 And with that, we come to an end.
But before we go—a final reminder: In Halo: The Master Chief Collection, we're issuing our Spartan Kat-B320 nameplate for all players who jump into the game during the month of March. Get your nameplate today!
Happy International Women's Day, Spartans!