Adrien Cho and the Summer Apprentices Program: Turning Walls into Doors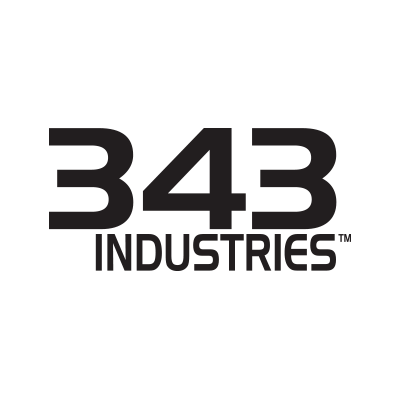 By Iva Lindstrom -
Spectacular artwork is a cornerstone of the Halo franchise. Peel back the curtain on 20 years of production and you'll find a universe crafted by countless talented artists. Making a game as ambitious and grand as Halo Infinite requires a large team of artists with specialized skillsets. Adrien Cho, Outsource and Vendor Manager, helps support the team by finding talented artists across the globe to help with this effort. In addition, 343 finds inspiration and innovation from a unique source: the 343 Summer Apprentices Program – a joint program between 343 and fellow Xbox Game Studio (XGS) Turn 10 Studios (makers of Forza) which provides the opportunity for up-and-coming artists to learn what it takes to be a AAA game developer.
On any given day, Adrien works with the 343 hiring managers to assess their needs and shares these requirements with recruiters. Adrien specializes in knowing the best suppliers for different types of tasks and works with the Art Team to find the right partner for a given niche. He maintains a global network to connect the best creative teams around the world to 343. "We're always looking to work with the best in the industry, and sometimes that will take us to someone who is the best hair modeler, or one of the top hard surface artists in the world, but who happens to live in a very remote place. My job is to find them, connect with them, and see if we can collaborate." As part of a small community of developers and service providers focused on external development, Adrien is an advocate for healthy external development relationships in the games industry and has given talks at conferences such as GDC and XDS.
A few years ago, art leadership at 343 and Turn 10 Studios recognized an opportunity to add depth to their organizations. Given Adrien's expertise with finding unique sources of talent, he was part of that discussion. "We historically have always gone after and brought in some of the best talent in the industry. The 343 Art Team was filled with very senior artists who brought a wealth of development experience to the Halo franchise. However, we noticed that we did not have as many early-in-career creatives on our teams, and we wanted to broaden our team by seeking out more young, talented artists. We saw a lot of value investing in and developing home-grown talent. New artists bring a lot of passion and energy and sometimes they can really develop into superstars." Five years ago, that idea was the genesis of the Summer Apprentices Program.
Microsoft already had a successful internship program for programmers and production, but art wasn't its primary focus; they weren't recruiting from the top art schools. Adrien and his teammates inside 343 and Turn 10 Studios wanted to get that talent into the studios, so Tim Dean (Turn 10 Studios Art Director) and Arthur Shek (Turn 10 Studios Director, Motorsport Art Production) worked with managers John Wendell (Turn 10 Studios Partner, Franchise Content) and Neill Harrison (343 Industries Director of Art Management), all of whom really believed in recruiting students.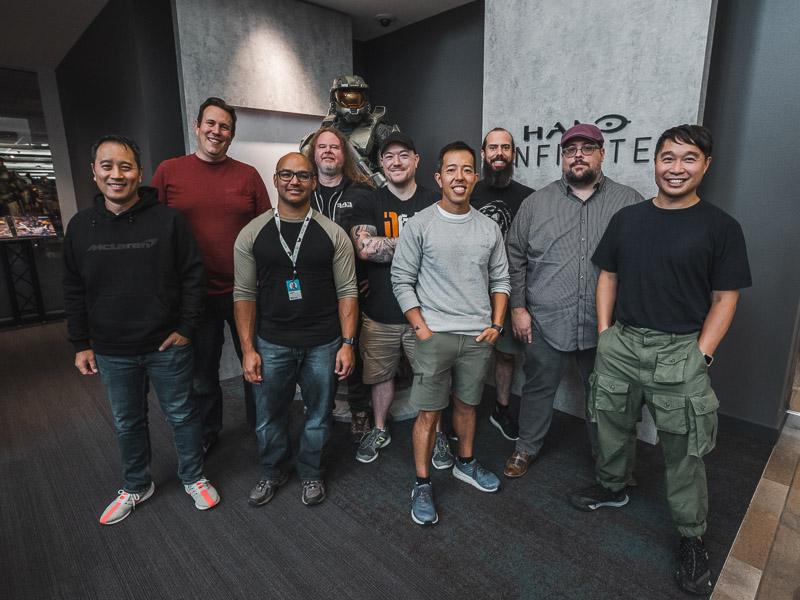 343 Industries and Turn 10 Studios art leads (left to right): Arthur Shek, Tim Dean, Jason Minters, Lee Uren, Justin Dinges, Chiyo Lai, Neill Harrison, Rogelio Olguin, and Adrien Cho
These individuals worked together to form a grass-roots program specially tailored for the Xbox art groups. The key goals were to build healthy relationships with art schools and students, give back to that community, and hopefully provide opportunities for students to gain some valuable, hands-on game development experience at a AAA studio. The team actioned on these goals with great success, engaging with the top art schools in the country and interacting with instructors and students alike to place candidates into this new summer apprenticeship.
Arthur Shek says of his enthusiasm for the program, "Landing jobs in the games industry is a lot more competitive now than when a lot of us at Xbox were joining the industry, especially in the art disciplines. The students who go through our program are given a foot in the door in one of the premiere gaming destinations and that hopefully jumpstarts them into a rewarding career in gaming. Our apprentice program emphasizes working on learning workflows and delivering assets alongside our artists that actually make a difference to our shipping games; apprentices aren't assigned to some menial side tasks during their time with us."
Arthur continues, "For Xbox, the benefits have been tremendous. We've found our apprentices bringing passion, a hard work ethic, lead awareness of new tools and processes to our current artists, and a new energy to our studios. When it comes to embracing diversity, partnering up with some of the top art schools in the country has provided us with access to the wider demographics that will make up the future of Xbox's workforce."
The team took on the hard work of defining their program and working with HR, Procurement, and University Outreach to ensure that all requirements were met, as well as securing funding for the program infrastructure and apprentices' wages. Adrien and his colleagues wanted to make sure that the experience would be a valuable one for both the students and the studios, so they invested the time and effort to map out the program before officially launching it. "We started talking about this program in 2016, and, in 2018, we were able to bring in our first students."
"We really wanted to give opportunities to students who were still in school. The goal was to create a three-to-four month, hands-on experience during the students' summer so that they could come in, learn from some of the best artists in the games industry, explore and work on a few projects, and then head back to school with that new knowledge. It was the hope of the team that the students would gain some valuable development skills during their time at XGS that would help them onto their future career paths. It's been wonderful to see alums of the program do some amazing things after they graduate. We love helping the students along their way."
"We'd meet these students with raw talent and think 'Oh, you're going to do great things! Can we help you achieve your goals?' The team has really enjoyed bringing in students from diverse backgrounds, as it is important to be open to new ideas, to give a voice to those who might not have had an opportunity to express themselves, and to create a space that is inclusive, supportive, and of a growth mindset."
Adrien elaborates, "I believe that, as seasoned game developers at Xbox, we have a responsibility to help others who are new to the industry or about to start their careers. At some point, someone took a chance on us -- they took a risk, they took the time to teach and take us under their wing, and to create opportunities for us to develop and grow. I am always grateful for the people, mentors, and colleagues who took a chance on me. Without their help, I would not have my career. I'd like to pay it forward, to return some of that energy that I was lucky enough to receive when I first started out, and I hope programs like the Summer Apprentices Program can help the next generation of game developers start their journeys."
Danny Park, a 2021 summer apprentice under the 343 Animation Team, echoes that sentiment, saying, "Before the Summer Apprentices Program, I had never been interested in the game industry. I like games, but I was not a big fan of playing or making games. However, this internship has allowed me to see the game industries and how the Halo world is communicating with the players and audience in the real world. I caught up by either playing or watching the past series of Halo and it has blown my mind, as if I became the Master Chief and Spartans. Now, I know why gamers are so much into the game world. I want to play more!"
Regardless of whether the participants return to Xbox or pursue different career paths, the Summer Apprentices Program accomplished its purpose of giving back to the community by creating opportunities, all while adding depth and innovation to their teams.
Adrien shares, "The challenge of the program is that we want to provide an experience that is real and challenging. There are the hard skills: using content creation tools, understanding the pipeline, and creating assets that fit within the constraints of our development specs, all within a real production environment. The soft skills are probably the most important things for the students to learn during their time at XGS. A lot of times, it's their first job in a professional studio. They learn what it means to show up, to be a contributing member of the team. They get to see firsthand some of the problems we face every day and how we problem solve collaboratively. Students also see how their work fits in with others' work. There are upstream and downstream dependencies, so, when their work is reviewed, there is a consideration of how it impacts the work of people who came before and after their contributions. I hope students will see how integral it is that, in game development, we work very collaboratively and there's a certain magic that happens when you're creating a game with a group of passionate game developers who each bring something special to the project."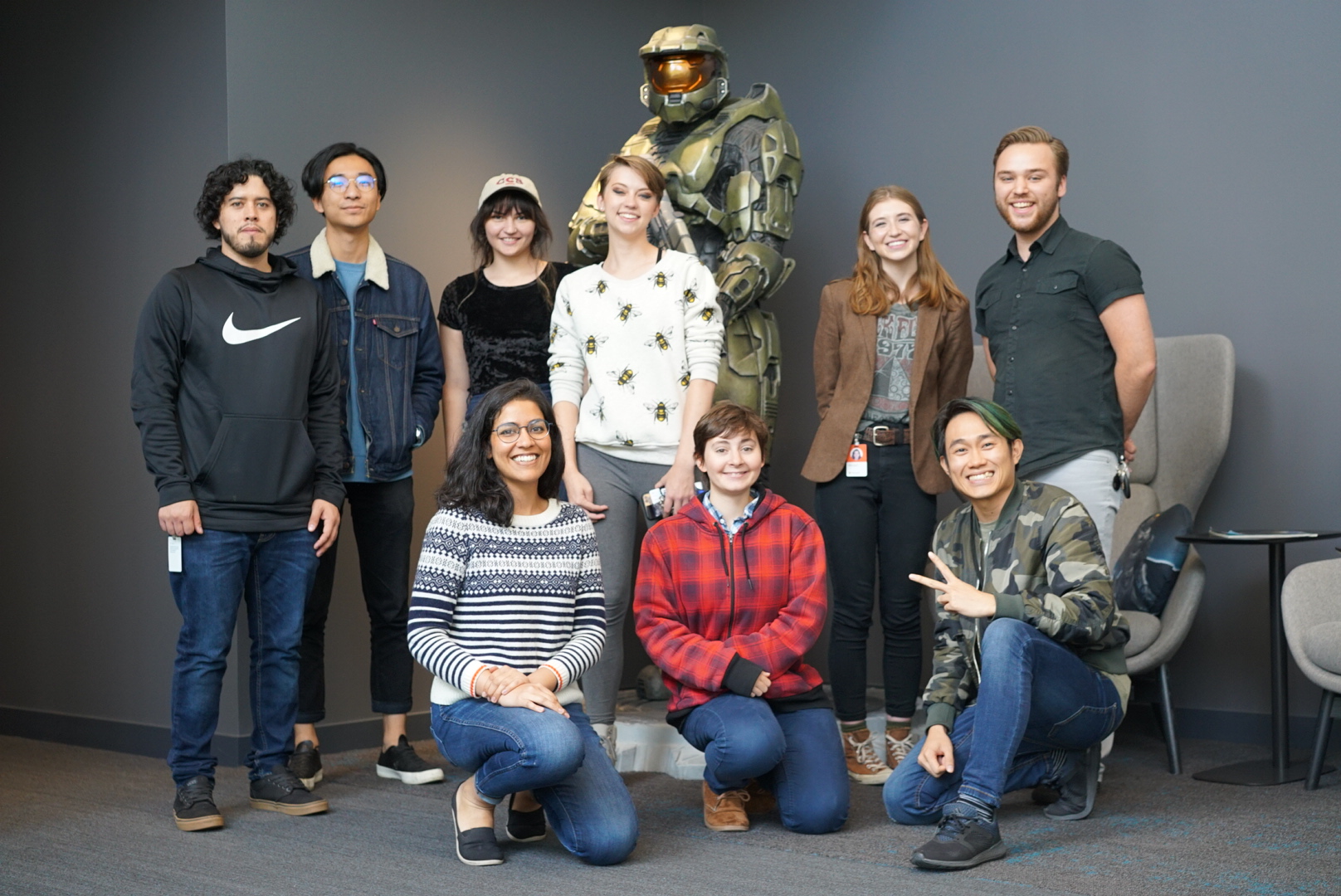 The inaugural group of 343 summer apprentices: (kneeling, left to right) Ambika Luthra, Roman Materna, and Tristan Nguyen (standing, left to right) Pablo Fernandez, Tony Cheung, Molly McLaughlin, Mackenzie Patrick, Morgan Nixon, and Todd Alberda
While 343 and Turn 10 Studios give the summer apprentices valuable experience and a jumping off point for their careers, the studios gain from the experience, as well.
Neill Harrison commented, "I've always felt that it's important for us to find ways to bring young talent into our studio. It takes a village to build Halo, so finding young developers who can join our team and in turn gain valuable experience in AAA games is a win for everyone. Often, what our summer apprentices lack in production experience, they more than make up for with boundless energy, passion, and a hunger to learn and grow. This can honestly be refreshing for a seasoned team, both because that enthusiasm can be infectious, but also because they often have valuable experience in some new techniques or software that we might not have utilized yet as our production cycles are so long."
Chiyo Lai, Senior Environment Artist, says of the apprentices' impact on the team, "The amount of skills and knowledge that they possess at such early stages of their careers is truly impressive. I think back to what I was capable of back when I was a student, and it just doesn't hold a candle."
Glenn Israel, Senior Concept Artist, shares his thoughts on the apprentices' contributions, "I think that each and every one of our apprentices has contributed something uniquely memorable to the team, the project, and the franchise. It's a testament to the value of the program that our very first apprentice, Molly McLaughlin (Concept Artist), continues to work with us to this day, and I am both proud and grateful that her voice has become an integral part of our voice."
Nate Castronovo, Artist on the Biomes Team, adds his reflections, "The Summer Apprentices Program is hugely rewarding in so many ways. Where to start? Fresh eyes! One of the most important benefits for the project is having new perspectives. Summer apprentices bring new thoughts, and sometimes help us see the unseen. Our summer apprentices also bring new workflow ideas with them. They are resilient, inspired, and adaptive. I also love the positive attitudes and excitement that our apprentices bring. Making games is part raw creativity, part creative problem solving. It's always awesome to see passion for both."
The program has hosted some brilliant artists who left their mark on the teams they worked with during their time as apprentices. Adrien recalls, "I remember two apprentices in particular. They were in the 2019 class of summer apprentices. There was Ambika Luthra, an animation student from Cal Arts, and Morgan Nixon, from SCAD (Savannah College of Art and Design).
"Cal Arts is known as the school Walt Disney built, focused on traditional animation, so many of the graduates have traditionally entered television and film after school. When we visited Cal Arts to talk with their students and teachers, we met Ambika and she had such a great spark. She was very passionate about animation, and her work was expressive and intelligent. She had some interest in 3D character animation, so we thought she would be great candidate for our Animation Team."
"The same was true for Morgan, a very bright and creative animation student from SCAD. We saw some really strong and visceral character animation in her work and thought she would flourish with our Animation Team. When we visited those schools and met Ambika and Morgan, we all felt they were really great candidates."
"I worked with Patrick Gillette, 343's Animation Director, and we reached out to see if they would be interested in joining us that summer and planned out what they would do for four months; Patrick wanted the students to try a bit of everything that one of his team members would do. That included: first-person animations, enemy hit reactions, cinematic/narrative animation, as well as sandbox animations (using and interacting with different vehicles and weapons). Both Ambika and Morgan did an amazing job over the summer."
Patrick Gillette elaborates, "Our first two summer apprentices, Morgan and Ambika, started their programs in June of 2019, and managed to do so well that we never let them go. For two animators straight out of college to not only find success in a summer apprenticeship position, but be able to sustain that growth and success for two years as contract employees is incredibly impressive to me."
Morgan Nixon says of her experience as an apprentice, "What surprised me most was the amount of creative freedom and responsibility we were given! I was a recent graduate when I started the apprenticeship, so I was still getting used to the fact that I no longer had my life planned out years in advance and life was becoming unplanned for the first time. This apprenticeship was so open ended that it helped me embrace that feeling and just enjoy the exploring I was doing. I was being led by my interests, learning new things, and trying to absorb everything. I would ask how something worked and be able to go down rabbit holes and, with the assistance of the Animation Team, I was able to learn more about the game dev pipeline than I would have been able to in college."
Morgan continues, "The experience that had the biggest impact on me was the dramatic shift in culture from my days in college to starting at 343. In school, I felt pressured to work myself to death and, toward the end of my time at SCAD, I was burned out and feeling a bit lost. I didn't know it at the time, but I was trying to pour from an empty cup creatively and I didn't have a life outside of school to draw from in order to create something new. The culture at 343 prioritized a balance of work and home life and this reset my brain and allowed me to have fun thinking creatively again. This even transferred into my personal life, as I felt interested in picking up my non-animation artistic hobbies that I had put down in school! I think prioritizing a work/life balance and avoiding burnout is vital and not discovering that early enough can stunt someone's creative career. I don't know where I'd be if I was at a company where I continued to overwork myself after graduation."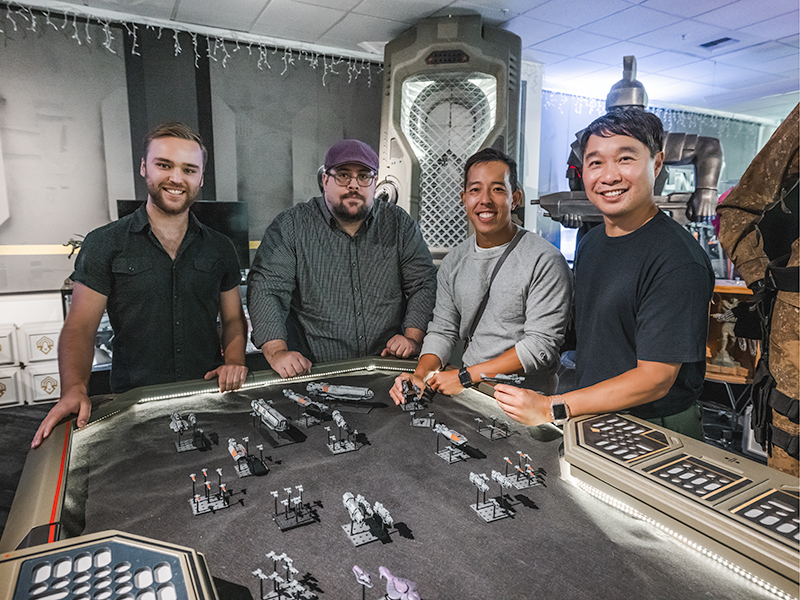 Members of the 343 Art Team (left to right): Todd Alberda (summer apprentice), Rogelio Olguin, Chiyo Lai, and Adrien Cho
The program is not without its challenges. 343's artists are busy creating Halo Infinite and offering summer apprentices a valuable learning opportunity with hands-on experience requires time and commitment from all team members. Neill Harrison comments, "One of my favorite memories of the Summer Apprentices Program was that, at the start, it was a little difficult getting buy-in from the teams; there was concern that bringing in new and junior people for a short time during production would not be beneficial and could become a distraction. After just a few weeks though, everyone was singing their praises, asking for extensions, and had become converts and indeed advocates for the program. Every year since, we've had widespread adoption."
Adrien is quick to point out the many team members at 343 who offer their energies to mentor the summer apprentices and otherwise give their energy and knowledge to the program: Neill Harrison (Director of Art Management), Marc Brinkley (Environment Art Manager), Rogelio Olguin (ECT, or Environment Content Team, Lead Texture Artist), Chiyo Lai (ECT, Senior Environment Artist), Nate Castronovo (ECT, Environment Artist), Patrick Gillette (Animation Director), Glenn Israel (Senior Concept Artist), Bryan Repka (Lead Character Artist), Justin Dinges (Campaign Art Lead), Jon Graham (FX Art Lead), Lee Uren (Lead Lighting Artist), and Jason Minters (Lead Character Technical Artist). While Adrien manages the Summer Apprentices Program, offering the support and fostering growth is truly a group effort. "I help facilitate the program, but there are so many people who help out with the program, like a lot of the art leads. They're the ones who do the heavy lifting because they bring the students into their teams. And Neill Harrison is one of our biggest supporters. He really helps encourage us, helps unblock us, promotes the program, and helps us receive funding to maintain the program."
Of course, the challenges of remote work during Covid impacted the program. Glenn Israel says, "It's incredible to me that the apprentices program has not only survived, but genuinely thrived during the quarantine, and to my mind it could not have done so without Adrien's vision and dedication. He has continually sought out ways to ensure that apprentices get as much out of the 'virtual workplace' as they would in a traditional apprenticeship, arranging Teams lectures and lunches and such to recreate the 'in-person' experience as much as possible."
And life at 343 is an experience worth having. Adrien says, "Halo Infinite will be my third game at 343. It's exciting to see everything come together and it looks beautiful. I'm coming from an art background and it's wonderful to see all of the contributions that our teams have made. Part of the joy of making games is to see the ideas morph and crystalize over development into their final form in the finished game. I feel that, as the makers of a flagship Xbox title, we're always trying to push the boundaries in our work, developing cutting edge technologies and workflows and seeing how they mesh with our hardware ecosystem. That's a part that really excites me. And, to be honest, I just love science fiction. I LOVE, LOVE, LOVE science fiction. The best thing about 343 from my perspective is that we've put together this wonderful team of really amazing artists -- people that I've always looked up to -- and we get to imagine amazing alien worlds. I love that we bring to life spaceships, hardware, and armor designs, which in Infinite are great callbacks to the legacy of Halo. To be part of that in some way just blows my mind. We get to make amazing virtual worlds."
Recently, Adrien was invited to address the 2021 graduating class at his alma mater, the University of Alberta. True to his passion for Halo, science fiction, and the Summer Apprentices Program, his address touched upon someone he found inspiring when he was a student: Joseph Campbell, an American professor of mythology, who wrote, "We must let go of the life we have planned, so as to accept the one that is waiting for us. Find a place inside where there's joy, and the joy will burn out the pain. Follow your bliss and the universe will open doors where there were only walls."
Those graduates, just like the summer apprentices, may find themselves in a world they didn't anticipate, but, with someone to open the doors for them, they'll have that essential helping hand toward brilliant futures.